Here's Some Bright Economic News on a Grim Day in Global Markets
Global manufacturing isn't in a malaise.
The abysmal equity market performance to open 2016 belies a round of largely solid global economic data in recent days.
The plunge in Chinese equities overnight, which triggered the newly installed circuit breakers, set the tone for what has been a massive selloff in global equities in the first trading day of 2016. But two-thirds of December's closely watched, monthly Purchasing Managers' Index (or PMI) reports, spanning from China's to the U.S.'s pair of releases, showed manufacturing improving in December. Numbers above 50 point to expansion in the manufacturing sector; prints below 50 imply contraction. The monthly figure moved higher in the majority of these 30 readings, suggesting that the manufacturing sector's rate of growth accelerated, or the pace of the contraction slowed.
China's manufacturing PMI inched up to 49.7, a tick below expectations, according to the official print released just before the ball dropped in North America. (A separate report from Caixin showed that the sector's woes intensified in December).
Other large Asian economies, however, proved relatively resilient to the prolonged softness in Chinese manufacturing. Japan's reading lingered well above 50 to end 2015, while Vietman, Taiwan, and South Korea's indexes all flipped from contractionary to expansionary territory in December: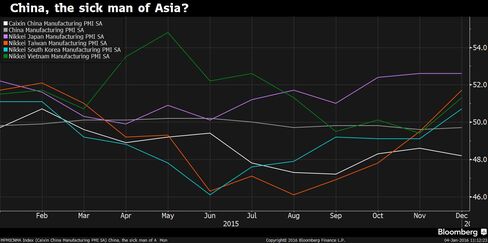 "It is concerning that an old story ('China manufacturing sector in contraction') is able to generate a 3 percent drop in global equities especially when PMIs in the regional economy—Vietnam, Korea, Taiwan, and Japan—were healthier," wrote Neil Dutta, head of U.S. economics at Renaissance Macro Research.
Segments of the Chinese economy not tied to industrial production remained resilient. The non-manufacturing PMI for the world's second-largest economy improved to 54.4 in December, its highest level since August 2014. In addition, the advance figure for gross domestic product in nearby Singapore showed 5.7 percent annualized growth in the fourth quarter, far outstripping expectations.
Insofar as the one clear dose of bad news to ring in the new year—the continued weakness in U.S. manufacturing—is a consequence of the rebalancing of external sectors fueled by prior gains the greenback has made relative to the euro, it is not altogether a gloomy development: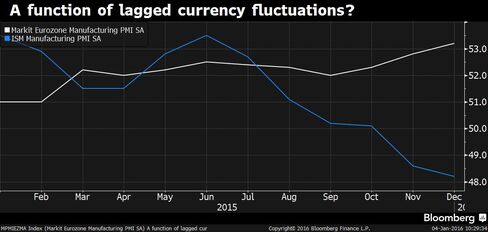 Meanwhile, the Eurozone Manufacturing PMI posted its best reading since April 2014, with growth spread far beyond stalwart Germany. Italy's PMI led the pack, soaring to its highest level in more than four and a half years to end 2015 with acute strength in output and new orders, and even Greece saw its manufacturing sector grow.
"With the Greek PMI rising back into growth territory in December, we are now seeing concurrent expansions signaled in all of the surveyed nations for the first time since April 2014," wrote Rob Dobson, senior economist at Markit.
Stock markets don't always track the global economy in lockstep. And with geopolitical risks commanding more attention in light of escalating tensions between Saudi Arabia and Iran, there's a case to be made that the state of the world's manufacturing sector isn't the likeliest culprit for the sea of red in global equity markets.
Before it's here, it's on the Bloomberg Terminal.
LEARN MORE