Carlsberg Bondholders Reap Rewards as Takeover Plans Abandoned
Chairman no longer wants brewery to be world's fastest growing

SEB fund says investment grade will be shielded as M&A shelved
Carlsberg, probably best known for its understated beer ads, is now pursuing a similar growth strategy. And bondholders like it.
The company's chairman, Flemming Besenbacher, says Carlsberg is no longer seeking growth through acquisitions. It doesn't want to be big, just strong, he told Danish newspaper Berlingske on Monday. The comments, which were confirmed by Carlsberg, put to rest speculation the Danish brewer might be interested in buying SABMiller Plc's Peroni and Grolsch brands.
"As a bondholder, this is positive news from Carlsberg," Michael Denbaek, portfolio manager at SEB Investment Management in Copenhagen, said by phone.
The yield on Carlsberg's 2.5 percent 1 billion-euro ($1.09 billion) 2024 bond fell five basis points on Monday and declined another point Tuesday to 2.06 percent. Back in September, the yield had traded as high as 2.64 percent. The spread relative to the government yield curve also narrowed. Bond yields move inversely to prices.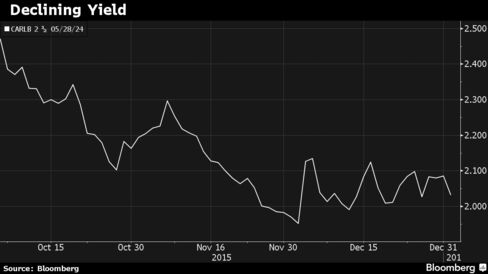 "Carlsberg is one of our core names and we're long-term investors," Denbaek said. The fund has increased its position in the company's bonds from about 15 million euros a year ago, though Denbaek wouldn't say exactly how much the SEB unit holds now.
Investment-Grade
"We're not too concerned about daily or monthly fluctuations, but obviously have an interest in Carlsberg keeping its investment grade rating, which may be easier if there are no large takeovers," he said.
Moody's Investors Service has a Baa2 grade with a negative outlook on Carlsberg Breweries A/S, the unit the Copenhagen-based beer maker uses for bond issuance. Fitch has a stable outlook on its BBB grade.
Carlsberg no longer has an ambition to be the fastest-growing brewer in the world and has no acquisition plans, Besenbacher said. The comments build on similar signals from Chief Executive Officer Cees 't Hart. Since joining in June, he has revamped the brewer's strategy and cut jobs ahead of a strategic review announcement scheduled for the end of the first quarter. The brewer is under pressure to reduce costs to compete with more profitable rivals such as Anheuser-Busch InBev NV, which formalized a $106 billion deal to buy SABMiller in November last year.
"Perhaps we shouldn't be surprised," Ian Shackleton, an analyst at Nomura, said by phone. "Here's the new Carlsberg CEO doing a fundamental strategic review, there's a lot to be sorted out internally so acquisitions will be at the lower end of the to-do list at the moment."
Carlsberg said on Tuesday it agreed to sell its Danish Malting Group unit for an undisclosed amount to Viking Malt as it divests assets. The shares rose 0.6 percent to 605.50 kroner at 12:19 p.m. in Copenhagen.
Before it's here, it's on the Bloomberg Terminal.
LEARN MORE