It's a little generous to call the 2016 Audi TT a sports car.
The Porsche Boxster and Cayman, BMW Z4 and M2, and Jaguar F-Type all surpass it in pure driving aggression, connection to the road, powerful speed, and good looks. But the 18-year-old coupe—which has fans among suburban semi-retirees and young graduates alike—has just gone through a refresh that gives it a shiny new set of teeth.
The TT has the shortest wheelbase of any car that Audi—and for that matter, Volkswagen—makes, and it shares a platform with the VW Golf, which costs half as much. It used to take more than 6 seconds to hit 60 mph. Its rounded little body previously looked like a VW Beetle that was pulled from both ends. Behind the wheel, it played the road like a pensioner tiptoeing on ice: very, very safely. (I should also mention that this was the car Hugh Grant drove as his selfish, man-is-an-island character in About a Boy. I'm not sure if that makes you like it more or less, but there it is.)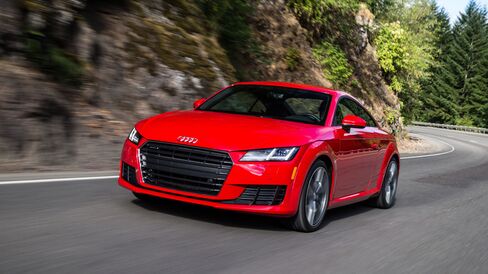 Anyway, this third-generation, 2016 Audi TT Coupe 2.0T Quattro S has been given a new aluminum body that is significantly lighter and straighter in its miniature form than its predecessors. It comes with full LED head- and taillights that dose it with a much-needed shot of testosterone.
It has a four-cylinder, 220-horsepower engine on a nimble six-speed, all-wheel drive. It has a top speed of nearly 130 mph and (after a moment of lag once you press the gas) can hit 60 mph in 5.3 seconds. As a daily driver or simple weekend roadster, it is the best version of Audi's $42,900 coupe we've seen to date.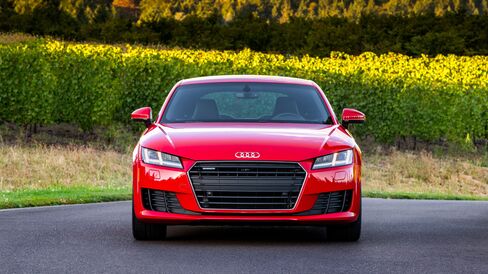 The Car Without Commitment
Audi's TT is the car to buy when you don't want to have to really think about anything. It's like what you do when you watch movies using your friend's password on Netflix: Chill, without the commitment.
The TT is what you take out to do quick errands and chores without having to commit to getting gas (highway efficiency hits 30 mpg), to looking for a bigger parking spot (it parks wonderfully in any old little square of pavement you can find), or to impressing people (you won't).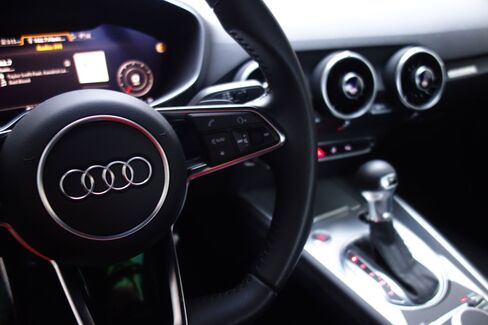 The TT weighs less than 3,200 pounds, thanks to that aluminum body, which makes it feel a bit effervescent to drive. It can and will catch air if you take certain turns hard enough, and it can feel a little bubbly (ragged) over anything less than the smoothest of cement. The steering is sharp and responsive, the brakes alert and prompt. The smart Quattro system puts 100 percent of engine torque to either the front or rear axle, depending on where it's needed.
It all feels fast, sure, but there is that noticeable delay between when you press the gas and when the TT shoots forward like a bee. And without too much effort you can skid quite easily in this on a fast exit ramp dismount. This is fun, potentially, but it's not an especially good thing.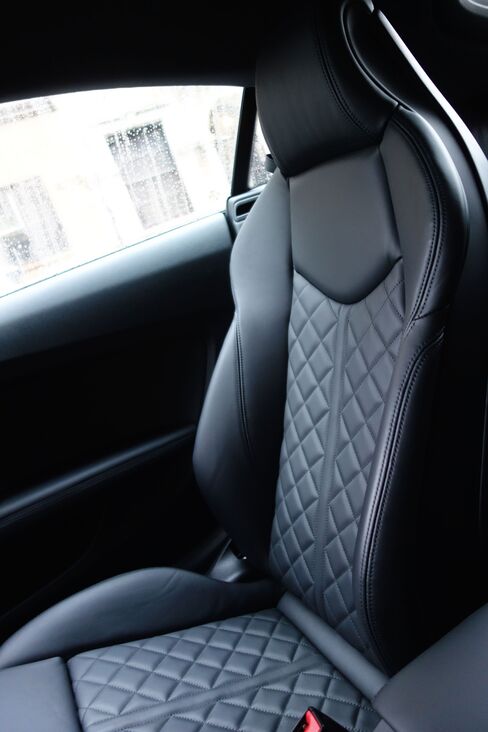 The biggest problem I have with driving this TT, which, again, is much improved in terms of overall engagement over previous models, is that it comes with no manual transmission option. I don't understand why it wouldn't—the Miata and Mini and Golf and any number of Porsches are similarly small and potentially very fun to whip around in manual gearing. The TT with its tiny body and stiff suspension would be perfect for it. Often I found myself wishing I had the control over the car that you get only when you are shifting, not depending on a computer to do it for you.
Plain Outside, Aggressive Inside
So, driving- and body-wise, the TT plays it safe. But it does have a daring new interior. (Which is saying a lot because, hey, you'll be sitting in that interior when you drive it.) The quality of all the materials, the comfort of the supple Nappa sport seats and trim, and the endlessly adjustable driving positions combine to make this car feel special and interesting inside without being overwrought. This inside space is the TT's best attribute.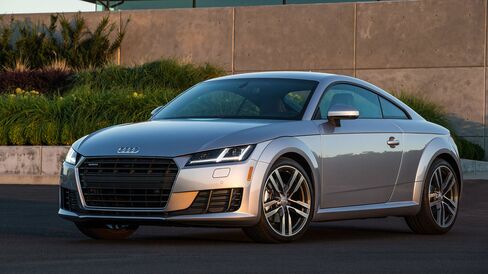 The big new thing is Audi's new "virtual cockpit" screen, which replaces those conventional dials usually found behind the steering wheel. Instead of the round speed and rpm gauges, the car has a nearly 13-inch-wide screen at front, directly behind the steering wheel, that shows radio stations, maps, and speed, too, of course, but not in the traditional gauge form. Audi correctly states that the cockpit scenario "informs" rather than overwhelms: It sounds a bit odd to describe, but after about five minutes of reorienting myself to this new setup, I really liked it.
So instead of radio dials and the like, three large climate control toggles sit on the slim bare dash, like huge airplane turbines acting as air vents. In fact, there are no mechanical gauges anywhere, just a digital tachometer and that speedometer, which you can scroll to on the virtual cockpit screen using a round knob below your elbow in the center of the car. The message is, "You the driver are the most important person in the car. This car caters to you." There's nary a button in sight for a passenger to push if she even wanted to.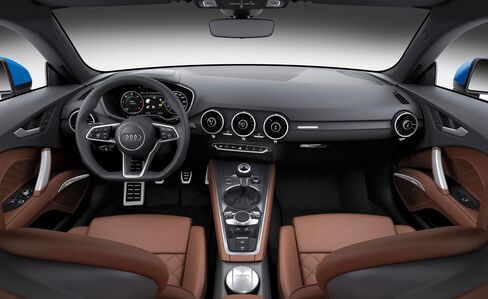 Visibility Problems, (Almost) No Back Seat
Unlike the practical front, the seats in the rear are cosmetic at best. You can tell your friends with a grin and a Vanna White sweep of your hand, "Look, isn't that seat adorable?" Yes, but it's for holding your hat or your bag, not for holding people. To presume such practicality in a car this size would be so deeply misinformed as to be hilarious. On a similar note, the rearview mirror of the car produces less visibility than you'd hope. I suppose it's an expected concession considering the dimensions of this car, but you'll need to be on your best behavior while switching lanes.
Heated mirrors, drive select, automatic climate control and dimming mirrors, voice control, and an Alcantara and leather interior so good I thought it was surely an upgrade, all come standard. There are several options for parking systems, one of them standard, though this car is so much fun to park, because it's small, you will feel like you don't need one. Just don't get too cocky on those parallel parks—pride goes before a fall.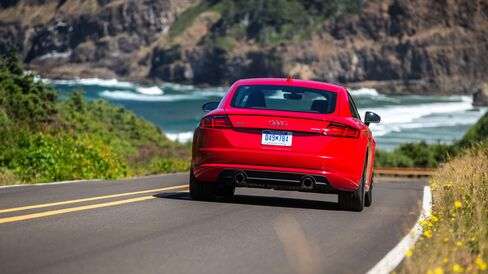 Do splurge the extra $1,000 for the quilted leather seats; if you don't, the interior can tend toward bland. I would also get the $1,000 19-inch wheels, for some exterior distinction, and the tech package ($3,250) that includes navigation, side assist, and auto dimming exterior mirrors, among other things. Bang & Olufsen sound costs extra, too ($950), but is worth it. Music is the spice of life, after all. These options plus others will push the TT's price well past $50,000, which seems a little high for a car of this caliber but is unavoidable if you want to capitalize on the cool new interior.
This interior space, then, is where the TT separates itself from the casual A3 hatch or the Miata or something small from Subaru. You'll just have to lure your sports-car-loving friends inside, past that petite rounded rear and nonexistent back seat, to actually show them.
Before it's here, it's on the Bloomberg Terminal.
LEARN MORE