There's room for market to speculate on cuts, Moffitt says

Fund manager favors the front end of Australia's yield curve
Goldman Sachs Asset Management says the Reserve Bank of Australia is more likely to cut interest rates in 2016 than lift them and there's still money to be made betting on a shift down.
The fund manager, which oversees or advises on more than $1 trillion globally, says shorter-dated Australian bonds look more attractive than similar debt elsewhere. While policy makers have strongly signaled they don't want to cut the record low 2 percent cash rate, there's room for the market to speculate about further easing, according to Philip Moffitt, the Sydney-based head of Asia-Pacific fixed income.
"They don't have to cut rates for you to make money out of thinking they might cut rates," Moffitt said last month. "We would bet the next RBA move is still more likely a cut than a rise, and so particularly the front end of Australia looks OK on a relative basis globally."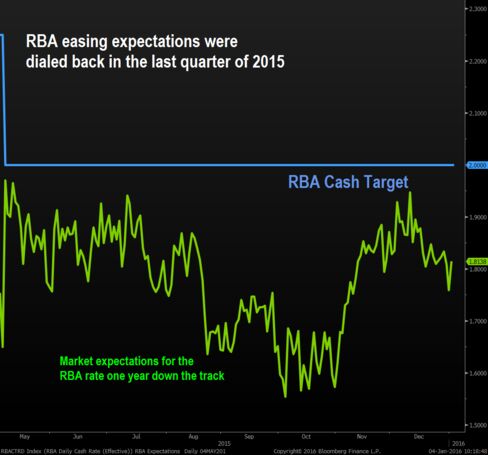 Governor Glenn Stevens hasn't shifted the RBA benchmark since May and the swaps market is pricing in only a 24 percent chance of a cut over the next three months after the jobs market improved and as the weaker currency bolsters businesses. The two-year bond yield climbed to 2 percent as of 2:30 p.m. on Monday in Sydney from a fourth quarter low of 1.73 percent on Oct. 28.
The yield premium offered by two-year Australian bonds over equivalent U.S. paper compressed to 95 basis points from 151 at the end of 2014 and has shrunk for each of the past five years.
The yield on Australia's 10-year note on Monday fell by 4 basis points after a gauge of Chinese manufacturing signaled further weakness in the country's biggest trading partner. At 2.84 percent, the rate is just 57 basis points above the benchmark U.S. Treasury bond, although Moffitt reckons the likelihood of Australian yields at the longer-end ever going below U.S. rates is "very low."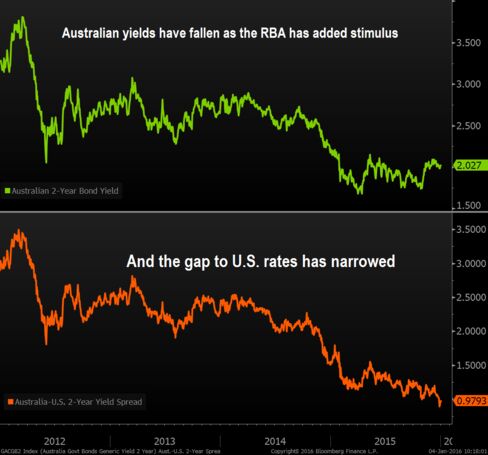 The most likely scenario for the Australian dollar is that it will weaken over the coming year, although if global markets stabilize it's possible that the Aussie will be supported by investors seeking additional yield, according to Moffitt. The currency, which was at 72.33 U.S. cents on Monday, is more likely to trade in the high 60s than the 50s, he said.
The median forecast among 23 economists surveyed by Bloomberg is for the RBA cash rate to fall to 1.75 percent as soon as May, although 11 reckon it will be at 2 percent or higher at the end of 2016.
The RBA has so far been able to hold off easing rates as a boom in the nation's housing market and improved services exports have helped take up some of the slack from mining. Nevertheless, with property now showing signs of slowing and the plunge in global commodity prices adding to disinflationary pressures, that could change in 2016.
"If inflation remains low the mandate says you've got to focus on these things and there'd be some growing pressure, particularly if the housing market stalls out a bit," Moffitt said. "We'd want to be exposed to the front end of the Australian curve, certainly relative to other places."
Before it's here, it's on the Bloomberg Terminal.
LEARN MORE