Who Won, Who Lost in Hollywood's Record 2015 in Four Charts
Spoils get divided unevenly in banner year for ticket sales

Imax is biggest gainer among exhibitors, with shares up 17%
Even in Hollywood's $11 billion record-breaking year at the box office, there are winners and losers.
Comcast Corp.'s Universal Pictures and Walt Disney Co. dominated the film industry in 2015 at the expense of Viacom Inc.'s Paramount Pictures, 20th Century Fox, Sony Corp. and Lions Gate Entertainment Corp., which all posted lower sales. The winners accounted for almost half of North American ticket revenue, according to data from Rentrak Corp.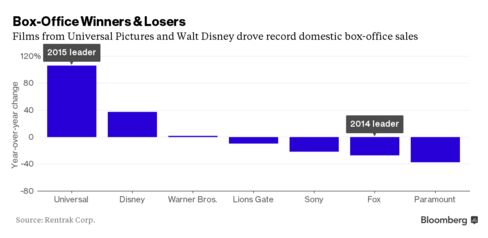 The conventional wisdom in Hollywood is that movie-going begets more movie-going, and that a bumper year is good for everyone. Yet the division of spoils is uneven, and with the domestic film industry showing little growth over the long term, a big year for one or two studios can mean forgettable results for others.
Universal had "an almost freakishly good year," said Paul Sweeney, a Bloomberg Intelligence analyst, with hits like "Jurassic World" and "Furious 7." "'Star Wars' has been everything Disney had hoped for and more." The film sets up the Disney "to monetize its $4 billion acquisition of Lucasfilm for years to come."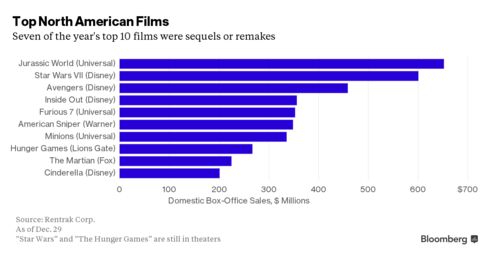 Nor did theater owners benefit equally from the hot movies that drew moviegoers in droves this year. Imax Corp., whose large-format screens fetch premium ticket prices, and Carmike Cinemas Inc. led North American exhibitors in sales growth this year, according to company reports and data compiled by Bloomberg.
Investments in luxury seating and a greater share of ticket sales coming from higher-end screens and 3-D viewing boosted the average ticket price in 2015 and helped exhibitors increase revenue.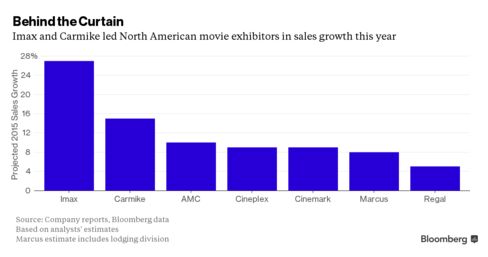 Despite the great rush of fans to "Star Wars: The Force Awakens," which could overtake "Avatar" as the biggest movie domestically, 2015 wasn't universally good for exhibitors' stock prices either. Though Imax has fallen almost 8 percent since the "Star Wars" release, the shares are still up 17 percent this year. The big decliner: No. 1 exhibitor Regal Entertainment Group, down 12 percent this year.
"Imax not only has zero margin pressure (given long-term agreements), but also the most attractive licensing model of the group," Eric Wold, an analyst at B. Riley & Co. who recommends the stock, wrote in a note to investors.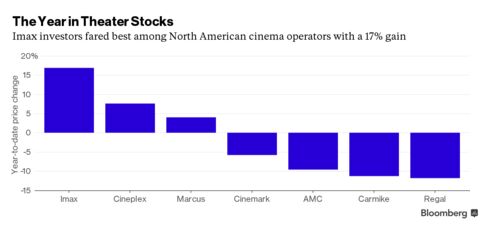 Hollywood's winners and losers are always tough to predict, with studios trading places based on surprise hits. Time Warner Inc.'s Warner Bros. dominated the box office for years before hitting a rough patch in 2015 when releases like "Pan," "Jupiter Ascending," and "Entourage" failed to connect with fans. Next year could be better, with the studio bringing out new movies based on DC Comics and a fresh offering from J.K. Rowling.
One safe prediction from Wold: "Star Wars: The Force Awakens" will give ticket sales a tailwind into the new year.
Before it's here, it's on the Bloomberg Terminal.
LEARN MORE