Dollar Malaise Deepens as Economic Performance Trails Forecasts
Citi measure of U.S. growth is near the lowest since June

SocGen's Juckes says dollar's near-term upside to be limited
The dollar may have trouble escaping its year-end malaise after a gauge tracking U.S. economic performance slumped to the lowest since June.
The greenback is trading in its narrowest weekly range since August 2014 versus 10 major peers, even as the Federal Reserve raised interest rates on Dec. 16 for the first time in almost a decade. The currency is poised this month for its biggest loss since August versus the yen and since April against the euro.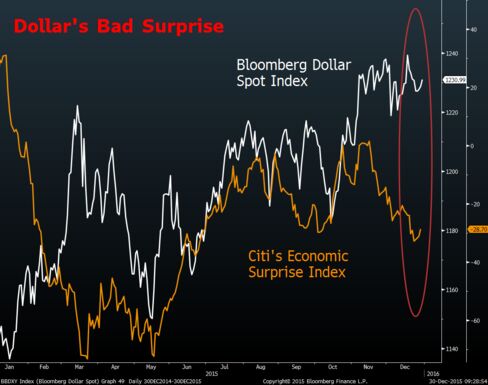 With the Fed's first tightening achieved, investors are turning their attention to U.S. economic fundamentals and finding all isn't well. A Citigroup Inc. index that measures the strength of economic reports relative to market expectations is poised for its second-straight monthly decline. Stagnant inflation and questions about the sustainability of job-market gains may curb further interest rate increases next year, and limit dollar appreciation.
"The debate now is about how swift rate rises are in the U.S., and that's data-dependent," said Daragh Maher, the New York-based head of U.S. foreign-exchange strategy at HSBC Holdings Plc. "There hasn't been anything particularly new on the U.S. side of the equation and that's why you have this issue of the dollar languishing."
The Bloomberg Dollar Spot Index has traded between 1226.34 and 1232.58 this week, its narrowest range since the period ending Aug. 29, 2014. The gauge advanced 0.2 percent as of 5 p.m. in New York.
The dollar gained less than 0.1 percent to 120.52 yen, after declining 2.1 percent this month. The U.S. currency was down 0.1 percent at $1.0933 per euro, having weakened 3.5 percent since Nov. 30.
Citigroup's U.S. Economic Surprise Index dropped to minus 32.8 on Dec. 23, the lowest in six months. It was at minus 27.5 on Wednesday. Negative readings signal that economic indicators are falling short of analyst estimates. The gauge was as high as 1.50 as recently as Nov. 16.
Pace Debate
Traders are cautious about the pace of further rate increases, pricing in about two hikes in 2016, futures data show, short of the four boosts projected by the Fed.
That has forecasters rethinking their expectations for the dollar in 2016, as higher rates typically fuel a currency's strength by encouraging cash to flow toward that country.
JPMorgan Chase & Co. predicts the dollar will decline to 110 yen next year, the most bearish among around 60 forecasts compiled by Bloomberg, where the median estimate is 125 yen.
Half of the bank's clients who participated in a survey at a seminar in Tokyo on Dec. 16 see the dollar falling to 120 yen or lower by the end of next year, analysts at the bank, led by Tohru Sasaki, head of Japan markets research, wrote in a report Tuesday.
"We've had the best-flagged Fed rate hike in history, and there was a collective closing out on positions and a pause in dollar gain that came after that," said Kit Juckes, a global strategist at Societe Generale SA in London. "For the dollar to move much higher, we need the market to price in more aggressive rate hikes and much higher Treasury yields. I suspect that might not happen in a hurry."
Before it's here, it's on the Bloomberg Terminal.
LEARN MORE