Billionaire Cheng Transfers Holdings to Family, Sells Assets
Transfers personal holdings in 6 Hong Kong-listed companies

Cheng-controlled companies sell projects to Evergrande
Hong Kong billionaire Cheng Yu-tung transferred some of his stock holdings to family funds and agreed to sell $3.2 billion of Chinese property projects as the 90-year tycoon reorganizes his business empire for the next generation.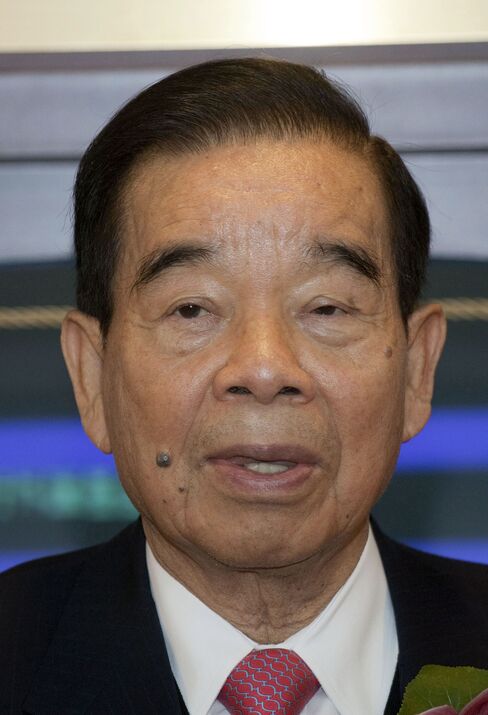 Cheng handed over shares valued at about HK$3.8 billion ($490 million) in six Hong Kong-listed companies to a family investment firm called Chow Tai Fook Capital Ltd., according to regulatory filings late Monday. Separately, two Cheng-family companies said on Tuesday they'll sell property assets to Chinese billionaire Hui Ka Yan's Evergrande Real Estate Group Ltd.
The moves build on Cheng's efforts to put his affairs in order since he began stepping back almost four years ago, when he retired as chairman of his flagship company and put his son Henry in charge. Cheng's sprawling businesses range from real estate to jewelry and fashion.
"The point of all this is to pass his wealth on to the next generation," said Eddie Tam, Chief Executive Office of Hong Kong-based Central Asset Investment. Transferring the wealth early could be beneficial in terms of tax payments, he said.
The transfer of his holdings to Chow Tai Fook Capital took place Dec. 21 and included stock in apparel retailer Giordano International Ltd., Hsin Chong Construction Group Ltd., Integrated Waste Solutions Group Holdings Ltd., Mongolia Energy Corp., New Times Energy Corp. and Shengjing Bank Co.
Shares of all the companies, except Shengjing Bank, have declined by more than 20 percent since February 2012, when Cheng stepped down New World chairman.
Chow Tai Fook Capital owns 79 percent of Chow Tai Fook (Holding) Ltd., which in turn controls property developer New World Development and Chow Tai Fook Jewellery Group Ltd. Cheng, whose net worth is estimated at $10.3 billion, was Hong Kong's fourth-richest man before the share transfers, according to the Bloomberg Billionaire Index.
The patriarch in early 2012 named his eldest son, Henry Cheng, as chairman of New World Development, which has businesses in property, infrastructure, hotels and retail. The elder Cheng was hospitalized in September 2012 and hasn't attended public events since. His son-in-law, Doo Wai-hoi, said last month that the elder Cheng's health was improving, the Hong Kong Economic Journal reported Tuesday.
The son of a tailor, Cheng was born in the southern Chinese city Shunde and later fled war-torn China for Macau. He got his first job when he was 15 as an apprentice at the Chow Tai Fook gold shop that was founded by his future wife's family and expanded the jewelry chain in Hong Kong, according to Bloomberg Billionaire Index. Today, Chow Tai Fook Jewellery, which was listed in 2011, is one of the world's largest listed jewelry chains.
Maria Cheung, a spokeswoman for New World Development, said the company doesn't comment on transactions related to the Cheng family's personal investments and personal issues. Joanne Wong, spokeswoman of Chow Tai Fook Jewellery, couldn't be reached immediately by e-mail and phone.
Before it's here, it's on the Bloomberg Terminal.
LEARN MORE