FedEx Cites 'Unprecedented' E-Commerce Surge in Christmas Delays
Focus on volumes goes beyond pre-Christmas weather warning

Shipping operations have returned to normal, company says
FedEx Corp. attributed its failure to deliver some Christmas packages to volumes that "far exceeded all previous records" after warning last week that bad weather would be to blame for some gifts showing up late.
"An unprecedented surge of last-minute e-commerce shipments" flooded in ahead of the holiday, FedEx said Monday in a statement, going beyond the company's focus on storms in a Dec. 24 forecast of tardy Christmas deliveries. United Parcel Service Inc. reported completing all the deliveries it had promised ahead of Dec. 25.
FedEx didn't give details on how or why or how its network of jets, sorting facilities and delivery vehicles was unable to handle the last-minute increase in business. Shoppers came out in force in mid-December after a slow start to the holiday season, said Craig Johnson, president of consultant Customer Growth Partners. It was a much-needed boon for retailers but a strain for delivery companies amid a shift toward online purchases.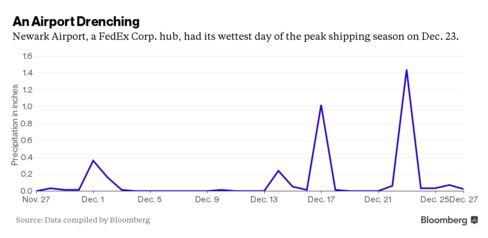 "My take on it is UPS was much better prepared to handle it than FedEx was," said David Huckeba, a partner at logistics consulting firm Intelligent Audit. "I just don't think they were ready or able to handle the volumes they got."
Operations have returned to normal after the deployment of thousands of workers on Christmas Day, FedEx said. The Express unit, which offers expedited delivery, also expanded Saturday service on Dec. 26 to handle late parcels as well as normal business, according to FedEx.
Rainy Newark
Aside from tornadoes and other storms that plagued the South around Christmas, heavy rains in the Northeast probably weighed on FedEx, said Satish Jindel, whose ShipMatrix Inc. tracks on-time rates. FedEx Express operates an air hub in Newark, New Jersey, and some states surrounding that hub had on-time delivery rates of less than 80 percent on Dec. 23 following the storms, Jindel said.
Weather, not operational problems, probably deserves most of the blame, Jindel said.
"If God decides to dump weather challenges, the safety of FedEx workers should take priority over people getting packages on time," Jindel said.
FedEx made that point on Dec. 24, when it said some employees would work Christmas Day to finish deliveries. "Due to the severe weather yesterday, we made operational adjustments to keep our team members safe and to avoid major service disruptions," FedEx said then.
Weather challenges aside, Huckeba said some of his shipper clients grumbled about delays with FedEx's low-cost delivery program, called SmartPost. FedEx transports SmartPost packages for most of the journey and passes them to the U.S. Postal Service for final drop-off at customers' homes. Some companies complained that their packages sat idle for extended periods within the SmartPost system, Huckeba said.
John Haber, an Atlanta-based logistics consultant, also heard of delays in the SmartPost program. But SmartPost lacks the service guarantees that come with FedEx's more expensive delivery programs, so those users may have little room to complain, he said.
"You can't say it's all FedEx's fault," said Haber, chief executive officer of Spend Management Experts. FedEx and Postal Service spokesmen didn't have any immediate comment about SmartPost operations.
UPS completed its deliveries on Christmas Eve, and customer feedback suggests everything was delivered on time, spokesman Glenn Zaccara said Monday by e-mail. UPS struggled early in the holiday season, with an on-time delivery rate of 93 percent in the week following Black Friday. However, the company was able to catch up as the holiday approached, he said.
Late online orders and bad weather forced UPS to miss some Christmas deliveries two years ago, spotlighting Americans' increasing embrace of e-commerce and the struggles of shipping companies to match capacity to consumers' demand.
Before it's here, it's on the Bloomberg Terminal.
LEARN MORE