Chimerix Plunges After Late-Stage Antiviral Drug Trial Fails
Chimerix Inc. shares fell to their lowest-ever price after a late-stage trial of the company's experimental antiviral drug showed that more patients who got the therapy died after treatment than did those who got a placebo.
The drug, brincidofovir, is Chimerix's only prospective product in human testing, and Chimerix said it was pausing enrollment of patients in other late-stage tests in kidney transplant recipients. The shares fell 79 percent to $7.59 at 9:35 a.m. in New York, the lowest intraday price since they began trading in April 2013.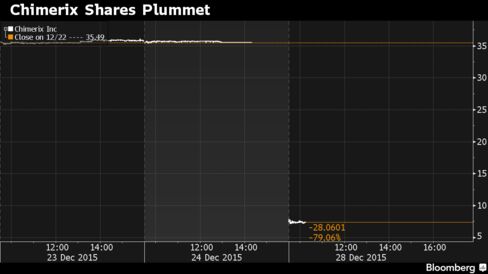 The trial looked at 452 patients who received a bone marrow transplant to see if brincidofovir prevented infections from cytomegalovirus. Patients who took brincidofovir had fewer infections while on the drug than those who got placebo. During the 10 weeks after treatment, however, they were more likely to get the infection or die than the placebo group, Chimerix said in a statement Monday. The company said the difference between death rates was not statistically significant.
"We remain committed to better understanding the full data set as we consider potential paths forward for brincidofovir," Chief Executive Officer Michelle Berrey said in the statement.
The higher infection and death rates in patients who got brincidofovir was driven by graft-versus-host disease, the company said. In graft-versus-host disease, the patient's body begins attacking transplanted cells. The increase in graft-versus-host also led to significantly more patients who took brincidofovir getting corticosteroids, which increases patients' risk of infection.
Immune System
Patients who have received a bone marrow transplant often have weakened immune systems, leaving them more susceptible to infections, and even common viruses that healthy people can fight off can be life-threatening. Cytomegalovirus is a significant risk for transplant patients, Chimerix said, and the virus can infect the lungs and other organs.
Brincidofovir is being tested for a number of viruses besides cytomegalovirus, and the company said that trials for adenovirus, which causes respiratory infections, and smallpox would continue. The drug was also given to some Ebola patients during the outbreak last year.
Before it's here, it's on the Bloomberg Terminal.
LEARN MORE