Dollar Set for Weekly Drop on Oil Rebound as Russian Bonds Gain
Offshore yuan poised for biggest weekly advance since October

Russian government bond yields fall to three-week low
The dollar held a five-day decline against major peers after oil capped its biggest weekly advance in four months. Japanese stocks slid, while Russian bonds advanced on speculation the central bank will resume interest-rate cuts next year.
Japan's Topix index fell, completing a fifth weekly drop, with exporters leading the retreat. Shares increased in China and Taiwan. The Standard & Poor's 500 Index rose 2.8 percent in the holiday-shortened week through Thursday, recouping most of its losses since the Federal Reserve raised interest rates for the first time in almost a decade Dec. 16. West Texas Intermediate futures rose 9.7 percent this week, the biggest gain since August after U.S. crude inventories declined and drillers idled rigs.
Markets across Asia except in Japan, China, Taiwan, Thailand and Vietnam were closed for holidays. In Europe, only Russia and Turkey were open for trading. Yields on five-year Russian bonds fell to three-week lows and the ruble trimmed a weekly appreciation.
"The dollar may end the year with a little pause but it's too early to declare the uptrend has reversed," said Koji Fukaya, the Tokyo-based chief executive officer at FPG Securities Co. "The dollar will remain solid through 2016 as interest rates rise with an improving economy."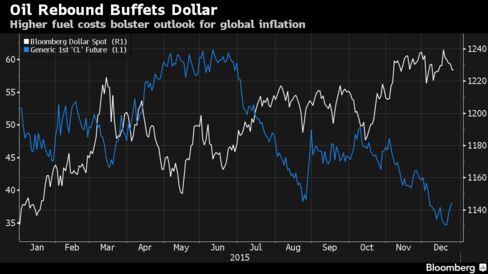 Currencies
The dollar fell 0.1 percent to 120.30 yen. It was little changed at 1.0960 euro, after sliding 0.5 percent in New York on Thursday. The Bloomberg Dollar Spot Index was little changed at 1,227.21, after declining for five days in the longest stretch since April.
A two-day gain in commodity prices through Thursday helped boost the Australian and New Zealand dollars. The Aussie appreciated 0.2 percent to 72.80 U.S. cents and the kiwi rose 0.2 percent to 68.36 cents.
The offshore yuan headed for the biggest weekly gain in two months on speculation demand for the currency will increase after Chinese authorities announced they would expand trading hours in the mainland and move to liberalize the capital account. For the week, the currency is up 0.3 percent, the most since the period ended Oct. 30.
Russia's ruble has increased 0.4 percent against the dollar in the past five days after oil staged a weekly advance and exporters bought the local currency to pay taxes. The currency lost 0.6 percent to 70.648 per dollar by 3:40 p.m. in London.
Stocks
The Topix declined 0.5 percent. Exporters slid as the stronger yen weighed on their profit outlooks. Toyota Motor Corp. fell 0.8 percent. Nikon Corp., the camera maker, dropped 0.3 percent.
"Then yen is back where it was before U.S. interest rates were raised," said Juichi Wako, a senior strategist at Nomura Holdings Inc. in Tokyo. "With foreign investors away for Christmas, domestic drivers aren't enough to push stocks higher or lower."
A rally this week is brightening the poor performance of Asian shares in 2015. The MSCI Asia Pacific Index has gained 1.2 percent since Dec. 18, paring to 4.8 percent its decline this year for the first back-to-back losses since 2002 amid decelerating Chinese growth and a rout in commodities.
The S&P 500 jumped 55.44 points to 2,060.99 in the week, as the biggest gain since November erased the index's loss for the year. The gauge ended the prior week with a 3.3 percent rout in the two days following the Fed's decision. Most European markets are closed until Monday, with those in the U.K. reopening on Dec. 29.
Emerging Markets
The MSCI Emerging Markets Index has fallen 16 percent this year, set for the worst annual performance since 2011, while the MSCI World Index dropped 2.1 percent.
China's Shanghai Composite Index advanced 0.4 percent on Friday amid speculation the government will take more measures to stem an economic slowdown. Property developers rallied after the government said it will encourage rural residents to buy homes to reduce inventories and a bidding war for China Vanke Co. erupted.
The Micex Index climbed 0.9 percent this week. The Borsa Istanbul 100 Index climbed 0.2 percent on Friday as gold miner Koza Altin Isletmeleri AS rallied 15 percent in its fifth day of gains.
The yield on five-year Russian bonds fell three basis points to 10.07 percent on Friday, a three-week low. Analysts surveyed by Bloomberg are predicting Russian policy makers will lower benchmark borrowing costs from 11 percent during 2016 to help shore up an economy caught in its worst recession since 2009.
"Investors are piling into government bonds before the New Year's holidays as oil has climbed and because they're betting on a drop in OFZ yields in 2016 amid interest-rate cuts," Dmitry Dudkin, the head of research at Uralsib Capital in Moscow, said by e-mail.
Commodities
Oil in New York capped its largest weekly gain in four months as U.S. inventories declined and the number of drilling rigs fell. WTI for February delivery rose 60 cents, or 1.6 percent, to close at $38.10 a barrel on the New York Mercantile Exchange. It was the highest settlement since Dec. 4. Futures touched $33.98 on Monday, the lowest since February 2009.
Aluminum in Shanghai held near its highest levels in more than two months, closing little changed at 10,915 yuan a ton, for its third weekly increase amid forecasts the global surplus of the metal may be narrowing.
Rubber futures in Tokyo headed completed the first weekly advance since Dec. 4, climbing 0.6 percent. The commodity's price is by supported rising shipments into China and gains for oil, said Takaki Shigemoto, an analyst at JSC Corp. in Tokyo.
Gold futures gained for the first time in three sessions Thursday as a weaker dollar boosted the appeal of the precious metal as an alternative asset. Silver futures also climbed on the Comex in New York, while platinum and palladium advanced on the New York Mercantile Exchange.
Bonds
U.S. 10-year Treasury yields slipped one basis point to 2.24 percent Thursday. U.S. government securities have returned 1 percent this year, based on Bloomberg World Bond Indexes, even after the Fed raised interest rates last week amid signs of uneven economic growth.
Trading in the Treasuries market closed at 2 p.m. New York time Thursday, while bond markets in the euro region never opened.
Before it's here, it's on the Bloomberg Terminal.
LEARN MORE