S&P 500 Rises for Third Day as Commodities Halt Slump, Oil Gains
Energy shares surge as crude jumps to highest in two-weeks

Three-day rally erases losses in S&P 500 for the year
The Standard & Poor's 500 Index rose for a third day, erasing losses for the year, as energy shares surged the most in almost three months and consumer-spending data boosted optimism on the economy.
Commodity companies surged for a second day as crude climbed to a two-week high and industrial metals gained on optimism the Chinese and American economies will spark demand for resources. Chevron Corp. rallied 3.9 percent and copper miner Freeport-McMoRan Inc. jumped 16 percent for its biggest gain since in August. Celgene Corp. rose 9.8 percent after settling a patent dispute over its top-selling drug. Micron Technology Inc. lost 2.2 percent after its quarterly sales missed estimates.
The Standard & Poor's 500 Index increased 1.2 percent to 2,064.29 at 4 p.m. in New York, as a three-day rally of 2.9 percent erased its decline for the year. The Dow Jones Industrial Average climbed 184.93 points, or 1.1 percent, to 17,602.20. The Nasdaq Composite Index added 0.9 percent. Trading in S&P 500 shares was 16 percent lower than the 30-day average. U.S. exchanges will close early on Thursday for the Christmas holiday and reopen on Dec. 28.
"The gains in oil and materials are certainly helping the market dig itself out of the hole," said Peter Jankovskis, co-chief investment officer of Lisle, Illinois-based OakBrook Investments LLC. "Consumer spending looks good, and it bodes well for the economy."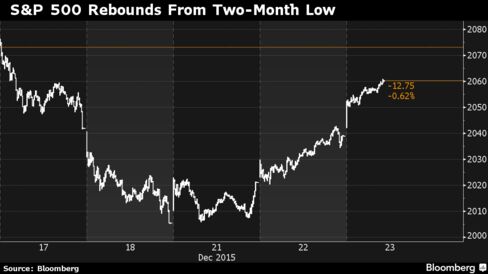 Equities extended a rally in this holiday shortened week, recovering from a slide to a two-month low as data showing consumers' willingness to spend buoyed optimism toward the outlook for growth. Investors were loading up on some of the year's biggest losers in search of bargains among energy and raw-materials shares.
A report today showed an increase in consumer purchases in November was accompanied by rising wages and scant inflation, indicating the biggest part of the U.S. economy will continue to underpin growth. Separate data showed orders for U.S. capital goods dropped in November for the first time in three months, showing businesses began tempering new investment after a third-quarter surge.
Consumer Spending
The consumer spending data is the latest evidence that the economy is sturdy enough to weather tighter monetary policy from the Federal Reserve. Purchases climbed by the most in three months in November, which follows a report yesterday showing consumer spending bolstered the economy in the third quarter. Other gauges today showed consumer confidence rose to the highest since July, while new homes sold at a slower pace than projected in November.
Investors have wrestled with signals that are often at odds as they assess prospects for the global economy. Optimism on the pace of U.S. growth has tangled with concern that a slowdown overseas, particularly in China, will spread. Fed officials last week signaled faith that the economy is performing well, while emphasizing they're in no hurry to further boost interest rates.
The S&P 500 has rebounded more than 10 percent from the bottom of a summer selloff that was sparked by worries over weakness in China. The benchmark historically rises in December, but the so-called Santa rally is under pressure this year. The gauge is down 0.8 percent this month, after losing as much as 3.4 percent.
VIX Retreat
The Chicago Board Options Exchange Volatility Index fell 7.5 percent Wednesday to 15.36, a two-week low. The measure of market turbulence known as the VIX is on track to wipe out its gain this month after surging as much as 51 percent on a closing basis.
A Goldman Sachs Group Inc. index of 50 stocks with the highest short interest jumped 2.6 percent to the highest level in more than two weeks.
Energy companies jumped 4.2 percent Wednesday to top the S&P 500's 10 main industries, as the group headed toward its strongest day since Oct. 2. West Texas Intermediate crude futures rose past $37 a barrel after a weekly report showed U.S. crude inventories declined, easing a supply glut.
Energy producers are still down more than 7 percent in December, on track for their worst month since July. Williams Cos. and Southwestern Energy Co. gained more than 12 percent today.
"There's a fair amount of money wanting to buy into the energy sector because prices are so beaten up," said Bob Phillips, co-founder and managing principal at Indianapolis-based Spectrum Management Group Inc. "Any indication that oil prices are ticking higher gives reason for that speculative money to start taking positions, and that can push the index higher."
Freeport Rallies
Freeport-McMoRan rallied the most in four months to lead raw-materials shares. The copper producer is the fourth-weakest performer in the S&P 500 this year, losing 68 percent. Alcoa Inc. climbed 6.6 percent toward a more than two-month high, trimming its 2015 drop to 35 percent.
Celgene led gains among health-care companies and the Nasdaq Biotechnology Index, which added 9.8 percent. The company said it settled a patent dispute over its blood cancer treatment Revlimid with Natco Pharma Ltd., sending the shares toward their biggest climb in six years.
Beaten-down Tenet Healthcare Corp., which has lost 36 percent this year, rose 7.5 percent and is up 19 percent this week as more people than expected signed up for Obamacare coverage next year.
The Dow Jones Transportation Average gained 1.1 percent, taking its three-day climb to 3.3 percent. Barge operator Kirby Corp. added 4.1 percent, while Ryder Systems Inc. advanced 3.5 percent. Both companies are down more than 30 percent in 2015, while the transportation average has lost about 17 percent.
Among other companies moving on corporate news, Bed Bath & Beyond Inc. fell 4.6 percent after saying third-quarter profit and comparable sales will be less than forecast. Nike Inc. slipped 2.3 percent, even as its quarterly earnings exceeded estimates. Executives said on a conference call that the company's gross margin may narrow in the current quarter as it works to clear out inventory in North America to make way for new products.
Before it's here, it's on the Bloomberg Terminal.
LEARN MORE