U.S. Retailers Drop Shipping Fees to Counter Weak Holiday Sales
Under pressure from Amazon, more chains add free delivery

Companies weigh increased costs versus higher sales per order
Stung by a spending slowdown, more retailers are offering free online shipping, giving consumers a holiday gift but also cutting into profits.
This year, 90 percent of all retailers are providing free delivery, up from 78 percent in 2014, according to HRC Advisory. The strategies vary by company: Target Corp. and Best Buy Co. are providing free delivery on every purchase, for example, while Gap Inc. and Wal-Mart Stores Inc. require a $50 minimum.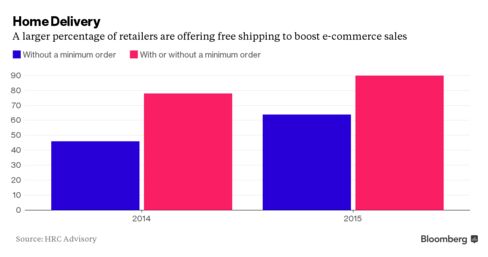 Retailers are adding the incentive as they battle declining foot traffic in malls, record-shattering warm temperatures and a move toward more spending on services, travel and entertainment. They also face formidable competition from Internet behemoth Amazon.com Inc., which is grabbing an increasing share of holiday spending.
"There's a need now for retailers to cannibalize themselves so others don't do it for them," said Simeon Siegel, an analyst at Nomura Securities. "Consumers can get whatever they want at this point."
Even in a growing U.S. economy, companies are "increasingly desperate" as shoppers turn away from traditional gifts, said Farla Efros, president of HRC.
"All the indicators are showing that we're doing a bit better, but it's not translating into retail -- it's translating into other things," she said. That makes it incumbent upon merchants to make shopping as seamless as possible, she said.
Battling Amazon
While retailers are taking on a new expense in exchange for a fee that was once a small source of revenue, some of those costs may be offset by increased sales. The average order is 15 percent to 30 percent higher when merchants offer free shipping, with or without a minimum, according to Andrew Lipsman, vice president for marketing and insight for the research firm ComScore.
One of the drivers of the move toward complimentary shipping is Amazon, which commands a huge lead in online sales and offers the service through its $99-a-year Prime membership. By adding free delivery to compete, traditional brick-and-mortar chains are "being squeezed somewhere," said Deb Henretta, a senior adviser at consultant SSA & Co. and a former Procter & Gamble Co. executive whose roles included heading e-commerce.
Converting Customers
Best Buy, the world's biggest electronics chain, offered free shipping on orders of $35 or more this year before waiving the minimum from Oct. 25 to Jan. 2. Target, the discount chain, introduced free shipping for all holiday orders last year.
"We know that surprise shipping charges can be a barrier to online purchases," Target spokesman Eddie Baeb said in an e-mail. The offer boosted conversion, or the percentage of online shopping that results in a purchase, by 40 percent, Baeb said.
Retailers can also use free delivery as a way to goose sales. The No. 1 reason consumers abort an online purchase is when a shipping charge gets added to the total during checkout, according to a study by ComScore and United Parcel Service Inc.
By adding thresholds to qualify, "that's $10 you wouldn't have spent had there not been that minimum," Henretta said. And it isn't necessarily a profit drain. Companies can adjust prices to compensate for some of those costs, according to Lipsman.
Slower Sales
The National Retail Federation has forecast a 3.7 percent increase in holiday spending this year, and merchants rolled out discounts -- including on shipping costs -- early to grab their share. But November figures don't bode well for that forecast. Clothing-store sales rose 0.3 percent from the same period in 2014, while general merchandise climbed 2.3 percent, according to the Commerce Department.
Through their scale, retailers can negotiate discounts with shipping companies that are an estimated 30 percent to 50 percent lower than the market rate, according to a 2014 Nomura report. Still, delivery costs may eat into 3 percent to 4 percent of online sales, Nomura's Siegel estimated.
The added service comes with long-term risks, said Satish Jindel, president of Pittsburgh-based SJ Consulting Group, which focuses on the transportation and logistics industry.
"This is a dangerous world of getting the consumer addicted to free shipping," Jindel said. "It will be more painful to wean them off it than the airlines and free checked baggage."
Before it's here, it's on the Bloomberg Terminal.
LEARN MORE