Treasuries Extend Slide as Oil Climbs Amid U.S. Economic Data
30-year yield most correlated to oil prices in two years

Treasuries set to hand investors positive return for 2015
Treasuries fell for a second day as a rebound in oil prices fueled wagers that inflation may quicken in 2016.
Yields rose as oil climbed almost 5 percent after a report showed a drop in U.S. crude inventories. The 30-year Treasury yield is more closely correlated to swings in oil prices than at any time since May 2013, according data compiled by Bloomberg. A dive in commodities has kept consumer-price growth near zero this year, supporting long-term U.S. debt. Higher inflation would erode the value of long bonds, and allow the Federal Reserve to raise interest rates more quickly than bond traders expect.
"Over the last couple of days, it's been more about oil than anything else," said Thomas Roth, senior Treasury trader at Mitsubishi UFJ Securities USA Inc. in New York. "Right now it's the only thing the market has to judge where inflation is going and what the Fed's going to do."
The benchmark 10-year note yield rose two basis points, or 0.02 percentage point, to 2.25 percent at the close in New York, according to Bloomberg Bond Trader data. The 2.25 percent note due November 2025 fell 5/32, or $1.56 per $1,000 face amount, to 99 30/32. The yield on the benchmark 30-year bond climbed three basis points to 2.99 percent.
Traders' focus on inflation has sharpened since the Fed raised interest rates on Dec. 16, as they try to gauge how quickly the central bank will tighten monetary policy next year. The Commerce Department said Wednesday that the Fed's preferred measure of consumer prices rose 1.3 percent in November from the year before, in line with economists' estimates but below the central bank's long-term target of 2 percent.
Positive Return
The rebound in oil prompted traders to bet on higher long-term inflation Wednesday, as measured by the break-even rate, or the difference between yields on inflation-linked securities and nominal equivalents. The 10-year break-even rate rose five basis points to 1.54 percentage points.
Treasuries are still eking out a gain for the year even after the Fed raised interest rates last week amid signs of uneven U.S. economic growth. Government securities have returned 1 percent year-to-date, based on Bloomberg World Bond Indexes.
"I don't think we're going to distance ourselves too far from 2.25 percent," said Craig Collins, managing director of rates trading at Bank of Montreal in London.
Consumer purchases climbed in November by the most in three months, according to data released a day ahead of schedule on the Bureau of Economic Analysis' website. Personal income rose by 0.3 percent in November, more than the 0.2 percent economists forecast. New home sales were weaker than expected in November, while a gauge of consumer confidence reached a five-month high.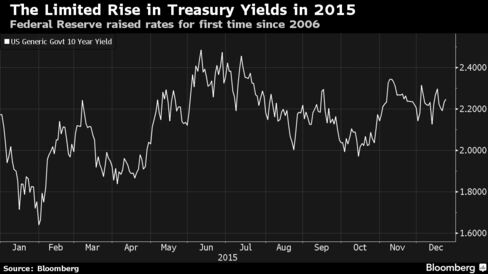 The Securities Industry and Financial Markets Association recommends an early close for U.S. bond markets Thursday and a full closure on Friday for Christmas.
Before it's here, it's on the Bloomberg Terminal.
LEARN MORE