Top U.S. Banks Miss Golden Era of Profits Before Crisis: Chart
One measure of profitability shows a lot of catchup to do yet

JPMorgan and Goldman Sachs have done better than rivals
Wall Street's top five firms are almost a quarter bigger than they were before the 2008 financial crisis. That growth in assets hasn't translated into profits, though.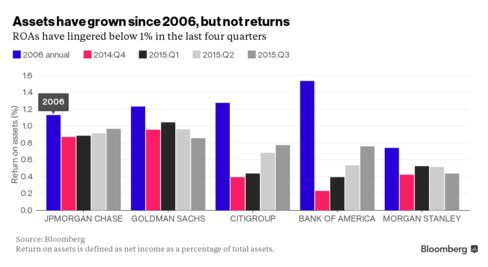 Return on assets, a measure of how much a firm earns on each dollar of its holdings, remained negative for some banks until as late as 2010 while losses continued to trickle in. It has slowly improved since then. Citigroup Inc. and Bank of America Corp., which both received government bailouts at the height of the crisis, have seen the most dramatic improvement in the last four quarters, though they have a long way to go before approaching pre-2008 levels.
Before it's here, it's on the Bloomberg Terminal.
LEARN MORE