U.K. Bonds Unstirred by Volatile 2015 as Yield Curve Holds Firm
Markets aren't pricing a BOE rate increase until 2017

`The fun and games have all been elsewhere,' UBS says
U.K. government bonds tell a more placid version of events in 2015 than most markets.
It's been a volatile year across the globe from the Swiss National Bank abandoning its currency cap and the Federal Reserve raising rates for the first time in almost a decade to a slump in oil and a slowdown in emerging markets.
In contrast, the U.K. gilt yield curve, shown below, has barely budged from this time last year. Markets aren't pricing an interest-rate move from the Bank of England until 2017 and economic growth has been accelerating at a steady pace through the year.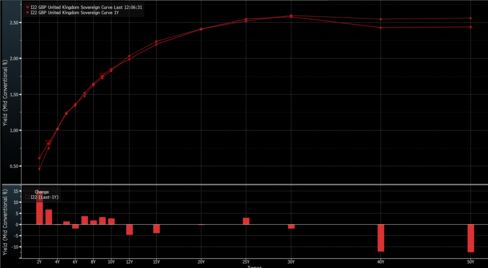 "Lots has happened but at the same time in terms of the outlook -- where we are now and where we expect we are going -- perhaps not much has changed," said John Wraith, head of U.K. rates strategy at UBS Group AG in London. "The fun and games have all been elsewhere, it's been about Greece, China, EM and the Fed. For the BOE, the first hike has just stayed out of reach but nothing has gone dreadfully wrong either."
Gilts dropped for the first time in four days Tuesday, dropping along with U.S. Treasuries and German bunds, the euro-area's benchmark sovereign securities.
The yield on 10-year gilts rose eight basis points, or 0.08 percentage point, to 1.89 percent as of 4:07 p.m. London time. The 2 percent security due in September 2025 fell 0.67, or 6.70 pounds per 1,000-pound ($1,482) face amount to 100.96. On Dec. 22, 2014, the 10-year yield closed at 1.82 percent.
Slow Inflation
The biggest changes to the yield curve happened at the extremes. Bonds with longer-dated maturities rose, pushing gilt yields lower, as the nation's inflation rate held near zero. Price growth would have eroded the value of interest payments and made these fixed-income assets less appealing.
The greatest increases in yields came in shorter-maturity gilts as the BOE is still seen more likely to raise interest rates than to cut them. Fed policy makers indicated they will increase U.S. borrowing costs four times in 2016, dragging up Treasury note yields in the U.S., with the U.K. following suit.
Forward contracts based on the sterling overnight index average, or Sonia, aren't fully pricing in a 25-basis-point increase to U.K. interest rates until February 2017.
Gilts returned 2.8 percent in the past year through Monday, according to Bloomberg World Bond Indexes. By comparison, Treasuries gained 1.4 percent and euro-area sovereign securities earned an average 2.6 percent.
Before it's here, it's on the Bloomberg Terminal.
LEARN MORE