Puerto Rico Payment Almost Impossible, Governor Reiterates
Garcia Padilla says assessment being done on what to pay

Commonwealth began redirecting bond revenue earlier this month
Puerto Rico faces what may be its biggest deadline in 10 days: pay investors nearly $1 billion in interest or push the island into a major debt default.
"To make a total payment will be almost impossible," Governor Alejandro Garcia Padilla said Tuesday at the University of Puerto Rico. "If a partial payment is made: what bonds should we pay? It is an assessment that is being done. It is highly unlikely that there will not be default, in whole or partially."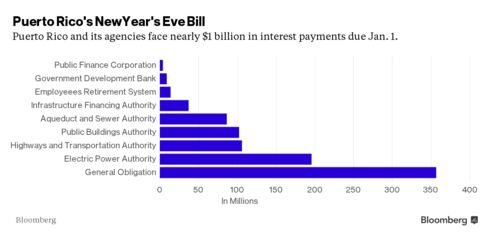 Puerto Rico and its agencies racked up $70 billion by borrowing to paper over budget deficits. A $957 million interest payment is due Jan. 1, including $357 million for general-obligation bonds that the island's constitution stipulates must be repaid before other bills. The governor is seeking to lower the commonwealth's debt load by negotiating with investors to take losses.
Garcia Padilla this month started redirecting some revenue that backs certain agency bonds to the central government's coffers, referred to as a claw-back. Three public corporations, the Infrastructure Financing Authority, the Highways & Transportation Authority and the Convention Center District Authority, said they will use reserve funds -- because of the clawback -- to help make their Jan. 1 payments.
Puerto Rico's Public Finance Corp. in August skipped a principal and interest payment after lawmakers failed to allocate the funds. Moody's Investors Service said Tuesday it downgraded $1.09 billion of the appropriation bonds issued by the agency to C from Ca.
Before it's here, it's on the Bloomberg Terminal.
LEARN MORE