How Fidelity Fund Profits From Ireland's Economic Resurgence
Special Situations buys companies exposed to local market

Bank of Ireland, Dalata, Cairn Homes among Fidelity picks
Fidelity Worldwide Investment is trawling Ireland as the economy grows more quickly than anywhere else in the developed world.
The company's 2.8 billion-pound ($4.2 billion) Special Situations Fund is investing in Irish stocks including Bank of Ireland Plc, hotelier Dalata Plc and homebuilder Cairn Homes Plc, tapping into an economy growing about 7 percent this year. The Irish stock index is among the best performers in Europe, gaining more than 28 percent as the revival sparked by the presence of companies like Google Inc. in Dublin spreads through the economy, dubbed a "phoenix from the ashes" by Commerzbank AG this month.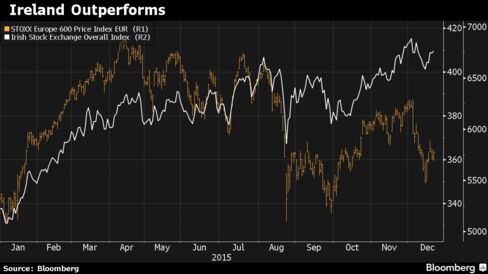 "What we are seeing now is the beginnings of a recognition that Ireland is a very attractive place to invest for domestic exposure as well as a place to locate your multinational headquarters," Matthew Jennings, an investment director at Fidelity's U.K. equities team, said in an interview this month. "These stocks have been totally overlooked for an extended period of time."
A renewed appetite for Irish equities adds another leg to Ireland's renaissance among international investors, seven years after the financial crash sent them running for the exit. Franklin Templeton led the way by snapping up sovereign debt starting in 2011, while others including Blackstone Group LP focus on buying real estate assets.
Debt Legacy
International investors largely dumped Irish stocks from 2008, amid one of the worst real-estate market collapses in history. The legacy lingers on, with unemployment only recently falling below 10 percent and personal debt among the highest in the euro region.
Still, the economy is bounding along again and the Fidelity fund returned about 11 percent in the 12 months though November, according to Morningstar Inc., which ranks it in the top 31 percent among its peers. The manager of the fund, Alex Wright, wasn't available to comment.
The Special Situations Fund, which was set up and run by Anthony Bolton for almost 30 years, had focused on DCC Plc and UDG Healthcare Plc, Irish companies now more linked to the U.K. economy, Jennings said. After shares in both companies surged, the company reduced its stakes as it hunted domestic plays.
Bank of Ireland, the country's largest, has gained 8.3 percent this year. London-listed Cairn advanced 20 percent, while Dalata, which operates more than 40 hotels, jumped more than 70 percent this year in Dublin.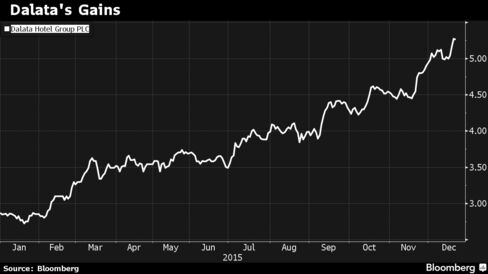 Jennings said the number of hotels in Dublin is the same as 2010 even with visitor numbers 30 percent higher.
"You don't have to be a maths genius to figure out the pricing environment is strong," said Jennings.
Before it's here, it's on the Bloomberg Terminal.
LEARN MORE