Gasoline at $2 Means $1.6 Billion for U.S. Holiday Travelers
U.S. average falls below $2 a gallon for first time since 2009

Pump prices below $2 in almost 70% of country: GasBuddy
Gasoline falling to $2 a gallon at the pump will put $1.6 billion back in U.S. drivers' wallets this holiday season.
That's how much consumers will save during their year-end travels compared with last year, according to GasBuddy Organization, a price tracker based in Gaithersburg, Maryland. The average nationwide pump price dropped to $1.99 a gallon on Dec. 20, the lowest in more than six years, and was to $2.01 Tuesday.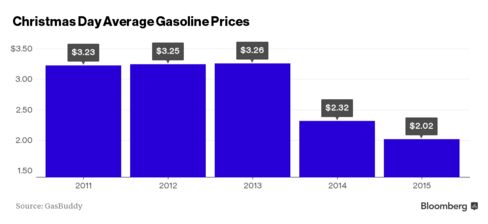 "It's beginning to look a lot like Christmas…in 2008!" Patrick DeHaan, senior petroleum analyst at GasBuddy said in an e-mailed statement. "There has not been a better time in years for motorists to extend their trips and travel farther, as sub-$2 per gallon gas can be found at almost 70 percent of stations in the country."
Consumers are benefiting from a 66 percent drop in West Texas Intermediate crude over the past 18 months. That has boosted refiners' profit margins, encouraging them to produce record amounts of fuel. Prices are poised to remain depressed into next year after the Organization of Petroleum Exporting Countries refused to limit its output.
According to the GasBuddy's holiday survey, 88 percent of those heading out of
town will be traveling by car, with 66 percent driving at least 200 miles round trip. The organization defines year-end travel as spanning Dec. 23 through Jan. 3.
Before it's here, it's on the Bloomberg Terminal.
LEARN MORE