Qihoo's $9.3 Billion Privatization Rekindles China Buyout Spree
Deal is part of a record $37 billion in delisting offers

Companies are seeking ways to accelerate path to local listing
The $9.3 billion buyout of Qihoo 360 Technology Co., owner of China's second-biggest search engine, is the latest sign that mainland companies are renewing their interest in delisting from U.S. exchanges to sell equity locally at a higher valuation.
The $77 per American depositary share offer for Qihoo from an investor group including Ping An Insurance (Group) Co. and Sequoia Capital China follows a non-binding agreement initially proposed six months ago. The deal is part of a string of U.S.-listed Chinese companies that have announced privatization offers worth a record $37 billion this year as investors and executives seek to shift listings to the mainland.
While the flow of takeover bids has slowed since June as Chinese stocks fell in a rout that erased as much as $5 trillion of equity value, making a local listing less attractive, they are now coming back after markets stabilized. The buyouts have primarily targeted the U.S. traded stock because they're cheap compared with their Chinese-traded peers.
"People were worried that the Qihoo deal might fall apart because of its gigantic size," Chiheng Tan, an analyst at Granite Point Capital Inc., said by phone from Boston. "But since a deal as big as Qihoo didn't have a problem getting financed, more Chinese companies may follow suit."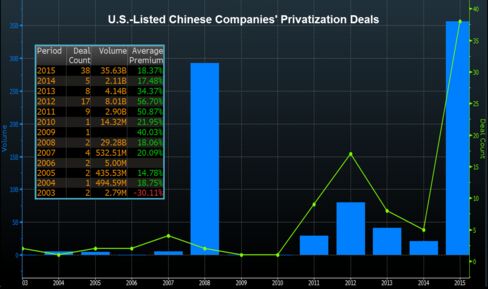 The Qihoo deal is offering investors a premium of 16.6 percent to the company's closing price on June 16 with the deal expected to close in the first half of 2016, according to a statement on Friday. Shares of Qihoo rose 1.7 percent to $73 in New York after the announcement. The offer, made by an investor group that also includes Chief Executive Officer Hongyi Zhou as well as Citic Guoan Golden Brick Capital and Huasheng Capital, is at the same price as the June proposal.
Accelerated Path
While 38 U.S.-listed Chinese companies have received offers this year to go private, only five have completed the process. Investors are looking for ways to accelerate the delistings to take advantage of the improving market environment after the Shanghai Composite Index jumped 22 percent from a bottom in August. Homeinns Hotel Group and dating site Jiayuan.com International Ltd. this month both accepted acquisition offers from China-listed firms, a move that will quicken the pace by which they could move to local trading.
Homeinns has agreed to be bought by Shanghai-listed hotel operator BTG Hotels Group based on an offer that's almost 10 percent higher than the original buyout price in June. Baihe Network Co., listed in China's over-the-counter market, will acquire the country's biggest online matchmaking site Jiayuan.com through its subsidiaries, also at a premium to the initial deal.
Innovative Process
With both offers being made by Chinese companies that are already traded locally, it means that once the buyouts are completed, Homeinns and Jiayuan will immediately become part of publicly-listed entities in China. Such an approach gives companies a faster route to the Chinese stocks market than going through the initial public offering process, according to Henry Guo, an analyst at Summit Research Partners LLC.
"This is a more innovative way we are seeing for Chinese companies to return home," Guo said by phone from San Francisco. "The process will be much easier through current listed companies. We'll see more of that type happening in future."
Jiayuan has gained 9.6 percent this month, while Homeinns jumped 11 percent. That compares with a 4.1 percent increase in the Bloomberg China-U.S. Equity Index.
IPO Drought
"This is very encouraging for 'go privates', which now have another route to an A-share listing along with a direct IPO or a reverse merger," said Ryan Roberts, a Hong Kong-based analyst at MCM Partners, by e-mail.
As companies seek to return home, initial public offerings by Chinese companies in the U.S. have plunged. Only 14 firms have debuted on American exchanges this year with a total value of $666 million, according to data compiled by Bloomberg News. That would be the fewest deals since 2013 and the smallest volume since 2011.
Stocks on the Bloomberg index of Chinese ADRs now trade at a median forward price-to-earnings ratio of 17, compared with a multiple of 29 for companies on the Shanghai Composite. As long as valuations in China are more attractive and the country continues to open up its capital markets, there will be more companies going back than those seeking a U.S. listing, said Granite Point's Tan.
Before it's here, it's on the Bloomberg Terminal.
LEARN MORE