Brazil Stocks, Real Fall as Barbosa Fails to Assure Investors
Barbosa's appointment fuels investor concern over budget fight

Currency declines beyond 4 per dollar after advancing earlier
The real weakened past 4 per dollar and the Ibovespa dropped on speculation newly appointed Finance Minister Nelson Barbosa won't be a strong enough advocate for reining in Brazil's growing budget deficit.
The benchmark equity gauge and the currency reversed gains after Barbosa ended a conference call with investors without providing a specific roadmap for restoring Brazil's fiscal health. State controlled oil producer Petroleo Brasileiro SA, lender Banco Bradesco SA and miner Vale SA were among the worst performers on the index. The real slumped to the lowest level since September.
The former planning minister took over the finance job amid a deepening economic crisis. The change, said to be spurred by former minister Joaquim Levy's frustration at the government's inability to push through fiscal reforms, adds to a muddled political outlook after the Supreme Court ruled last week on new impeachment procedures that may improve President Dilma Rousseff's odds of hanging onto her job.
"Barbosa has always been seen as very aligned with Rousseff, especially by not being strict when implementing fiscal adjustments," said Camila Abdelmalack, an economist at CM Capital Markets in Sao Paulo. "We haven't seen, so far, signals that he will be tough when dealing with public accounts."
The Ibovespa retreated 1.3 percent to 43,320.73 in Sao Paulo, after rising as much as 0.7 percent. Stock valuations slid to 10.2 times estimated earnings, the lowest since Jan. 7, on Monday after Barbosa said that the government will discuss ways to cut expenses, without saying how. The currency fell 0.7 percent to 4.0103 per dollar after advancing as much as 0.5 percent. One-month implied volatility in the real climbed to 23.5 percent, the highest among 16 major currencies tracked by Bloomberg.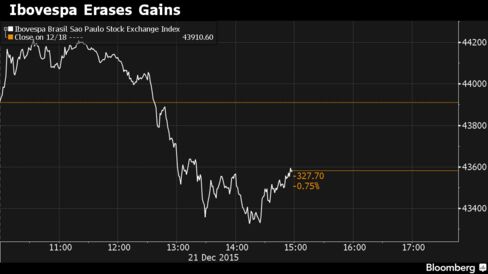 Levy was well regarded by investors when he took over for his University of Chicago-training, asset-management experience and reputation as a fierce budget cutter. Barbosa, while generally respected by analysts for his technocratic skills, isn't seen as being quite as tight-fisted on spending, a perception he only reinforced when suggesting Friday that he was amenable to granting subsidies to some industries.
Levy struggled to reverse a widening budget gap as legislators focused on the corruption scandal that began at state-run oil giant Petrobras and has landed numerous executives and politicians in jail. In that context, little attention was paid to Levy's pleas to cut spending.
The cost of insuring Brazilian bonds in the credit-default swaps market for five years rose 13.44 basis points to 502 basis points, the highest level since Sept. 29.
Swap rates on the contract maturing in January 2017, a gauge of expectations for changes in Brazil's interest rates, rose 0.17 percentage point to 16.00 percent.
Before it's here, it's on the Bloomberg Terminal.
LEARN MORE