Asian Stocks Advance as China Shares Rally With Oil Companies
Shanghai gauge climbs to highest level in almost four weeks

Asian shares set for first back-to-back annual loss since 2002
Asian stocks advanced as Chinese shares climbed to the highest level in almost four weeks and oil companies rallied.
The MSCI Asia Pacific Index rose 0.1 percent to 129.75 as of 9:03 p.m. in Hong Kong, with energy shares leading gains. The Shanghai Composite Index climbed 1.8 percent, after its biggest weekly increase in more than a month, as investors bet the government will accelerate reform of state-owned enterprises. China's power industry plans to bring in more investors in a pilot program of mixed-ownership reform next year, the Economic Information Daily reports, without citing anyone.
"There are expectations that the SOE reforms may see an acceleration or breakthrough at the ongoing central economic work conference," said Wu Kan, a fund manager at JK Life Insurance Co. in Shanghai. He's adding to his stocks holdings, to about 60 percent of the overall allocation. "The market is expecting an improvement in the SOE efficiency."
The Shanghai Composite has rebounded 24 percent from an August low after the government took unprecedented measures to prop up equities and speculation grew policy makers will take more steps to bolster the economy.
Hong Kong's Hang Seng Index added 0.2 percent Monday and the Hang Seng China Enterprises Index advanced 1.2 percent.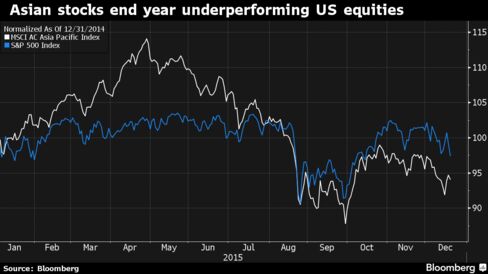 Japan's Topix index dropped 0.4 percent, paring a decline of as much as 1.6 percent. The gauge tumbled earlier in the day as Toshiba Corp. plunged to the lowest level in three years and the yen held Friday's gains.
Toshiba sank 9.8 percent on reports it would post a record 500 billion yen ($4 billion) loss in the current fiscal year on costs related to an accounting scandal, layoffs and sales of business units. After the stock market shut, the company announced a record full year loss of 550 billion yen.
South Korea's Kospi Index and Taiwan's Taiex Index gained 0.3 percent and Singapore's Straits Times Index slipped 0.3 percent. Australia's S&P/ASX 200 Index closed little changed and New Zealand's S&P/NZX 50 Index rose 0.2 percent.
Asian shares are down 5.9 percent this year, on course for their first back-to-back annual declines since 2002, as a commodity rout deepened and investors speculated Chinese authorities will need to increase stimulus to support economic growth. The loss would be more than twice that for the Standard & Poor's 500 Index, which has dropped 2.6 percent in 2015.
Asian equities retreated Friday and the yen jumped 1.1 percent against the dollar following the Bank of Japan's tweaks to its stimulus program that disappointed investors.
The central bank modified its stimulus program to lengthen the average maturities of government bonds it buys and unveiled new measures to purchase exchange-traded funds. Governor Haruhiko Kuroda said the changes were designed to make it easier for the BOJ to maintain its current policy and didn't constitute additional easing.
"We do not think this is the final word from the BOJ," Hartmut Issel, Singapore-based chief investment officer for UBS AG's wealth management unit, told Bloomberg TV in Singapore. "The chance is quite a bit higher than 50 percent that they're going to come again before April. We're not quite as worried as apparently the market was on Friday."
The yen slipped 0.2 percent against the dollar Monday. Brent crude tumbled to the lowest level in 11 years amid speculation a global supply glut will persist.
Futures on the Standard & Poor's 500 Index rose 0.8 percent. The underlying gauge closed 1.8 percent lower on Friday, completing its worst two-day slide since Sept. 1. The U.S. equities gauge extended declines in the final 15 minutes of trading and volume soared because of a quarterly event known as quadruple witching, when futures and options contracts on indexes and individual stocks expire.
Before it's here, it's on the Bloomberg Terminal.
LEARN MORE