Money managers holding record net-short position: CFTC data

`Gold is an emotional commodity,' Cambiar's Barish says
Janet Yellen sent gold prices on a roller-coaster ride. Now, hedge funds and the metal's best forecasters are predicting there's only one way prices are heading next: down.
The Federal Reserve Chair on Wednesday raised U.S. interest rates for the first time in almost a decade, sending bullion prices swinging and driving the metal's 30-day volatility to a six-week high. While traders couldn't decide on a direction for gold, Robin Bhar and Barnabas Gan, the most accurate forecasters, are convinced futures will keep falling in 2016. Money managers agree, raising their net-short position to the highest ever.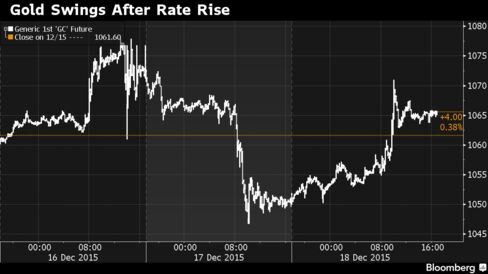 "Because gold is an emotional commodity, you're dealing with the way that crowds think," said Brian Barish, the chief investment officer of Denver-based Cambiar Investors LLC, which oversees about $14 billion. "When that's the case, it's very hard to predict human emotions other than they're going to change around from time to time. I wouldn't touch it personally. I think it has a lot lower to go."
After a decade-long bull market that propelled gold to a record in 2011, the precious metal is poised for a third annual loss. With the end of the U.S. stimulus era and very little inflation, investors see no reason to stay in bullion and are dumping their holdings in exchange-traded products. Higher rates cut the metal's appeal as a store of value as the dollar strengthens.
Record Bears
Futures declined 1 percent last week to $1,065 an ounce on the Comex in New York. The 30-member Philadelphia Stock Exchange Gold & Silver Index of shares dropped 6.1 percent, trading near the lowest since 2000. The net-bearish position in gold futures and options reached 21,881 contracts in the week ended Dec. 15, according to U.S. Commodity Futures Trading Commission data released three days later. That's the most since the data begins in 2006.
Gold has had a bumpy 2015, swinging between year-to-date gains and losses more than ten times as investors tried to gauge the timing of the Fed's rate rise. Some traders have speculated that prices could be near a bottom because the metal is trading near its cost of production, with futures dropping almost 10 percent this year. Even though the tighter monetary policy was telegraphed by officials for months, the central bank plans to keep increasing borrowing costs next year.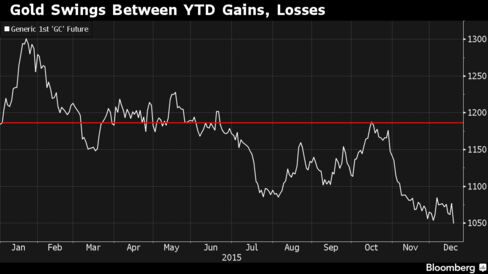 The outlook for more interest rate increases in 2016 means bullion could drop to $950 by the end of next year, according to Gan, an economist at Oversea-Chinese Banking Corp. and the most accurate gold forecaster in the third quarter, based on rankings compiled by Bloomberg. Gold will "remain a casualty" of the Fed, Gan said in an e-mail.
Unlike in the 1970s, when gold surged even as the U.S. boosted borrowing costs, this time, there's one important element missing: high inflation. With global rout in the cost for raw materials and U.S. consumer prices rising below the Fed's 2 percent target, investors see little need to hold bullion as a hedge. That's adding to the bearish outlook, said Bhar, the second-most accurate gold forecaster.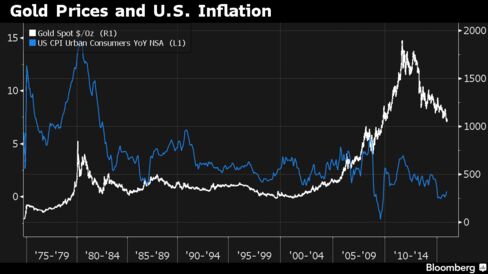 "We're not going back to the 1970s of high inflation," said Bhar, an analyst at Societe Generale SA in London. The bank see prices at $955 in next year's fourth quarter. "It's a completely different era. Maybe it's not the era of gold anymore. The last decade was a decade of gold. This decade, you're going to look to something else."
Before it's here, it's on the Bloomberg Terminal.
LEARN MORE