Turnbull to Tell Abe of `Grave Disappointment' Over Whaling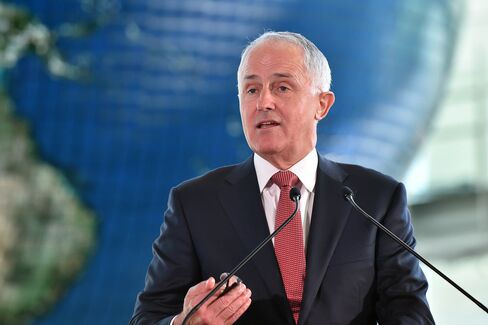 Australia's Prime Minister Malcolm Turnbull will use his first visit to Japan since becoming leader to tell counterpart Shinzo Abe of his "strong, very principled opposition" to the Asian nation's plan to resume whaling.
"The disappointment is real," Turnbull told reporters in Tokyo Friday. "We welcomed the cessation of whaling last year and its resumption this year is a matter of grave disappointment."
The issue has cast a shadow over Turnbull's talks with Abe, which will also cover enhancement of economic and trade ties as well as security and defense cooperation. The countries are mutual allies of the U.S. amid concerns of growing Chinese militarization in the South China Sea.
Japan announced last month that it plans to renew its research hunt for whales in the Antarctic, ending an almost two-year hiatus prompted by an international court ruling that its killing of whales couldn't be justified for scientific purposes. Earlier this month, Australia joined 32 other nations to protest against the decision, pledging to raise its concerns at the highest level with its Japanese peers and consider legal action.
Other matters up for discussion between Turnbull and Abe, both 61, will be potential increased military cooperation. Japan participated in joint military exercises with the U.S. and Australia for the first time off Australia's northern coast earlier this year.
Japan, along with Germany and France, is bidding to helm a A$50 billion ($35.6 billion) project to build and maintain a new fleet, with a decision due next year. Winning the race would cement the "special" relationship Abe has sought to build with a fellow U.S. ally against an assertive China.
China is embroiled in a long running territorial spat with Japan in the East China Sea. It is also conducting large-scale land reclamation in the South China Sea, waters that are also contested by a number of Southeast Asian nations and contain some of the world's most important shipping lanes.
Turnbull, looking to drive innovation in the world's 12th-largest economy as a mining investment boom stalls, has described his visit to Tokyo as "an opportunity to build strong ties in creating a research and business culture that incentivizes and rewards innovation and entrepreneurship."
The two nations completed a free-trade agreement in July 2014. Japan is Australia's second-largest trading partner of merchandised goods, with total trade of A$65.5 billion last year. Japan is a major buyer of Australian coal and iron ore, while Australia imports Japanese vehicles and petroleum.
Before it's here, it's on the Bloomberg Terminal.
LEARN MORE