These Desktop Calendars Are Prettier Than Your Phone's
Calendars so cool they'll make you want to go back to paper.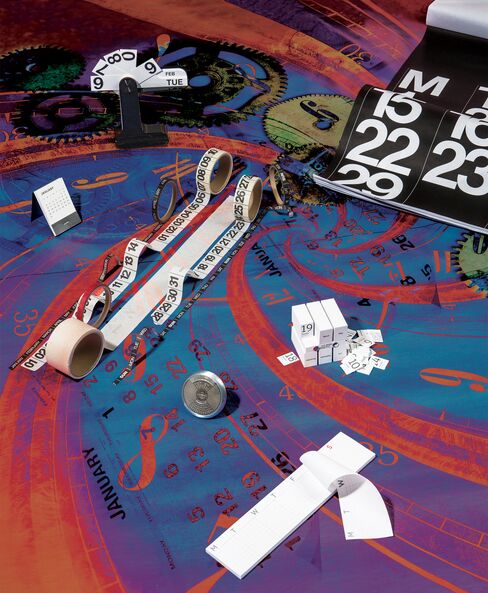 Danese Milano Timor desktop calendar by Enzo Mari
This sculptural calendar is expensive, but the good news is you can use it forever. $205; ameico.com
Matchbook calendar by Inkello
The cover of this pocket-size calendar is designed to fold over and serve as a stand. Perfect for the freelancer on the move. $8; inkello.com
Year-round tape calendar by Mo Man Tai
The set has eight rolls of masking tape printed with months, dates, and days of the week. Line them up to create your own custom calendar. $28; shop.cooperhewitt.org
Stendig oversize calendar by Massimo Vignelli
Designed in 1966, this calendar is in the design collection of New York's Museum of Modern Art. $35; stendigcalendar.com
The Cube calendar by Philip Stroomberg
A new take on the traditional tear-off. The cube changes shape as the days go by. $30; momastore.org
50-year calendar paperweight by Kikkerland
Set the dial to get an accurate day-of-the-week breakdown for any month from now until 2052. It even accounts for leap years. $13; kikkerland.com
Stick-up weekly calendar by Poketo
Post your weekly to-do list wherever you're most likely to see it. There are spaces for the weekend, but let's hope you won't have to use them. $10; poketo.com
Before it's here, it's on the Bloomberg Terminal.
LEARN MORE