These 20-Cent Junk Oil Bonds Show Creditors Bracing for Worst
Deadline to extend waivers on bank loan terms seen as hurdle

Pala fund says it's seeking talks with Pacific on strategy
Stung by the worst losses in emerging markets, Pacific Exploration & Production Corp.'s creditors are studying whether organizing is the best bet to protect themselves as the threat of a potential default grows.
The company's $4.1 billion of notes have plummeted 71 percent this year, the most for developing-nation issuers that haven't missed payments, as crude plunged and the contract at its biggest field wasn't extended. Bondholder Pala Assets said this week that it's organizing an informal committee to talk to management about how Pacific can best weather the slump in crude prices.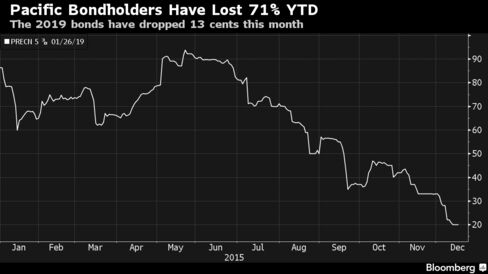 With Pacific failing so far to fulfill its own pledge to sell oil infrastructure assets this year and analysts estimating its 2015 loss will be triple last year's level, the Bogota-based company is running out of options. It still hasn't announced whether lenders including Bank of America Corp. and HSBC Holdings Plc will extend a waiver on the terms of $1.3 billion in loans.
If an accord isn't reached by Dec. 28, banks could call a default just as the slump in oil erodes demand for oil fields and equipment.
"Banks are in the driver's seat because of the waiver," Rafael Elias, the head of emerging-market strategy at Cantor Fitzgerald, said by e-mail. "That puts them at an advantage to bondholders, which don't have to negotiate anything right now."
Pacific General Counsel Peter Volk declined to comment on the efforts by bondholders to organize or negotiations with lenders. Last month, he had said in a telephone interview that if the waiver isn't granted, it would be up to the banks to decide whether it results in an acceleration of the debt or restricts it from taking on new debt.
Pacific's loan covenants require the company have a net worth, calculated by subtracting liabilities from assets, of more than $1 billion. On September 29, Pacific obtained the temporary waiver from its lenders for the net worth covenant for a period of 90 days. On Sept. 30, it's net worth stood at $629 million.
"There's a risk that they won't extend the waiver," Omar Zeolla, an analyst at Oppenheimer & Co., said from New York. "When they got that waiver, there was still the expectation that the company would sell assets and that would pay off some of the bank debt."
The covenant affects a $1 billion revolving credit line that Pacific drew down in full. It also governs a $36.3 million loan from Bank of America and $213 million of debt owed to HSBC. A $75 million loan from Banco Latinoamericano de Comercio Exterior features the covenant as well.
The syndicate of banks behind the credit line has hired FTI Consulting Inc. and law firm Davis Polk & Wardwell LLP for advice on negotiating with the company, according to a person familiar with the matter who asked not to be identified because the information is private. Debtwire previously reported the move.
Press officials at FTI and Davis Polk didn't reply to requests for comment.
Pala, a Swiss-based money manager specializing in corporate debt, said Tuesday that Pacific isn't communicating enough with investors about its strategy given the 38 percent drop in oil prices over the past year. The investment fund declined to say how much of the bonds it holds or reveal the amount of assets it manages.
"Pala Assets as a significant bondholder is currently bringing together an informal committee of bondholders for discussions with the company on how it intends to address the current challenges,'' money manager Alain Carl Nydegger said in an e-mail. "While there is already a group of large bondholders in contact with each other, we think that it is also important to proactively engage with the company directly from our side."
Before it's here, it's on the Bloomberg Terminal.
LEARN MORE