Suzuki Gets Go-Ahead to Bypass Indian Unit to Set Up Factory
Suzuki factory in Gujarat will supply cars, parts to Maruti

First line at the factory to start operations in early 2017
Suzuki Motor Corp. received the go-ahead from shareholders to bypass its Indian unit and set up the Japanese automaker's first wholly owned car plant in its biggest market.
A majority of Maruti Suzuki India Ltd.'s minority shareholders voted in favor of its proposal to buy vehicles and components from the planned factory by parent Suzuki, according to an e-mailed statement from the Indian company. The proposed plant in the western state of Gujarat will supply exclusively to Maruti, which is 56 percent owned by the Japanese automaker.
The approval paves the way for Suzuki to gain more control of its operations in India and invest directly to boost production capacity. It also marks the next phase of expansion for the company in the subcontinent after a fractious alliance with Volkswagen AG was dissolved earlier this year. The arrangement will also allow Maruti to expand its sales network and build a new premium brand.
"Now that the job of making cars is somebody else's, I can put my energy into developing new models because in India sales don't happen if you don't put in new models with good regularity," Maruti's Chairman R.C. Bhargava said in an interview in New Delhi on Thursday. "I have to concentrate on R&D and need to focus on building the infrastructure so that I can sell these new cars."
Suzuki expects the bulk of its growth to come from India, which IHS Automotive projects will overtake Japan and Germany by 2020 to become the world's third-biggest market after China and the U.S.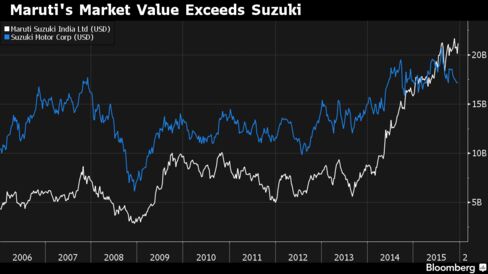 Suzuki fell 2.2 percent at the close Friday in Tokyo. Maruti rose 0.1 percent as of 12:05 p.m. in Mumbai.
The total investment in the Gujarat factory will be 185 billion rupees ($2.8 billion), Bhargava said, without providing a timeframe. The first line at the Gujarat factory will have a capacity to make 250,000 vehicles annually, and will start operations in early 2017. Suzuki's car production in India will reach 2 million units by 2022 from the 1.4 million at present, he said.
Suzuki will invest about 57 billion yen ($468 million) to increase the capital of its wholly owned subsidiary Suzuki Motor Gujarat, according to a statement. The funds will be used for the factory in Gujarat.
The Indian automaker has so far invested about 3.5 billion rupees in the Gujarat factory, Chief Financial Officer Ajay Seth said on Thursday. Suzuki will refund this amount as soon as the manufacturing agreement is signed, he said.
Maruti needed 51 percent of its minority shareholders to support its proposal for a contract manufacturing agreement with Suzuki, according to a revised Indian law which lowered the threshold from 75 percent.
Before it's here, it's on the Bloomberg Terminal.
LEARN MORE