Serial: Audio Fit for Binge Consumption
The second season of the podcast surprises and delights fans—and gets Hollywood interested.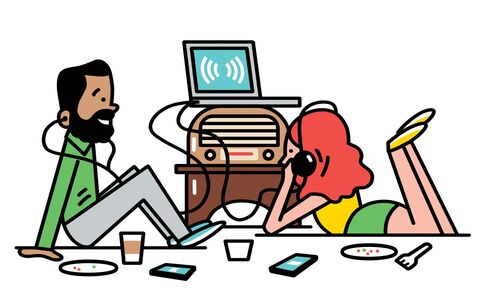 On the morning of Dec. 10, Americans woke up to an unexpected gift. WBEZ, a public radio station in Chicago, had posted online the first episode in the second season of Serial, the hit podcast from the creators of This American Life. As word spread, fans scrambled to download or stream the episode. They fretted about a possible sophomore slump. They posted flash assessments on Twitter. And they expressed their feverish reverence, or studied ambivalence, for Sarah Koenig, the podcast's auteur-host and executive producer. All of which felt entirely familiar—like watching the Internet welcome a season of Game of Thrones. It felt, in short, like television.
Such was the intention from the start. In 2014, Ira Glass, host of This American Life, a thematic, nonfiction radio show from WBEZ, announced his colleagues would be starting a series online. The weekly podcast, he explained, would be called Serial and would be devoted to telling a single true-crime story, chapter by chapter, across the span of an entire season via a dozen or so interwoven episodes. The show's format, in other words, would be serialized, rather than episodic. "Our hope is that it'll play like a great HBO or Netflix series, where you get caught up with the characters and the thing unfolds week after week, but with a true story, and no pictures," Glass wrote.
For the second season, Serial has cranked up the Hollywood quotient, teaming up with Oscar-winning screenwriter Mark Boal and Page 1, a TV and movie production company backed by Megan Ellison (daughter of Oracle billionaire Larry Ellison) to tell the story of Bowe Bergdahl. In 2009, Bergdahl, a soldier in the U.S. Army, walked away from his unit in Afghanistan under mysterious circumstances, was held captive by the Taliban for five years, and then was set free in a controversial prisoner swap. He's back in the U.S., facing court-martial. Boal taped hours of interviews with Bergdahl as part of research for his screenplay. The recordings also form the foundation of Serial's second season. As a result, the show has extraordinary access into Bergdahl's head. We get to learn how someone could make the decisions he made and what happens when everything goes horribly wrong. In some ways, this season shows even more promise than the first, as the payoff is less binary than "Did he do it?" and more an investigation of a complex, morally ambiguous antihero—like Homeland's Carrie Mathison and Breaking Bad's Walter White.
After decades of daytime soap operas and the occasional prime-time novelty (such as Twin Peaks or Dallas), the serialized story structure has recently spread far and wide in TV land including premium cable networks like HBO (The Leftovers) and Showtime (The Affair), basic cable networks such as AMC (The Walking Dead), FX (Fargo), and USA (Mr. Robot), and subscription video on-demand services like Netflix (Narcos).
Robert Thompson, director of Syracuse University's Bleier Center for Television & Popular Culture, says the creative explosion was enabled by underlying changes in TV viewing technology. For decades, TV executives tended to shy away from serialization because the standard weeklong hiatus between new episodes was too long, they said, for viewers to keep track of multiple, meandering storylines. But the advent of the DVR led to binge watching, and Serialization Nation was born. "Now there is absolutely the same potential for radio," Thompson says.
Radio used to be full of serialized programs, but TV's rise meant they disappeared in favor of round-the-clock sports, news, and talk shows. Now the breakout success of Serial—last year it reached 5 million downloads on iTunes faster than any other podcast—has stirred hopes of a renaissance in audio. Every major media property now has a podcasting strategy, with hopes to create the next great podcast success such as 99% Invisible, Professor Blastoff, or Limetown.
Last year, Alex Blumberg, a former producer for This American Life, created a startup in New York called Gimlet Media, dedicated to the production of high-quality podcasts. The company has already released three seasons of a serialized show called StartUp. To date, Gimlet has raised more than $6 million in venture capital funding. "The technology has made it a lot easier to appointment listen," Blumberg says. "Serial is an inspiration to us."
Along with the show's competitors, Hollywood is also trying to tap into Serial's fervent fan base. The podcast will form the basis of a major motion picture, directed by The Hurt Locker's Kathryn Bigelow.
Before it's here, it's on the Bloomberg Terminal.
LEARN MORE