Mobius Sees Emerging-Market Currencies Rebounding as Fed Shifts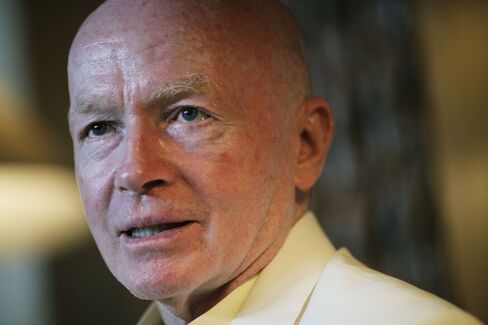 Says many currencies like rupiah, rupee are undervalued

Sees tremendous opportunities for EM exchange rate recovery
Investors should seek to benefit from a potential rebound in emerging-market currencies now the U.S. has cleared the uncertainty by raising interest rates, said Mark Mobius at Franklin Templeton Investments.
"Many currencies in emerging markets have nose-dived and they are undervalued," Mobius, chairman of the emerging markets group at Franklin Templeton, said in an interview with Bloomberg Television. "There are tremendous opportunities for a recovery in these currencies."
Mobius said the slump in commodities including oil may have reached or is near a bottom and the small increase in U.S. rates on Wednesday won't have a great impact on countries with high borrowing costs such as Indonesia, whose rupiah he said was undervalued along with the Indian rupee and yuan. In anticipation the Federal Reserve would raise its benchmark rate, investors pulled funds from developing nations this year, with the outflows compounded by slowing growth in China.
A gauge of emerging-market currencies has dropped 15 percent this year and is headed for a third annual loss. The Brazilian real is 2015's worst performer among 24 developing-nation exchange rates tracked by Bloomberg, having dropped 32 percent. The Colombian peso, South African rand and Turkish lira trail in its wake, with declines of 29 percent, 23 percent and 21 percent, respectively.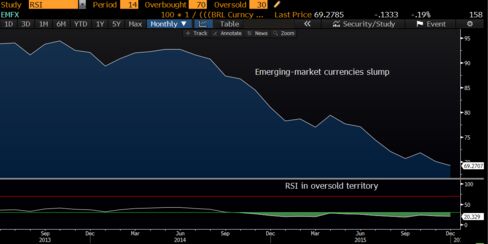 Mobius said the Chinese currency is undervalued by about seven percent, the rupee by three to four percent and the rupiah is about 25 percent below fair value, while the Hong Kong dollar is largely in line.
Asian shares climbed on Thursday after the U.S. central bank raised the Federal Funds rate target to 0.25 percent to 0.5 percent, from zero to 0.25 percent. While China's Shanghai Composite Index rose 1.6 percent and reached a two-week high, Mobius said the nation's stock market is unlikely to see "dramatic" moves in 2016. Investors should be "cautious" and selective as he doesn't see any upside for the broader market, he said.
"The uncertainty has put all markets on edge," Mobius said, referring to the Fed's rate decision. "Now that the numbers are out, the next question is when the next rise will come and that's going to be a focus going forward."
Before it's here, it's on the Bloomberg Terminal.
LEARN MORE