IMF's Lagarde to Face Trial for 'Negligence' in Tapie Case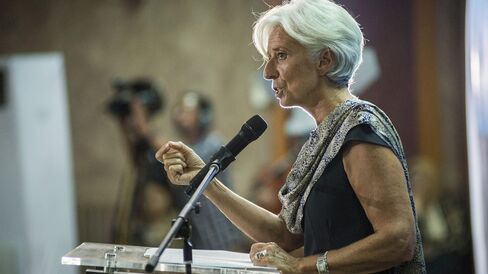 Tapie won millions in arbitration when Lagarde was minister

Lagarde retains confidence of IMF board despite trial
International Monetary Fund Managing Director Christine Lagarde will be tried for "negligence" in relation to a settlement the French government reached with businessman Bernard Tapie during her time as finance minister, a French court said Thursday.
Lagarde, 59, has repeatedly denied wrongdoing and will appeal the decision to put her on trial, her lawyer said. The decision was made by a special commission of the court against the advice of the prosecutor, a court official said.
The trial concerns Lagarde's 2008 decision to allow an arbitration process to end a dispute between Tapie, a supporter of then-French President Nicolas Sarkozy, and former state-owned bank Credit Lyonnais. The court has been looking into whether she erred in agreeing to the arbitration, which resulted in the tycoon being awarded about 403 million euros ($438 million.)
Having to face trial in France could have serious implications for Lagarde's future at the helm of the IMF, though her job may not be in any immediate danger. Her five-year term as managing director expires in July. At the fund's annual meeting in Lima in October, Lagarde said she'd be open to serving another term.
"I assume this would probably go quickly, if only to remove the cloud of suspicion over her," said Christopher Mesnooh, a Paris-based lawyer at Fieldfisher LLP, who isn't involved in the Lagarde case. "Everyone knows the importance of Christine Lagarde to the world economy. They won't want to leave this unresolved."
Lagarde reaffirms that she "acted in the best interest of the French State and in full compliance with the law," according to an e-mailed statement from her attorney Yves Repiquet. "She shares the prosecutors' view that there is no basis for any charge against her."
The IMF board said Thursday that it sees Lagarde as still able to do her job.
"The Executive Board continues to express its confidence in the managing director's ability to effectively carry out her duties," IMF spokesman Gerry Rice said in an e-mailed statement. "The board will continue to be briefed on this matter."
Specialized Court
The court that would try Lagarde is a specialized one that deals with ministers accused of crimes related to their positions, and there aren't a lot of precedents, Mesnooh said. The charge of negligence in the use of public funds carries a maximum penalty of one year in prison and a fine of 15,000 euros ($16,000).
A high-profile trial that requires Lagarde to spend long periods in Paris could impede her ability to do her job, forcing the fund's board to consider asking her to step down. Yet she enjoys such broad support among member countries that they are likely to give her considerable leeway, said Andrea Montanino, who served as an executive director at the IMF until last year.
"To me, the question is whether she feels she can continue to do her duties," said Montanino, now director of the global business and economics program at the Atlantic Council in Washington. "If she doesn't feel it's an impediment, I don't think the board or any member states will ask her to resign."
Lagarde took over as head of the IMF in 2011 when Dominique Strauss-Kahn resigned after a hotel maid accused him of sexual assault. Prosecutors dropped a criminal case amid inconsistencies in her testimony; Strauss-Kahn reached an undisclosed civil settlement with the woman.
Lagarde is the first woman to lead the IMF, which was conceived during World War II to coordinate international monetary policy and lend to countries facing balance-of-payments shortfalls. The managing director is selected by the fund's 24 executive directors, who represent its 188 member nations.
(
Corrects name of law firm in fifth paragraph.
)
Before it's here, it's on the Bloomberg Terminal.
LEARN MORE