BOJ Owning More Debt Than Japan Banks Is Slow Death for Market
Central bank has 30% of debt, more than any investor class

Easing `already at the point where it's extremely difficult'
The Bank of Japan now holds more of the country's sovereign debt than any other class of investor, as shrinking trade activity casts doubt over Governor Haruhiko Kuroda's contention that bond-buying stimulus has no limits.
The BOJ held a record 315 trillion yen ($2.6 trillion) of Japanese government bonds as of the end of September, 30.3 percent of the total, data released Thursday show. That took it above the 28.4 percent share of financial institutions excluding insurers. At the start of the quantitative-and-qualitative easing program in April 2013, the comparable figures were 13.2 percent and 42.4 percent.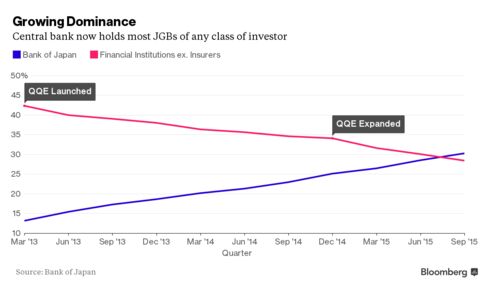 "In terms of the sustainability of QQE, if you think about the ability of banks and the like to reduce JGB holdings any further, they're already at the point where it's extremely difficult," said Shuichi Ohsaki, Merrill Lynch's chief rates strategist in Tokyo. "Without a doubt, supply and demand conditions are going to get even more restrictive."
About a quarter of investors in the central bank's latest survey last month complained that bond market functioning is low, and the turnover ratio for dealer-client transactions slumped to around 2 percent of outstanding debt last quarter for the first time in data to 2005. Monetary stimulus has already stretched longer than the two years the central bank initially indicated, and the deadline for achieving 2 percent inflation has been extended to around the end of March 2017.
No Limit
Kuroda reiterated in November that he doesn't see problems arising in the financial system if QQE continues, and asserted this month that low JGB yields and a rebalancing of investor portfolios away from the debt were signs that the policy is working. "I don't think there's a limit at all" to options for additional easing, he said on Oct. 30, after leaving policy unchanged and extending the time frame for the inflation target a second time this year.
Policy makers kept the BOJ's main monetary stimulus target unchanged Friday, while outlining operational changes for its purchases of government bonds, exchange-traded funds and real estate investment trusts. The bank extended the average maturities of JGBs it buys to seven to 12 years from seven to 10 years. Economists surveyed by Bloomberg before the meeting were almost unanimous in saying the BOJ won't achieve 2 percent inflation by its deadline, with its benchmark price gauge languishing below zero since August.
Inflation, Tax
While Kuroda has expressed confidence that inflation will pick up as the oil market stabilizes, some economists say that will be countered by the diminishing effects of a weaker yen. The BOJ chief has also said higher wages are essential for inflation to be sustainable. A union representing Toyota Motor Corp. and Panasonic Corp. among others said this month it was scaling back pay demands by half.
Another challenge to Japan's fragile recovery will come in April 2017, when the government plans to raise the consumption tax to 10 percent from 8 percent currently. An increase from 5 percent last year sent the economy into recession.
That could trigger a preemptive expansion of easing late next year, according to Eisuke Sakakibara, a former vice finance minister who is now a professor at Aoyama Gakuin University.
"Kuroda's biggest concern right now is the increase in the consumption tax," Sakakibara, 74, said in an interview in Tokyo Thursday. Kuroda won't add to stimulus before then because he "needs to save his ammunition," not because of "technical limits," he added.
Negative Yields
Kuroda's asset-purchase program has pushed yields on JGBs with maturities as long as five years below zero for the first time this year, while that on the 10-year note dipped to a record 0.195 percent in January. Merrill Lynch's Ohsaki sees it dropping below that level next year, from 0.275 percent Friday in Tokyo, the lowest globally after Switzerland.
Bond market liquidity has been a concern since at least February, when an inaugural BOJ investor survey showed 95 percent of investors thought market functioning was either low or not very high. In the latest poll in November, about one in five said conditions had deteriorated from the previous quarter.
A BOJ study of liquidity indicators last month showed not only a record low for dealer-to-client transactions, but also for inter-dealer trading, which slumped below 6 percent of outstanding debt.
"For the BOJ, achieving the 2 percent inflation target is far more important than a drop in liquidity," said Takafumi Yamawaki, the chief rates strategist in Tokyo at JPMorgan Chase & Co. "The bond market has no choice but to go along with the BOJ."
Before it's here, it's on the Bloomberg Terminal.
LEARN MORE