Tokyo Trader to Work at 4 a.m. Ahead of Fed as Bond Tumult Rises
Gauge of Treasury market volatility climbs to five-month high

`The Fed is back in play,' Nomura trader John Gorman says
Treasury market volatility climbed to a five-month high as traders bet the Federal Reserve will raise interest rates for the first time in almost a decade. Bond trader John Gorman said he plans to be at his desk at 4 a.m. in Tokyo for the announcement.
An index measuring price swings over a 10-day period rose to 6.66 on Tuesday, the highest level since July 13, based on data compiled by Bloomberg. The gauge has averaged 4.73 this year.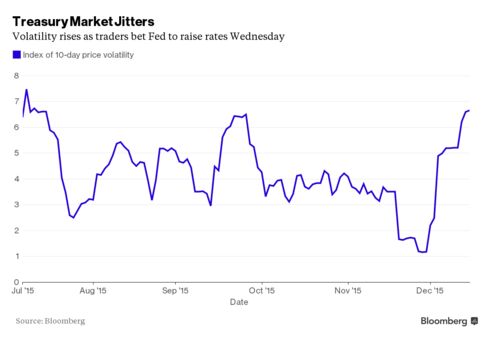 Futures contracts show traders are preparing for Fed Chair Janet Yellen and her fellow policy makers to raise interest rates as a two-day meeting comes to a close Wednesday. An increase would end the emergency policy of keeping the benchmark close to zero that was put in place in December 2008 to support the economy during the global financial crisis.
"It's a signal from the Fed that the economy is much better, and it's time to appreciate the fact that the Fed is back in play and that there's going to be significant movements in the market," said Gorman, head of dollar debt trading for Asia and the Pacific at Nomura Holdings Inc. in Tokyo. "It's simply uncharted territory. I think we're going to see volatility as a result."
'Be There'
The Fed statement is scheduled for 2 p.m. in Washington, and Gorman said he plans to be at work in Tokyo when it comes out. "I feel like I want to be there for it," he said. Nomura is one of the 22 primary dealers that trade directly with the U.S. central bank.
Yellen is scheduled to hold a press conference at 2:30 p.m. Washington time, following the decision. Any further delay in raising rates would likely lead to "abrupt tightening" that risks disrupting financial markets, she said in a Dec. 2 speech in Washington.
The benchmark 10-year Treasury yield was little changed on Wednesday at 2.27 percent as of 6:48 a.m. in London, according to Bloomberg Bond Trader data. The price of the 2.25 percent note maturing in November 2025 was 99 7/8.
Ten-year yields will rise to a range of 3 percent to 3.25 percent by the end of 2016, Nomura's Gorman said.
U.S. government securities have returned 1 percent in 2015, after gaining 6.2 percent in 2014, based on Bloomberg World Bond Indexes.
Before it's here, it's on the Bloomberg Terminal.
LEARN MORE