Puerto Rico Will Default in January or May, Governor Says
Garcia Padilla says `there's no money' to cover island's bills

Congress failed to extend help Puerto Rico sought with crisis
Puerto Rico will default on debt payments in January or May, Governor Alejandro Garcia Padilla said, as Congress failed to provide the Caribbean island with the help it was seeking to cope with an escalating debt crisis.
The lapse will probably come on Jan. 1, when its next bond payments are due, Garcia Padilla said Wednesday during an appearance at the National Press Club in Washington. He said that's because the island's government may not have enough cash to pay essential services and creditors.
"If they make me choose between Puerto Ricans and creditors, I will choose Puerto Ricans, always," he said. "There's no money. I don't have a printing machine."
Puerto Rico and its agencies owe $70 billion and the island faces $957 million of interest payments due Jan. 1, including $357 million on general obligations. The commonwealth this month narrowly averted a default on government-guaranteed debt for the first time, and Garcia Padilla said it's inevitable that Puerto Rico will have to restructure debt amassed from years of borrowing to pay bills.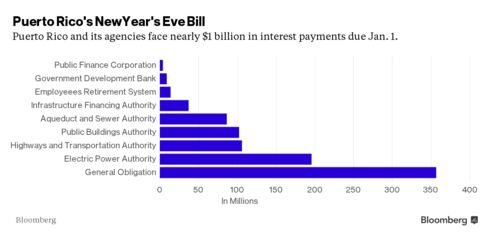 He didn't specify which securities may default as soon as next month. Three agencies have already said they'll use reserve funds to make the Jan. 1 payments after the government began diverting revenue that's earmarked to cover their bonds. Since August, Puerto Rico has failed to pay owners of bonds backed only by legislative appropriations, securities that have weak legal safeguards.
What's Priced In?
Investors have been anticipating that some Puerto Rico agencies would miss debt payments, said Mikhail Foux, head of municipal strategy at Barclays Plc. He said they haven't been expecting an imminent default on general obligations, which are given top priority under Puerto Rican law.
"That's not priced in at all," Foux said. "At this point, most likely, people think that G.O. guaranteed-debt will be made on Jan. 1."
Puerto Rico general obligations with an 8 percent coupon and maturing July 2035 traded Wednesday at an average price of 72.9 cents on the dollar, little changed from Tuesday, data compiled by Bloomberg show. The average yield was 11.5 percent.
Garcia Padilla, who won't seek re-election and will leave office in January 2017, has urged Congress to allow some public corporations to file for bankruptcy, as cities on the U.S. mainland can. Bondholders have opposed extending bankruptcy protection to Puerto Rico because they were assured that couldn't happen when they bought its securities.
U.S. lawmakers opted to not include such a provision in the $1.1 trillion spending bill it's set to pass to avoid a government shutdown. Instead, the federal legislation increases Puerto Rico's health funding by $900 million over a decade. That bill may be the last chance for the commonwealth to receive help from the federal government before lawmakers leave for the Christmas holiday.
That additional federal funding won't help Puerto Rico address its debt crisis, Garcia Padilla said.
"I am extremely disappointed," he said. "Hedge funds proved more persuasive over Congress than the well-being of 3.5 million American citizens living in Puerto Rico."
Asked about the probability of a Jan. 1 default during an interview after the speech, he said that's something that will be determined soon.
"There is a very high chance," he said.
Before it's here, it's on the Bloomberg Terminal.
LEARN MORE