Korea Banks Prepare for Attack on Zombies by Boosting CoCo Bonds
Domestic CoCo bond sales by lenders increase 81% this year

Push to `restructure zombie companies' to worsen bank finances
South Korean lenders are accelerating sales of bonds to bolster capital amid concern the government's drive to restructure struggling companies will lead to more bad loans.
Korea Development Bank sold 700 billion won ($595 million) of Basel III-compliant tier 2 subordinated contingent convertible notes, or CoCos, last week. Shinhan Bank issued 300 billion won of similar securities on Dec. 4, after KEB Hana Bank's 300 billion won sale last month. Domestic offerings of such bonds by local lenders and bank holding companies rose 81 percent this year to 5.2 trillion won, Bloomberg-compiled data show.
Policy makers in Asia's fourth-largest economy have called for sales of poorly performing assets and steps to boost competitiveness in industries including steel and shipbuilding. The number of indebted and unprofitable companies known as zombies has increased by 22 percent in five years, according to Bank of Korea data. Demand to sell securities that count as capital may also rise as stricter requirements are phased in from next month.
"Banks want to create an adequate buffer preemptively ahead of the strengthened capital rules and as the government's push to restructure zombie companies may worsen their capital-adequacy ratios," said Lee Kyoung Rok, a Seoul-based credit analyst at Daewoo Securities Co. "Sales of capital bonds will likely remain busy next year."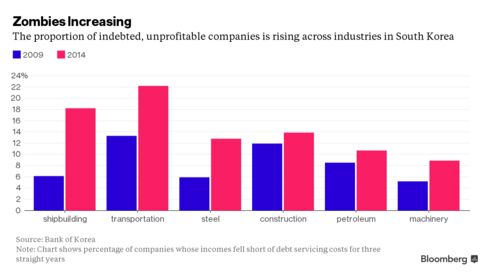 Companies with incomes falling short of debt servicing costs for three straight years rose to 3,295 in 2014, or 15.2 percent of the total, from 2,698, or 12.8 percent, in 2009, according to the Bank of Korea. The central bank has said some of these companies, labeled hangye or 'marginal' in Korean, may be staying alive by taking advantage of low borrowing costs to pile on more debt.
Lenders in Korea will be required to hold total capital equivalent to at least 10.5 percent of their risk-weighted assets by 2019 from 8 percent now, and they will also need to have an additional buffer of 2.5 percentage points by that year, according to the Financial Services Commission. A buffer of 0.625 percentage point will be required from next year. If banks fail to meet the so-called capital conservation buffer, their ability to grant dividends or share buybacks will be curtailed.
Korea will select Domestic Systemically Important Banks at the end of the year and require them to hold additional capital buffer if needed from next year, the FSC said in a statement on Thursday.
The average total capital adequacy ratio of the 17 banks in the country subject to Basel III global financial rules fell to 13.96 percent on Sept. 30 from 14.09 percent at the end of June, according to the Financial Supervisory Service. That mostly resulted from growth in risk-weighted assets exceeding the increase in capital, the FSS said.
Capital Demand
"Basically restructuring by marginal firms will lead to losses at lenders, especially those that have extended higher amounts of corporate loans, resulting in a decrease in capital ratios," said Jeong Dae Ho, a credit analyst at KB Investment & Securities Co. in Seoul. "The need to raise capital may increase further with the stricter capital rule implemented from next year."
Moody's Investors Service warned in July that Korean banks' big loan exposure to "structurally declining sectors" including shipbuilding, steel and shipping poses "a significant risk" to the lenders' asset quality. The nation's top-three shipbuilders, also the world's biggest, had combined operating losses of 7.3 trillion won in the first nine months of this year, according to their financial statements.
CoCo bonds offer higher payments to compensate investors for the risk the lender can write them off should its balance sheet deteriorate to a point of non-viability. KDB sold 10-year tier 2 securities at 2.76 percent, while Shinhan Bank and KEB Hana Bank issued similar debt at 3.01 percent and 3.04 percent respectively. That compares with an average yield of 2.4 percent on AAA rated 10-year Korean bank bonds.
Investor Hesitancy
While there's been steady demand for tier 2 CoCo securities, local institutional investors seem hesitant to buy tier 1 securities, which have equity-like characteristics, Lee at Daewoo Securities said. That's pushed banks to sell the bonds abroad, Lee said. Woori Bank issued the nation's first dollar-denominated additional tier 1 notes in June.
Seven interest-rate cuts by the Bank of Korea since July 2012 have weighed on domestic lenders' profits. Banks' average net interest margin, a key gauge for profitability from lending, fell to a record low of 1.56 percent in the third quarter, the FSS said in a Nov. 10 statement.
"Due to Korean banks' low profitability, potential rises in provision charges could shrink their capital buffers against asset quality risks," Graeme Knowd, managing director for financial institutions group at Moody's, said in a note last month.
Before it's here, it's on the Bloomberg Terminal.
LEARN MORE