India's Narendra Modi and Japan's Shinzo Abe were neck and neck as the most traveled leaders of Asian countries in 2015, each notching up visits to 23 countries — more than twice the number visited by U.S. President Barack Obama.
In a year that saw President Xi Jinping spend 42 days outside China, these well-traveled leaders crisscrossed the globe, competing to anchor their countries as an increasingly multi-polar world replaces the U.S.-dominated global order that came into place after the collapse of the Soviet Union and end of the Cold war.
"India didn't really have a foreign policy until Modi arrived," said Kilbinder Dosanjh, director for Asia at the Eurasia Group. Modi's visits on one hand sought investment and on the other projected India's growing power as the region's fastest growing major economy.
For Xi, 2015 was a year of "big country diplomacy," the new international order and promoting what China's foreign ministry loves to call "win-win" outcomes.
Xi's visits were sometimes hit and miss. After a state visit to the U.S. overshadowed by Pope Francis, he scored a hit in the U.K. with a ride down Pall Mall with the Queen in a state carriage. More recently in Paris, representing his country in the most important climate talks of the era, he missed a public relations opportunity when he failed to turn up at the Bataclan concert hall to pay tribute to the victims of last month's terrorist attacks, unlike Abe or Obama.
After 30 countries in 2014, Abe's travel schedule this year was curtailed by his obligation to stay home during the summer passage of legislation to expand the role of his country's military. The highlight was a state visit to the U.S. where he was accorded an honor not given his Chinese counterpart: an address to both houses of Congress.
Still, Abe struggled at times to get on the diplomatic front foot, only coming up with plans to beef up Japan's role as a provider of finance for Asia's infrastructure needs after China's triumph in getting more than 40 countries, including Britain and Germany, to join its Asian Infrastructure Investment Bank.
By comparison, Obama, who leads the world's largest economy, visited only 11 other countries in 2015. He made five international trips during the year, the longest of which was last month to Turkey, the Philippines and Malaysia for three different summits. Obama hosted a parade of foreign leaders this year — including Xi and Abe — at the White House.
---
Going the Extra Mile
Chinese President Xi Jinping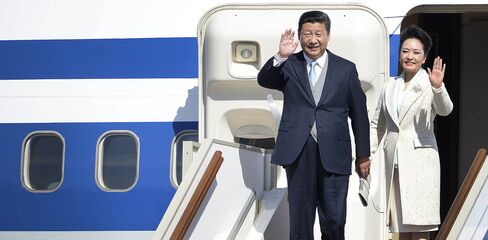 Number of countries visited in 2015: 14
Biggest deal sealed: Xi capped his year by pledging $60 billion in funding to dozens of African countries, cementing China's role as the continent's biggest donor.
Highlights: State banquet at Buckingham Palace sitting next to the Duchess of Cambridge wearing a (China) red dress and an historic meeting with Taiwan's President Ma Ying-jeou in Singapore.
Aircraft of choice: Refitted Air China Boeing 747-400
Full itinerary
April 20-21
Pakistan
April 21-24
Indonesia
May 7
Kazakhstan
May 8-12
Russia and Belarus
July 8-10
Russia
Sept. 22-28
U.S.
Oct. 19-23
U.K.

Photographer: Dominic Lipinski/Getty

Nov. 5-6
Vietnam
Nov. 6-7
Singapore
Nov. 14-16
Turkey
Nov. 17-19
Philippines

Photographer: Lan Hongguang/Xinhua via Getty Images

Nov. 29-30
France
Dec. 1-2
Zimbabwe
Dec. 2-5
South Africa
Indian Prime Minister Narendra Modi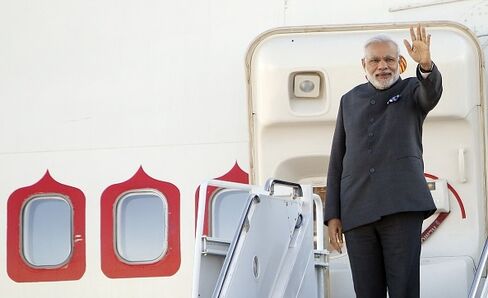 Number of countries visited in 2015: 23
Biggest deal sealed: India and the UAE agreed to create a $75 billion fund to invest in Indian infrastructure during Modi's state trip in August. He was the first Indian leader to visit the Arab country in more than 30 years.
Highlight: Modi's tour of Xi's home province of Shaanxi, where he was greeted by red-robed monks at a Buddhist temple and saw a collection of terracotta warriors dating back to China's first emperor.
Aircraft of choice: Air India One, which handles VIP flights for the country's premiers and presidents
Full itinerary:
March 10-14
Seychelles, Mauritius, Sri Lanka
April 9-11
France
April 12-14
Germany
April 14-17
Canada
May 14-16
China

Source: ChinaFotoPress via Getty Images

May 17-18
Mongolia
May 18-19
South Korea
June 6-7
Bangladesh
July 6-8
Uzbekistan, Kazakhstan
July 8-10
Russia
July 10-13
Turkmenistan, Kyrgyzstan, Tajikistan
Aug. 16-17
U.A.E.
Sept. 23
Ireland
Sept. 23-28
U.S.

Photographer: David Paul Morris

Nov. 12-14
U.K.
Nov. 14-16
Turkey
Nov. 21-23
Malaysia
Nov. 23-24
Singapore
Nov. 29-30
France
Japanese Prime Minister Shinzo Abe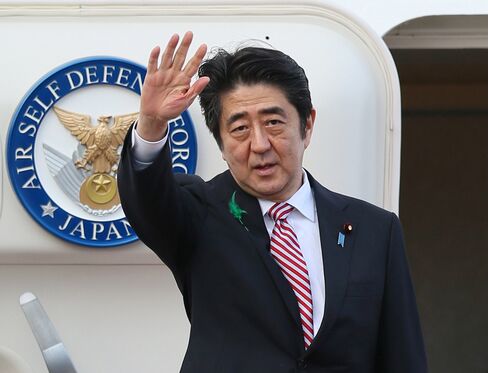 Number of countries visited in 2015: 23
Biggest deal sealed: After joining the negotiations late, in 2013, Abe got Japan to sign the Trans-Pacific Partnership, the biggest regional trade agreement in history. The pact needs to be ratified by its member countries.
Highlight: Address to both houses of the U.S. Congress, the first by a Japanese Prime Minister
Aircraft of choice: One of two government-owned jets, crewed by members of the Self-Defense Forces
Full itinerary:
Jan. 16-21
Egypt, Jordan, Israel, Palestine
March 29-30
Singapore
April 21-23
Indonesia
April 26-May 3
U.S.

Photographer: Mandel Ngan/AFP/Getty Images

June 5-9
Ukraine, Germany
Sep. 26-Oct. 2
U.S., Jamaica
Oct. 22-28
Mongolia, Turkmenistan, Tajikistan, Uzbekistan, Kyrgyzstan, Kazakhstan
Nov. 1-2
South Korea
Nov. 13-17
Turkey
Nov. 18-23
Philippines, Malaysia

Photographer: The Asahi Shimbun via Getty Images

Nov. 29-Dec.2
France, Luxembourg
Dec. 11-13
India
Before it's here, it's on the Bloomberg Terminal.
LEARN MORE