High-Yield Funds Seek to Create Distance From Third Avenue
Firms say they aren't relying on distressed credit strategies

Western Asset says redemption requests are at normal levels
High-yield mutual fund firms are seeking to distance themselves from last week's freezing of Third Avenue Management's credit fund, saying their investments are more diversified and easier to sell.
Western Asset Management said today that redemption requests from high-yield investors aren't bigger than normal. Fidelity Investments and Capital Group Cos. said Monday that their high-income strategies don't make them distressed credit funds like Third Avenue's and their holdings of CCC bonds are either selectively positioned or weighted toward better-quality debt within that tier. Toews Corp. said its junk-bond fund moved completely into cash last month.
The firms are trying to reassure investors after the collapse of Martin Whitman's Third Avenue fund that accelerated a selloff in speculative credit. The $788.5 million Third Avenue Focused Credit Fund said Dec. 9 it was closing and freezing shareholder withdrawals, an unusual step for an open-end mutual fund, which typically allow customers to pull their money daily.
The move spurred clients at other firms to worry that funds targeting lower-quality bonds within high yield will fall victim to the same combination of market illiquidity and redemptions.
"The Third Avenue Focused Credit Fund appears to have had a very different investment strategy from a traditional high-yield fund, with the majority of its investments in securities issued by distressed issuers," Hannah Coan, a spokeswoman for Capital Group's American Funds, said in an e-mail. "While traditional high-yield funds frequently hold some distressed securities, it is typically not a core part of their investment strategy."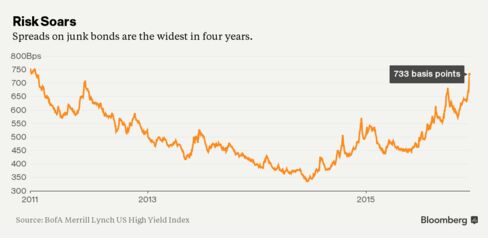 Investors have pulled $290 million from Western Asset's Short Duration High Income Fund this year through Monday, a net outflow of about a quarter of its assets, according to data compiled by Bloomberg. The $742 million fund, which has almost 10 percent of its holdings in energy, has declined 8.8 percent this year, trailing most of its peers, according to Bloomberg data.
"To date, we haven't seen anything out of the norm in terms of redemptions," Michael Buchanan, deputy chief investment officer at Western Asset Management, said in a television interview on "Bloomberg <GO>." "We haven't really seen anything that causes concern."
Fidelity also said it hasn't seen "any unusual activity" with regard to investor flows in its high-income funds, according to an e-mail from spokeswoman Sophie Launay on Monday. The firm said the funds have a bias toward higher-quality BB and B rated securities.
Waddell & Reed Financial Inc., whose shares plunged 7.5 percent on Monday, said in a statement that its Ivy High Income Fund has almost half of its bond holdings in the CCC category. Of that amount, about a third is in the higher-quality segment with a rating of CCC+. Forty-seven percent of the assets are rated BBB to B.
Moody's Investors Service defines a CCC rating as "very high credit risk, poor standing."
Ivy, Nuveen
Ivy High Income, which had assets of $6.6 billion at the end of October, has declined 7.9 percent this year, trailing 89 percent of peers, according to data compiled by Bloomberg.
While Nuveen Investments' $386.8 million High Income Bond Fund has faced "modest" investor withdrawals this month, the outflows haven't "posed any difficulties for either maintaining the integrity of our investment strategies or providing necessary liquidity," spokeswoman Kathleen Cardoza said in an e-mail. The firm hasn't cut or increased its holdings in lower or non-rated bonds, she said.
The fund has declined 12 percent this year, lagging behind 99 percent of peers, according to data compiled by Bloomberg.
The $246.3 million Toews Hedged High Yield Bond Fund completed its exit from junk bonds and moved into all cash on Nov. 12, according to Eben Burr, a sales and marketing director at the Linwood, New Jersey-based firm. The fund has returned 0.4 percent this year.
Federated Investors Inc.'s Mark Durbiano, who runs high-yield investing, said Third Avenue's credit strategies resembled some hedge funds rather than the typical junk-bond fund.
'Selection, Diligence'
Federated's high-yield funds invest in companies in such industries as health care and packaging that are able to carry high debt levels because they generate stable, predictable free cash flow, Durbiano said.
"We think security selection, diligence and focusing on a company's ability to pay debt, as opposed to their gross leverage level, is the way to succeed in the high-yield market," he said.
The firm's high-yield funds are overweight in CCC rated debt, which hasn't changed in recent days, he said. Its largest junk-bond fund, the $4.3 billion Federated Institutional High Yield Bond Fund, has declined 4 percent this year, beating 70 percent of its peers, according to data compiled by Bloomberg.
Western Asset's Buchanan said he's confident that his firm, which is a unit of money manager Legg Mason Inc., has sufficient liquidity to meet any redemptions, and the turmoil in the junk bond market has created buying opportunities.
"High yield is very attractive right now," he said.
Before it's here, it's on the Bloomberg Terminal.
LEARN MORE