Five Things We Learned About Merkel and Her Party This Week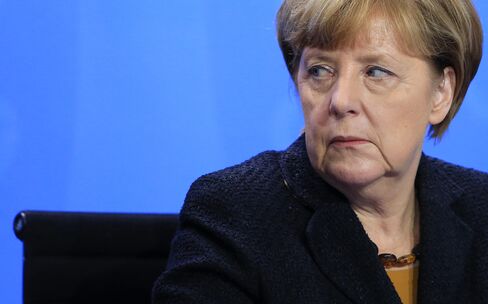 German chancellor gives most important speech of tough year

Convention shows Schaeuble's backing, lack of challengers
German Chancellor Angela Merkel wrapped up her Christian Democratic Union's annual convention on Tuesday after delivering a triumphant speech the previous day. Here's what we learned from the two-day meeting in the southwestern city of Karlsruhe:
Merkel Can Give The Big Speech
Under pressure after months of coalition bickering and declining poll ratings, Merkel rose to the challenge with a convention speech that had even her critics gushing. Bild, Germany's most-read newspaper, called it a "great moment" that showed she's in charge and willing to face down a public backlash. She offered a vision of Germany and Europe that combines the "humanitarian imperative" of helping the less fortunate, burden-sharing and open borders in the European Union. Striking an unusual patriotic note on stage Monday, she urged her compatriots to show more optimism and tackle challenges in "the most beautiful and best Germany we've had." Delegates responded with almost 10 minutes of applause that ended with the chancellor telling them they still had work to do. Even Horst Seehofer, the Bavarian premier who has unsuccessfully pressed Merkel to cap the refugee influx, mostly held his fire Tuesday and called her "an excellent chancellor."
Schaeuble-Merkel Axis Intact
Finance Minister Wolfgang Schaeuble, who dangled Greece out of the euro area this year while Merkel stood back, remains her foil and key ally. Germany's most popular politician and longest-serving lawmaker proved his loyalty by backing Merkel on open intra-European borders and by rejecting a cap on refugees. "We can master all of these challenges only by making Europe stronger," he said in his convention speech, citing migration and terrorism. European policy makers who advocate returning "to the protection of national identity and borders" have it wrong, he said. Then he put a down-to-earth spin on Merkel's lofty rhetoric. "Just wanting to do good isn't enough," Schaeuble said, because governments must ensure that the urge to help "isn't destroyed by overburdening" and a feeling of disorder.
CDU Doesn't Do Revolution

Unruly grass-roots debate isn't a CDU specialty and the convention showed that Merkel is uncontested as party leader, with no obvious successor in the wings two years before the next general election. Ursula von der Leyen, Germany's defense minister and a possible contender, laid low after Merkel's combative speech, declining to chime in at the risk of being overshadowed. Julia Kloeckner, often cited as a rising star in the party as she seeks to win the premier's post in the western state of Rhineland-Palatinate, is untested. Interior Minister Thomas de Maiziere, a Merkel confidant from the days of reunification 25 years ago, spoke about the nuts and bolts of refugee policy without raising expectations that he'll challenge his boss.
Beers With the Chief of Staff

Peter Altmaier, the chancellery chief of staff and Merkel's refugee coordinator, downed beers and relaxed at the media reception on the eve of the convention after it became clear that Merkel had fended off any revolt by critics of her asylum policy. It was a change of mood for Altmaier, the son of a miner and a nurse who's made the rounds of often tense talk shows for weeks to sell Merkel's message. During her convention speech, CDU lawmaker Cemile Giousouf held up a copy of Time magazine with Merkel on the cover as Person of the Year, citing the international recognition Merkel has gained for her refugee stance.
Conservatives Do Speak Up
As the U.S. is swept up in debate over Donald Trump's call to bar Muslims from entering the country, Germany's Christian Democrats also aren't immune to rhetorical attacks. Eugen Abler, a CDU community leader from southwestern Germany who says Merkel has moved the party too far to the political center, claimed that police are concealing higher crime rates among immigrants. German Christians are viewed by too many as "infidels," he said. While Abler was an outlier at the convention, the tone wasn't a huge departure from complaints from the CDU's base that Merkel confronted during a town-hall tour this year. Abler drew measured applause in Karlsruhe.
Before it's here, it's on the Bloomberg Terminal.
LEARN MORE