Switch comes as governments crack down on cigarettes

Shareholders to vote on the re-branding at AGM in February
Imperial Tobacco Group Plc plans to change its name to Imperial Brands Plc, ditching its main product from the company's title after more than a century.
The new name will better reflect Imperial's "dynamic, brand-focused business," the maker of Davidoff and Lambert & Butler cigarettes said in a statement Tuesday. Shareholder approval will be sought at the Feb. 3 annual general meeting.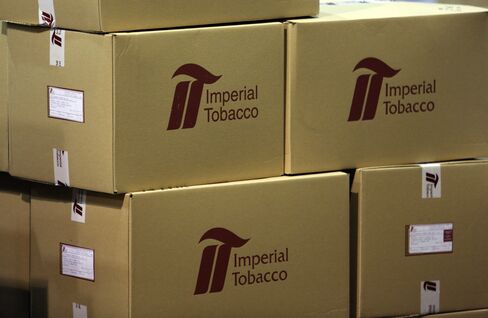 The switch comes as governments across the world clamp down on smoking and growing numbers turn their backs on cigarettes. The U.K. next year will require cigarettes be sold in plain packs without any logos, taking away the industry's last vestiges of marketing in that country. Imperial's most recent move away from tobacco came this year when it acquired e-cigarette brand Blu from Reynolds American Inc.
"Re-branding a parent company name signals a clear shift," Rebecca Robins, director of EMEA and Latin America at brand consultancy Interbrand, said by e-mail. The name is "sufficiently future-proof for any acquisitions to come."
Marlboro maker Philip Morris Cos. officially became Altria Group Inc. to distance itself from the baggage of tobacco litigation and health concerns over a decade ago.
Diverse History
The Imperial Tobacco Company was formed in 1901 when a group of British tobacco businesses merged, and despite its name, it snapped up snack, packaging, and brewing businesses in the 1960s and 70s. During the 1970s, the tobacco maker's parent company was called Imperial Group Ltd. to reflect its diverse portfolio, which was later largely sold off.
Processed-cheese maker Kraft Foods Inc. was itself spun out of Altria in 2007. Later the company confused some consumers and experts by renaming its snacks business Mondelez when it was split off in 2012. More recently, Google reorganized its ever-expanding array of ventures under the new parent company name Alphabet Inc.
Imperial said it will retain its five corporate brands, which include Imperial Tobacco and the U.S. unit ITG Brands. Changes will be largely confined to the Bristol, England head office and corporate website, it said. The company's tobacco brands will continue to be divided into mass-market "growth" products and more niche "specialist" brands.
Before it's here, it's on the Bloomberg Terminal.
LEARN MORE