Bond Funds Are On Their Own
Credit risk has migrated from banks to investors.
"Sorry, the trader just stepped away," is a Wall Street cliché sometimes used to describe the tendency of broker-dealers to conveniently disappear from their desks during times of market stress.
Unfortunately for debt investors, it seems vast swathes of the credit market are on a permanent break thanks to huge changes wrought on the business of trading corporate bonds in the aftermath of the financial crisis.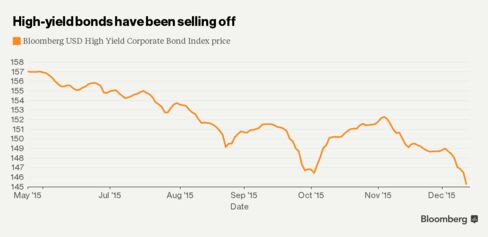 Those changes were underscored last week when the closure of a Third Avenue credit fund helped spark a wider sell-off in riskier corporate bonds and prompted speculation that the multi-year rally in the asset class could be nearing its end. At issue is the ability of fund managers who have dedicated big portions of their portfolios to such debt to stand on their own once historic inflows reverse.
New rules imposed in the wake of the financial crisis have made it more expensive and more difficult for banks to hold corporate bonds on their balance sheets at exactly the same time that the market has ballooned in size. Moreover, deteriorating revenues from fixed income trading in the face of seven years of relatively sleepy markets have encouraged a host of dealer-banks to shrink those businesses, with Morgan Stanley's recent announcement that it plans to shed one out of every four fixed-income staff but the latest example of the long-running trend.
"We have been getting a call every month or so with a coverage change," said Andrew Hofer, portfolio co-manager at Brown Brothers Harriman & Co., referring to the trading support provided by dealer-banks. "It definitely is an issue with getting things done. When you develop a relationship with your counterparty they know what you own and you trust them, and they may step up with balance sheet occasionally."
The lack of Wall Street dealers on standby to purchase, sell and even research corporate bonds after they've been issued means fund managers are increasingly left to their own devices when it comes to handling and trading their vast portfolios of the debt; money managers' allocations to corporate bonds are now at the highest level on record according to a weekly Stone McCarthy survey that goes back to 1997.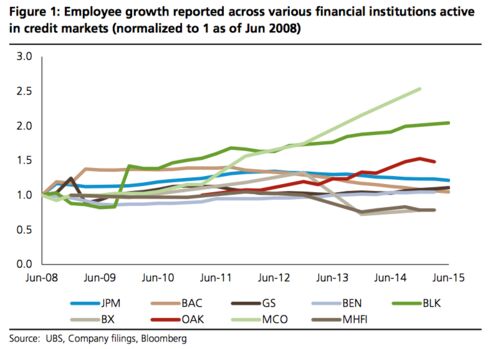 "This would not be a problem if [Wall] Street and rating agency resources were adequate. But they are simply not," UBS credit analysts Matthew Mish and Stephen Caprio wrote in a note earlier this year. "And when defaults start rising some of the tourists may not have the resources necessary to explain the losses in their portfolios when their proverbial shoulders get tapped."
For those that have only recently pushed into the asset class, dealing with fixed income in times of stress is new territory and a task that is only likely to grow more difficult should selling pressures increase. Complicating the matter is the growing use of mutual funds and exchange-traded funds (ETFs) that promise investors the ability to dip in and out of corporate bonds.
Third Avenue's focused credit fund, for instance, was launched in the depths of 2009 as a way to capitalize on fallout from the financial crisis and cherry-pick spurned assets in corporate credit markets. The fund peaked in June 2014, when financial conditions as measured by Wu-Xia shadow Fed funds rate were at their loosest, but lost almost a third of its value this year alone as distress in the energy sector intensified.

Said to be exacerbating last week's sell-off is a confluence of year-end factors that have further shrunk banks' ability to support the market at the same time that asset managers might need them most. Dealers' collective ability to lend their balance sheet to hedge fund clients–a business known as prime brokerage–has also been shrinking, limiting such funds' ability to dive into markets and pick up bargains.
"Away from obvious problems of distressed assets being sold in a razor thin market with no Street appetites and the worst time of year possible to execute such trades, there are other twists in this redemption drama that go beyond high risk credits going bad and getting worse with 'no bid' or 'very low bid,' as the prevailing risk," CreditSights analysts Glenn Reynolds and Nathan Wenger said in a note published over the weekend, referring to the shrinking presence of dealers in the market.
The combination of low liquidity and year-end pressures, including tax-related selling and limited risk appetite, has created one of the worst possible trading environments for funds looking to offload their holdings, market participants say. That could help explain why Third Avenue opted to pull up the gates on its credit fund and prevent more investors from redeeming early.
However, that decision spooked the wider market, with risk premiums on a derivatives index tied to the credit of 100 U.S. junk-rated companies closing 10 percent higher on Friday. Trading in in high-yield ETFs reaching at least a $6 billion that same day, compared to the $11 billion of volume in the cash market according to some estimates, fanning worries that the rise of ETFs may eclipse the realities of the physical market and outstrip the willingness of financial players to support them.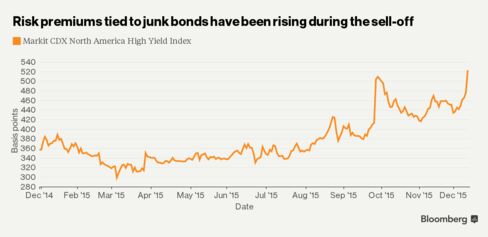 "There's less capital for market-making and carrying inventory in the face of a lot of [corporate bond] issuance on the one hand and growth in the use of ETFs on the other," said Mark Dow, founder of Dow Global Advisors. "Scope for discontinuity in the underlying market has grown all the while trading in the ETFs has exploded."
Market participants hopeful that Third Avenue will prove a fluke rather than the first casualty of the massive changes in corporate bond markets are betting that credit can recover once year-end pressures subside and the dust from the Federal Reserve's interest rate hike settles.
Still, the events of last Friday were historic in credit markets and strike at the heart of long-running fears regarding the downside of the transformative boom in corporate credit. Many caution that dealer-banks, even freed from regulatory constraints, were never likely to support the corporate bond market during heavy one-way selling, but that will come as little comfort to those worried about the potential for a major mismatch between expectations and realities of trading the market.
Said Hofer at Brown Brothers Harriman: "The real problem for daily redemption vehicles is if you're surprised with a very large cash outflow you come up against a brick wall."
Before it's here, it's on the Bloomberg Terminal.
LEARN MORE