S. Africa Banks Extend Drop as Zuma Turmoil Drives Up Costs
Banks index loses $10 billion in value in two-day slump

Government bond yield rises, as rand falls about 6 percent
South African banking and insurance stocks plunged for a second day as President Jacob Zuma's shock dismissal of Finance Minister Nhlanhla Nene drove government bond yields higher and weakened the rand, pushing up funding costs for lenders.
The banking index fell 5.8 percent in Johannesburg, adding to Thursday's 14 percent drop. FirstRand Ltd., Africa's largest bank by market value, fell 8.3 percent to the lowest since March last year. Barclays Africa Group Ltd. dropped 3 percent. Nedbank Group Ltd. lost 5.8 percent. Standard Bank Group Ltd. lost 4.2 percent to the lowest in almost four years. Sanlam Ltd., the largest South African-based insurer, plummeted 8.3 percent. Yields on benchmark government bonds due Dec. 2026 climbed to 10.35 percent, after earlier reaching 10.65 percent, just short of the all-time high in July 2008.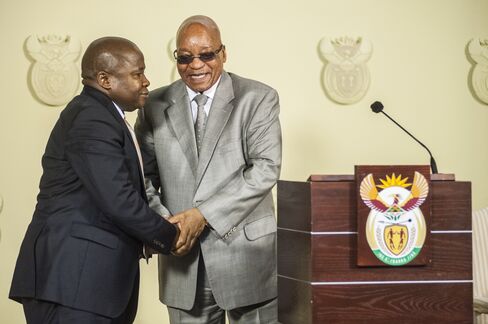 "The bond yield increasing has funding implications for the banks, which will see the cost of borrowing increase, which in turn will act as an inhibitor to economic growth," said Liam Hechter, banks analyst at Johannesburg-based Anchor Capital. "The valuations of the banks, and most highly-leveraged businesses including insurers, are very sensitive to the South African 10-year bond yield, which is largely used as the risk-free rate in most valuation models."
Zuma roiled markets by dismissing Nene and replacing him with David van Rooyen, a lawmaker little known to investors. The rand has dropped about 6 percent since Wednesday's announcement, falling to records against the dollar and the pound, just as the country faces the risk of a credit downgrade to junk status. The two-day slump in the banks index has wiped out more than $10 billion in share value.
"If the rand does weaken further we might need to increase interest rates to protect the inflation targets, but into a very fragile economic backdrop," Adrian Cloete, banks analyst at PSG Wealth in Cape Town, said. "This could increase the bad-debt charge."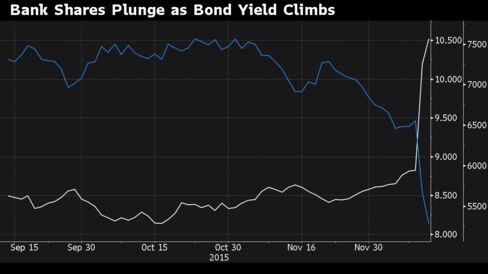 For South African banks "debt funding is a smaller part of liabilities and it has been reducing in recent years," said Craig Pheiffer, head of private client asset management and wealth and investment management at Barclays Africa. "But the weaker rand has implications for monetary policy and inflation expectations. This could lead the South African Reserve Bank to hike rates again sooner rather than later. That has implications for consumers with debt."
Before it's here, it's on the Bloomberg Terminal.
LEARN MORE