Lost, Or Found? Carrier Says It Owns Abandoned Boeing Jumbos
Kuala Lumpur airport operator is skeptical of paperwork

Planes left sitting on Malaysian tarmac for five years
A Malaysian cargo carrier stepped forward to claim three Boeing Co. 747 freighters whose five-year stay at Kuala Lumpur International Airport spurred officials to place a newspaper ad to find the owner.
Problem is, the airport operator isn't convinced that the Malaysian carrier, Splunk n' Dash Sdn., is the jumbo jets' rightful owner. Malaysia Airports Holdings Bhd. said Saturday the jets last belonged to a China-based company which it lost contact with two years ago.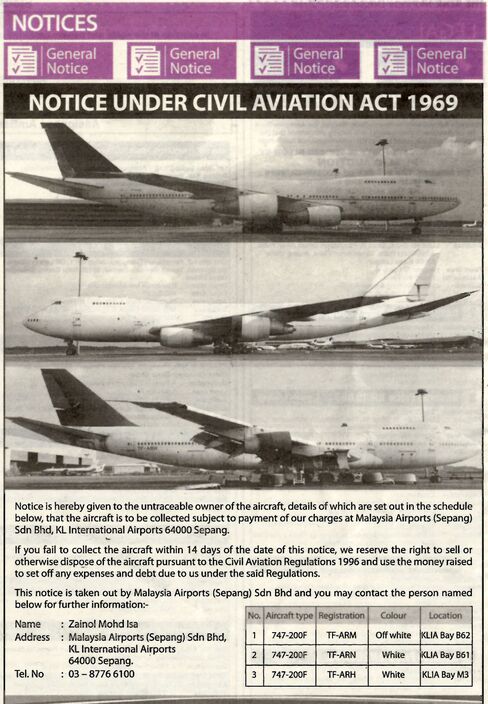 Splunk n' Dash, which is in the process of changing its name to SWIFT Air Cargo, says it has documents showing that it took control of the Boeing 747-200Fs in June. What's more, it has been meeting regularly with Malaysia Airports since then, airline Chief Executive Officer Captain Blue Peterson said in a telephone interview Friday.
The airport authority placed an ad Monday in Malaysia's Star newspaper asking for the "untraceable" owner to collect the jets, the largest made by Boeing, within 14 days or risk seeing them sold or demolished to pay unpaid parking fees.
Still Checking
"We have been in contact with them from day one. I've been asking for access to our aircraft," Peterson said Friday. "They don't recognize me as the owner and there's nothing more I can do. So I've left it with the lawyers."
Airport officials remained unconvinced Friday that the paperwork properly links the cargo company to the stranded aircraft. It said Saturday the planes had been parked in KLIA since mid-2010 by Air Atlanta Icelandic, an aircraft leasing company that was the owner at the time. Air Atlanta Icelandic subsequently de-registered the aircraft and dissolved responsibility for them when ownership was transferred to Shaanxi Sunshine Cargo.
Since then, the planes had not been registered under any company partly as that process requires the issuance of an Aircraft Operating Certificate by a country's civil aviation authority, Malaysia Airports said. The airport operator said it was in communication with Shaanxi Sunshine Cargo for settlement of parking charges and the relocation of the freighters until September 2013.
That was the last it heard from Shaanxi Sunshine Cargo and its checks showed the company was no longer in operation.
Ownership Confusion
"Whoever claims that it's theirs, we need to verify whether it's truly theirs or not," said Zainol Mohd. Isa, general manager of Malaysia Airports (Sepang) Sdn., the MAHB subsidiary that operates the international air terminal. "The moment you abandon an aircraft, confusion can arise because we don't know what transaction happened between the owner and somebody else."
Out of production since 1991, even the youngest models from the -200F line would fetch only pennies on the dollar today. A freighter made in 1991 has a market value of about $13.1 million, while a 1978 version would be worth about 10 percent of that, according to prices compiled by aviation consultant Avitas Inc. The three planes in question were made in the 1980s, Peterson said.
If the jumbos were scrapped and sold for parts, they'd be worth "between $0 and $2 million, but most likely closer to $0," Douglas Kelly, a senior vice president at Virginia-based Avitas, said by e-mail. The value depends on the condition of the planes' engines, typically the most valuable component.
"Nobody wants old, four-engine freighters," he said.
Resale Value
The low resale value is a reflection of the planes' age as well as dwindling demand for such jets and a slumping air-cargo market. A factory-fresh 747-8 freighter retails for $379.1 million before the discounts that are customary in the industry.
The Star advertisement was standard procedure to allow the original owner first right of refusal on the planes, a step taken to remove any question of ownership, Zainol said. Malaysia Airports hasn't been able to verify to its satisfaction claims of ownership and is urging the "rightful owner" to furnish it with details so it can be sure.
"All we know is the asset is there," Zainol said. "If you don't want to come back, after a while someone will take possession of it. Then don't come back and claim it's yours anymore."
Before it's here, it's on the Bloomberg Terminal.
LEARN MORE