Automakers in India Criticize Delhi's `Overnight' Diesel Ban
Environment court bans diesel registrations until Jan. 6

Verdict comes amid plan to restrict cars in Delhi from 2016
Carmakers are uncertain about what happens to inventories piled up at dealerships and sold cars awaiting registration in New Delhi following an order by India's top environmental court barring registration of new diesel-powered vehicles in the capital.
Mahindra & Mahindra Ltd., India's biggest SUV maker, and Hyundai Motor Co. said they're unsure what will happen to cars scheduled for delivery in India's biggest auto market after the National Green Tribunal halted registrations until Jan. 6, the date of the next hearing on emissions in the world's most polluted city. The verdict could derail the auto industry, the Society of Indian Automobile Manufacturers said in a statement.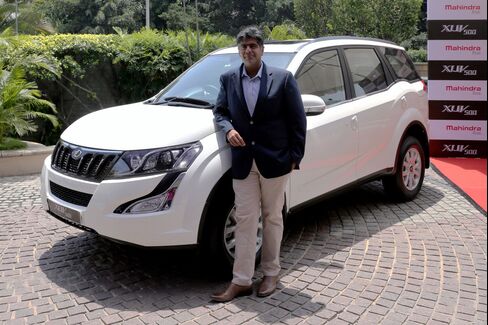 "Diesel vehicles have become the whipping boys for the environmental problems," Pawan Goenka, executive director at Mahindra, said Saturday during a conference call. "All the investment and research to make diesel cleaner over the last 15 years has been thrown out by the NGT in one order."
The directive comes as the Delhi state government prepares to restrict the number of cars on its roads by implementing license plate-based driving bans starting Jan. 1. The city is grappling with rising levels of unclean air as winter sets in, triggering a surge in respiratory diseases. Delhi is the biggest market for carmakers in India, accounting for about 7 percent of national deliveries, according to Goenka.
The federal government last month proposed bringing forward stricter emissions norms for new vehicles. India's automakers' group said Thursday that it supports implementing new rules a year earlier than the previous 2020 deadline. About 30 percent of Hyundai's cars sold in Delhi are diesel, while the figure is about half for the industry as a whole, according to Goenka.
"We believe the government authorities should give serious consideration to creating a robust road map for the automobile industry for the future," said Rakesh Srivastava, senior vice president for sales and marketing at Hyundai, the second-biggest carmaker in India. "Such decisions can negatively impact the industry."
The U.S. embassy in New Delhi classified the city's air early Friday evening as hazardous. It advised people with heart or lung diseases, older adults and children to avoid all outdoor physical activity.
New Delhi was the world's most polluted city measured by PM2.5 -- tiny, toxic particles that lead to respiratory diseases -- with an annual average of 153 micrograms per cubic meter, according to a 2014 World Health Organization database. A reading of 25 or lower is considered safe. Nine other Indian cities rank in the top 15.
Before it's here, it's on the Bloomberg Terminal.
LEARN MORE