From Qing Dynasty Paper to Internet Mogul Trophy: SCMP Timeline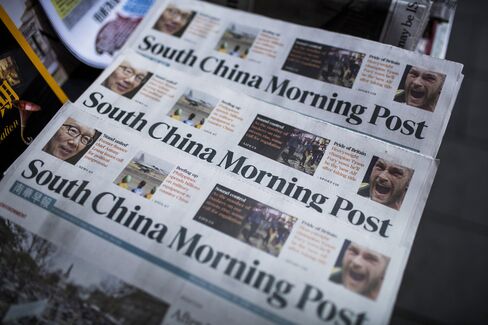 Alibaba Group Holding Ltd., the e-commerce giant led by billionaire Jack Ma, agreed to buy Hong Kong's South China Morning Post newspaper and other affiliated media assets. Upon completion, Ma would join Amazon.com Inc.'s Jeff Bezos in the club of Internet tycoons taking on storied newspapers struggling in the age of new media.
Below is a timeline of events leading up to the sale.
1903: In the midst of the Qing Dynasty period, Tse Tsan-tai and Alfred Cunningham establish the Nan Qing Zao Bao (South Qing Morning Post) in Hong Kong, then a territory of Britain, publishing the paper's first edition on Nov. 6. In 1913, the newspaper's name was changed to the South China Morning Post.
1940s: During the Japanese occupation, the SCMP is ordered to publish less controversial material under the Hong Kong News name. The SCMP reclaimed its offices soon after World War II and resumed publication.
1971: SCMP Group lists its stock on the Hong Kong stock exchange.
1986: Australian media tycoon Rupert Murdoch acquires 35 percent of the SCMP Group. The company is privatized a year later and re-lists in 1990.
1993: Malaysian billionaire Robert Kuok's Kerry Group buys Murdoch's stake for $349 million.
1996: scmp.com debuts.
Late 90s: SCMP turns more profitable than any other newspaper in the world. Earnings peak at HK$805 million in 1997.
2013: SCMP Group is suspended from trading after its proportion of shares available to the public falls below minimum levels required for stocks to be publicly traded in Hong Kong.
November 2015: SCMP Group confirms it's been approached by a suitor interested in the company's media assets. The statement comes days after Bloomberg News reports on Alibaba Chairman Jack Ma's interest in the SCMP.
December 2015: SCMP announces sale of the newspaper and other media assets to Alibaba for HK$2.06 billion ($266 million).
— With assistance by Ting Shi
Before it's here, it's on the Bloomberg Terminal.
LEARN MORE