Emerging Assets Slide as Political Strife Underscores Local Risk
South African rand briefly breaches 16 against the dollar

Offshore yuan tumbles as China unveils multi-currency index
Emerging-market stocks posted their worst week since September and currencies plunged as a missing Chinese billionaire, a fired South African finance minister and a Turkish president losing trade pacts to geopolitical conflicts highlighted idiosyncratic risks in developing nations.
Equities dropped to a five-week low in Shanghai as the disappearance of Guo Guangchang drew attention to the government's practice of holding people as targets of investigations. South African equities declined to the lowest level since August as a selloff accelerated after the government replaced the finance minister. The rand extended losses into a seventh day. Equities fell to the lowest since March 2014 in Istanbul as Iraq joined Russia in scaling down trade relations with Turkey, which refused to withdraw troops from the Kurdish region. Brazil's real weakened as a dispute among ministers fueled uncertainty over the direction of fiscal policy.
Investors remain on the sidelines as the holiday season approaches, commodity prices trade at a 16-year low, growth in China cools and the Federal Reserve's potential increase in borrowing costs sap the appeal of riskier assets. The MSCI Emerging Markets Index is headed for a third annual loss, while a measure of 20 emerging-market currencies is deepening its decline to record lows.
"Politics are driving emerging markets big time these days," Bernd Berg, the London-based director of emerging-market strategy at Societe Generale. "The major moves and divergences in performance of currencies in Turkey, Brazil, South Africa and Poland are all attributable to politics. Analyzing politics is the key to determining the next moves."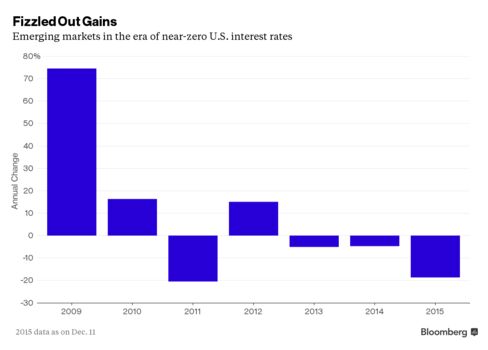 The MSCI Emerging Markets Index slid 2 percent to 773.56 on Friday, extending its weekly retreat to 4.8 percent. The measure has slumped 19 percent this year, the most since 2011. Developing-country stocks are valued at 11.7 times their projected earnings, about 29 percent cheaper than advanced-nation equities. A Bloomberg gauge of 20 currencies lost 0.9 percent, taking this week's retreat to 2.2 percent.
The Shanghai Composite Index slid 0.6 percent. Closely held Fosun Group, which controls Fosun International Ltd., has "lost contact" with founder Guo, Caixin magazine reported. Fosun International suspended its shares in Hong Kong. It fell 16 percent to a one-year low in over-the-counter trading in New York. Volume of 165,846 shares was more than 22 times the daily average of the past three month.
Yuan Weakens
Guo, 48, is assisting with the investigation of former Shanghai vice mayor Ai Baojun, Sohu.com said. Shanghai Fosun Pharmaceutical (Group) Co. also said he is assisting justice authorities with a probe. Chinese corporate executives have come under increased scrutiny as part of the biggest crackdown on graft since the republic's founding in 1949. President Xi Jinping's campaign has brought down more than 100 senior officials, including top generals, a former presidential aide and the nation's retired security chief.
The Hang Seng China Enterprises Index retreated for a seventh day, led by industrial and power companies. The yuan capped the biggest weekly drop since its August devaluation. It weakened 0.5 percent in offshore trading to the lowest since 2011 after China published a new index that values it against a broad range of currencies.
The FTSE/JSE Africa All Share Index dropped 2.5 percent this week. Aftershocks continue to be felt in South African financial markets after President Jacob Zuma fired his finance minister and replaced him with a little-known lawmaker. Fund managers and analysts warned that the removal of Nhlanhla Nene has left the ruling African National Congress's reputation for prudent financial management in tatters. The change came as the country's credit rating teeters on junk and the economy reels from power shortages and tumbling commodity prices.
Yield Spread
The benchmark gauge for Turkish equities slid 5.4 percent this week. Iraq closed its commercial office in Istanbul and threatened to cut trade links after Turkish President Recep Tayyip Erdogan refused to withdraw troops from northern Iraq. Turkey already faces economic sanctions from Russia after shooting down the latter's jet over Syria.
South Africa's rand extended the worst weekly performance among 31 major and emerging-market currencies, plunging 9.6 percent to 15.8952 per dollar, after breaching 16 for the first time, as the fallout from Zuma's decision to fire his finance minister spurred speculation the central bank may hold an emergency meeting on interest rates. The Turkish lira fell 3 percent to the lowest level in two months.
The real posted a 3.1 percent weekly decline on speculation that tension between Brazilian Finance Minister Joaquim Levy and Planning Minister Nelson Barbosa over fiscal policy will undermine efforts to shore up the budget and revive growth. The Ibovespa equity benchmark slid 0.2 percent.
The premium investors demand to own emerging-market debt over U.S. Treasuries widened 17 basis points to 422, according to JPMorgan Chase & Co. indexes.
Before it's here, it's on the Bloomberg Terminal.
LEARN MORE