Chemical Megamerger Will Affect Another Dow -- the Stock Average
DuPont's been a component of the 30-member gauge since 1935

Materials segment will emerge as largest of three new units
Something will change in the Dow Jones Industrial Average following the chemical industry's largest-ever merger. Whether it's more than a tweaked name for one of the longest-standing constituents depends on how overseers view DuPont Co.'s place in America's economy.
Alterations to the benchmark "generally occur only after corporate acquisitions or other dramatic shifts in a component's core business," the S&P Dow Jones Indices website says. Aspects of that are being met at DuPont, which today announced a merger with Dow Chemical Co. to be followed by a breakup into three public companies.
"Any sort of corporate event like this causes the owners to take a fresh look at all the components to see if the average is still representing corporate America the way they want," said Richard Moroney of Horizon Investment Services LLC in Hammond, Indiana. "It's possible this could impact the Dow."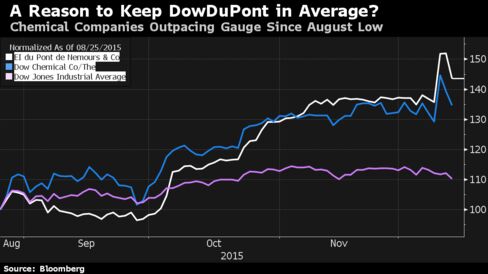 While much has changed in the world since 1935, DuPont's inclusion in the Dow has not -- and the simplest course would be to leave the largest of the three new units in the slot now occupied by the Wilmington, Delaware-based company. That's the materials science unit, whose estimated $51 billion in sales would dwarf specialty products and agriculture once the breakup occurs.
But anything's possible in the 30-stock measure, where components have changed more than 50 times since the index was formed in 1896 and old-line industrial companies have seen their stars fade. Since September 2012, companies ranging from Kraft Foods Inc. to Alcoa Inc. and Bank of America Corp. have been booted out, replaced by technology and services champions Apple Inc., Visa Inc. and UnitedHealth Group Inc.
Dow and DuPont will combine in an all-stock deal to create a new company, DowDuPont, with a market capitalization of about $130 billion, they said Friday in a joint statement. The eventual breakup of DowDuPont into three publicly traded companies through spinoffs is expected over 18 to 24 months following the completion of the merger.
DuPont is unique in the Dow as the only member categorized as a materials producer under the global industry classification standard. Following the ouster of Alcoa two years ago, its nearest peer in the gauge is probably 3M Co., whose hodgepodge of consumer, electronics and factory products puts it in the industrial categorization under GICS.
Sector representation in the Dow is a factor in decision-making, said David Guarino, a spokesman for S&P Dow Jones Indices. "We're constantly reviewing the market and analyzing the market and looking at all of our constituents and all of our decisions are based on public information. We can't comment on individual companies and their potential to be included or removed from any of our indices because that's market-moving material information."
The removal in September 2012 of Kraft, dropped after the spinoff of its U.S. grocery business reduced its $70 billion market value, left the gauge with McDonald's Co. and Coca-Cola Co. as its main food producers. According to today's release, DowDuPont's agriculture spinoff will combine their crop and seed protection businesses and have pro forma revenue of about $19 billion.
The Dow, which began in 1896 with General Electric Co., American Tobacco and 10 other companies, was taken over in July 2012 by S&P Dow Jones Indices, a joint venture of McGraw-Hill Cos. and CME Group Inc. About $30 billion in products such as exchanged-traded funds are linked to the index, and changes prompt money managers to buy or sell stocks to match the adjustments.
"A stock typically is added only if it has an excellent reputation, demonstrates sustained growth, is of interest to a large number of investors and accurately represents the sectors covered by the average," according to the S&P Dow Jones website. The industrial average "serves as a measure of the entire U.S. market, covering such diverse industries as financial services, technology, retail, entertainment and consumer goods."
Past spinoffs have led to deletions. Altria Group Inc. was dropped in February 2008, one month before the divestiture of its overseas tobacco unit and almost one year after its spinoff of Kraft. Westinghouse Electric Corp.'s split into separate manufacturing and media companies led to its removal in 1997.
"I would think if the one of the companies is a big, huge chemical company, at the end of the day, that would stay in the Dow given the history there," said Moroney, also editor of the Dow Theory Forecasts newsletter. "But they're in no rush to do anything. DuPont would still be an accurate proxy for what's going on as merger deliberations go forward."
With a market cap of $65.3 billion, DuPont is the third-smallest company in the Dow.
Implications for the gauge are reminiscent of 2012 when then-Kraft Foods Inc. split into two companies and was replaced by UnitedHealth Group Inc. If the new businesses of the Dow Chemical-DuPont merger fail to meet the criteria of the index's owners, that raises the question of viable replacements.
While megacaps like Amazon.com Inc. and Google parent Alphabet Inc. are too high for the price-weighted index, Facebook Inc. is the most logical contender to Donald Selkin, who helps manage $3 billion as chief market strategist at National Securities Corp. in New York. "It's a company that's more of the modern world than DuPont is. It would change the ratio of industrial types to more tech, but look, that's the way the world is moving now."
Monsanto Co., another materials company valued at $42.3 billion, is another prospect if DuPont needs replacing and the owners want to keep a representative from that part of the economy, Selkin said. Even so, not all of the components make sense to him. "I don't think Nike should be in it; I don't think Cisco belongs," he said. "They have to reflect where the economy is now."
Before it's here, it's on the Bloomberg Terminal.
LEARN MORE