Brazil's Epic Scandal Takes Down a Banker
Investor confidence plummets as a prominent financier is jailed.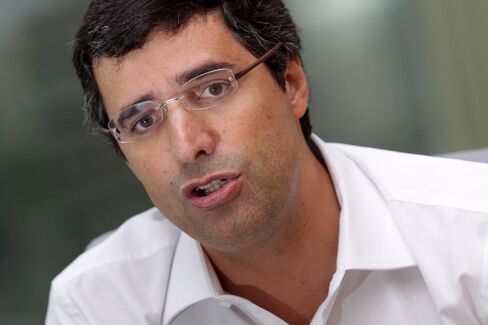 Brazilians have become inured to seeing politicians and businessmen marched off to prison for corruption. But the mug shot of banker André Esteves—unshaven and frowning—that flashed across TV screens in early December was a shock. Part of a cadre of mavericks who got astonishingly rich from Brazil's transformation into one of the world's top 10 economies in the 2000s, Esteves helped turn Grupo BTG Pactual into Latin America's biggest standalone investment bank. Supremely confident, Esteves—who was a billionaire by his mid-30s—liked to quip that the initials in his company's name stood for "Better than Goldman."
Around dawn on Nov. 25, Esteves's fortunes soured in an instant. Police showed up at his apartment, which faces Rio de Janeiro's legendary Ipanema beach, and hauled him away on allegations of obstructing a federal investigation into a massive pay-to-play scheme centered on Brazil's state-run oil giant, Petrobras. Now Esteves, 47, resides in a cell block with concrete beds and communal toilets at Bangu, a high-security prison in Rio better known for housing drug traffickers and murderers.

Having its founder, chief executive officer, and chairman behind bars has pushed BTG Pactual to the brink of insolvency as clients pull their money out. Within days of his arrest, Esteves had relinquished his controlling stake in the firm, and his partners had begun a wholesale selloff of assets. To avert disaster, Brazil's central bank helped engineer a $1.6 billion rescue line from the country's privately funded deposit guarantee fund. Still, the bank's shares have lost half their value since Esteves's arrest.
On Dec. 7, prosecutors formally accused the banker of obstruction of justice. Antônio Carlos de Almeida Castro, Esteves's lawyer, says his client has done nothing wrong.
The metastatic graft scandal that sent Esteves to jail threatens more than the survival of BTG. So many legislators are implicated, Congress has been unable to pass legislation to contain an exploding budget deficit. President Dilma Rousseff has grown so unpopular that lawmakers are maneuvering to impeach her for allegedly cooking the government's books. Meanwhile, the economy is sliding into what Goldman Sachs calls a full-blown depression.
BTG's collapse won't cause Brazil's capital markets to seize up as Lehman Brothers' failure did in the U.S. in 2008. Yet having one of the country's most prominent financiers behind bars is a body blow to the confidence of investors at a time when Brazil needs their cash. "It very much gives you the impression that the corruption scheme is so widespread that it induces a kind of counterparty risk," says Monica de Bolle, a former International Monetary Fund economist. "You enter into transactions with people in Brazil without knowing whether or not they might be implicated in something." The result: "Nothing gets done. There's no business," she says.
Esteves started working as a computer technician at BTG's predecessor, Banco Pactual, when he was a 20-year-old college student. He quickly moved up the ranks, first to fixed-income trader, then to head of a nascent asset-management division. In 1998, Esteves joined forces with three other partners to oust his mentor, Luiz Cezar Fernandes, one of Pactual's founders.
As Brazil boomed in the 2000s, the bank became a powerhouse in initial public offerings, asset management, M&A advisory, commodities speculation, and securities trading. Esteves's rechristened BTG Pactual bought banks in Chile and Colombia and opened offices in Hong Kong, Switzerland, and the U.S. He fostered a collegial culture that put a premium on getting deals done quickly, says one former executive at the bank who didn't want to be identified. On Sundays, he'd invite executives over to his home to talk shop over pizza.
Esteves doesn't flaunt his wealth, but he trumpets his success in other ways. Though not an alum, he's donated millions to Harvard Business School. His largesse paid for the renovation of a dorm that was renamed Esteves Hall. "We are saddened by his arrest and by the charges that have been brought against him," says HBS media director Jim Aisner.
"It's the fame that gets you," says Marcelo Battisti, a financial consultant in São Paulo who used to work as a credit manager at Banco Itaú, a BTG competitor. "Esteves was on the cover of magazines."
In 2006, Esteves became the youngest billionaire in Brazil's history when he sold Pactual to UBS in a deal worth $3.1 billion. After the financial crisis he bought it back at a big discount. He also picked up Lehman Brothers' Brazilian unit, which was later renamed BTG Pactual Alpha Participações. Alpha became one of the vehicles Esteves, BTG, and its partners used to buy assets that had little to do with banking. Esteves plowed money into oil wells in Africa, high-end gyms in Rio, and a garbage disposal business operating in Brazil, Argentina, and Colombia.
It was one of the earliest and least conspicuous of those acquisitions that would land Esteves in jail. In 2009, Alpha took over a chain of gas stations in São Paulo. One of its partners in that deal was Carlos Santiago, a gas-station tycoon who had a history of run-ins with regulators and lawmakers. In 2002 he was questioned as part of an inquiry into illegal gasoline sales by São Paulo's state, after his businesses were cited more than 200 times by the National Petroleum Agency for multiple violations. (Santiago said at the time that some fines were for fuel deliveries he didn't control.)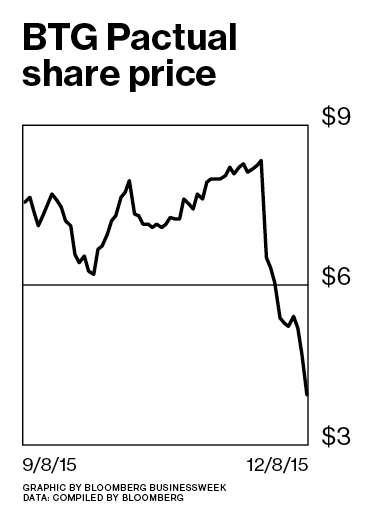 The gas-station business, Derivados do Brasil, went largely unnoticed until word leaked early this year about sworn testimony in the Petrobras corruption case by admitted money launderer Alberto Youssef. In November 2014, Youssef told investigators he delivered 6 million reais ($1.6 million) to a frontman for the Brazilian Labor Party. According to a summary of the testimony filed in court, the money was a kickback for a 10-year, 300 million-real contract that Santiago signed in 2011 to rebrand the Derivados gas stations with the Petrobras logo.
Last July cops raided Santiago's São Paulo offices and seized millions of reais in cash, according to TV news reports. Santiago declined numerous requests for comment through his lawyer.
The case against Esteves turns on an encounter last month between Bernardo Cerveró—the son of Nestor Cerveró, a convicted former executive at Petrobras's fuel unit—and Delcídio Amaral, the senate leader for the ruling Workers' Party. Nestor Cerveró was planning to sign a plea agreement with prosecutors in the Petrobras corruption investigation. In exchange for leniency, he would detail the alleged involvement of Esteves and BTG in the gas-station kickback, as well as evidence of Amaral's involvement in other Petrobras schemes. According to a Supreme Court magistrate's arrest orders, issued on Nov. 24, Amaral knew about the plea deal because Esteves had obtained a sealed copy.
On Nov. 4, Amaral met with the younger Cerveró at the Golden Tulip hotel in Brasilia to get him to persuade his father not to cooperate with the investigation, according to the magistrate's arrest order. In transcripts of the conversation, which Cerveró secretly recorded, Amaral proposed paying Cerveró's family at least 50,000 reais a month for keeping his and Esteves's names out of any testimony he'd provide the government. And, if Nestor Cerveró were to win temporary release from prison, he would be whisked off to Spain in a private jet, with Esteves financing not just the escape but the payments to the family. Esteves didn't attend the meeting.
Castro, Esteves's lawyer, says the contents of the conversation are hearsay and that Amaral used his client's name without his knowledge. Esteves, he says, doesn't even know Nestor Cerveró.
BTG, in a statement, says the investment in the gas-station chain was made by Alpha, which is owned by the bank's partners, not the bank itself. Yet corporate records show it wasn't until March, just after Youssef's testimony was revealed, that the unit's name was changed to Partners Alpha Participações, effectively erasing its association with BTG Pactual.
Esteves's life in Bangu is far from luxurious. He has his head shaved to keep away lice. Guards, wary of contraband, can search his food and chop up his soap. His wife, Lilian, must line up outside the prison and, like all other visitors awaiting entry, must put up with the stench from a nearby landfill. "He's perplexed," Castro says. "He says, 'I don't understand why I am in jail.' "
—Jonathan Levin, Cristiane Lucchesi, and Francisco Marcelino
The bottom line: The allegations surrounding the jailing of a banker detail the sordid connections between politics and business in Brazil.
Before it's here, it's on the Bloomberg Terminal.
LEARN MORE