These Lawyers Want Slave Labor Warnings on Your Cat Food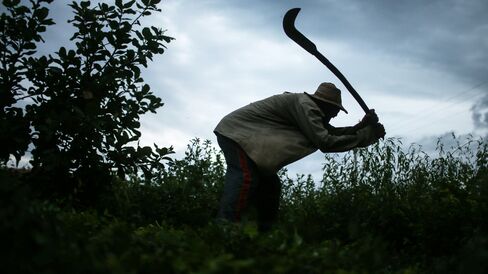 Supply chains for foodmakers seen tainted from Africa to Asia

Costco, Hershey sued over shrimp, chocolate; Nestle wins round
"This item may be the product of slave labor."
Those jarring words could end up on candy bar wrappers, packages of frozen shrimp and even cans of cat food if some California lawyers get their way.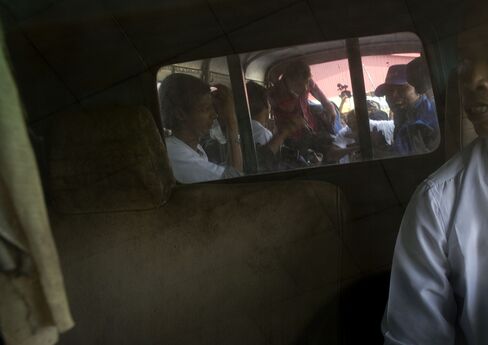 Forced labor permeates supply chains that stretch across the globe, from remote farms in Africa and the seas off Southeast Asia to supermarkets in America and Europe. Almost 21 million people are enslaved for profit worldwide, the UN says, providing $150 billion in illicit revenue every year.
Governments are pushing companies to better police suppliers, including proposed SEC reporting rules in the U.S. But that's not enough for a group of law firms. They've sued name-brand companies doing business in California, like Hershey Co., Mars Inc., Nestle SA and Costco Wholesale Corp., hoping to use the state's novel consumer protection laws to put the suffering of millions squarely in front of shoppers.
"These lawsuits are vehicles for forcing business ethics," said Niall McCarthy, an attorney with one of the class action firms taking up the issue, Cotchett Pitre & McCarthy LLP. "You cannot ignore human suffering to make a buck."
The companies say there's no state law mandating warnings, and that they're doing their best to avoid working with anyone using slave labor. This week, Nestle prevailed in Los Angeles, where a federal judge agreed there's no requirement to warn consumers about seafood from Thailand. The lawyers behind that suit have vowed to appeal, while McCarthy's firm will argue a similar case against Costco in San Francisco later this month.
A victory for consumer lawyers may force companies into a corner: Give shoppers a moral dilemma every time they go to the supermarket, or pay suppliers a lot more to eliminate any temptation to use slave labor.
Nestle Report
Forced labor in supply chains burst into public view after recent reports about the savage conditions some workers endure. Tales in the Guardian and Associated Press of indentured servitude on Thai fishing boats, where starvation, beatings and even murder can occur, triggered an outcry among human rights groups. The lawsuits soon followed.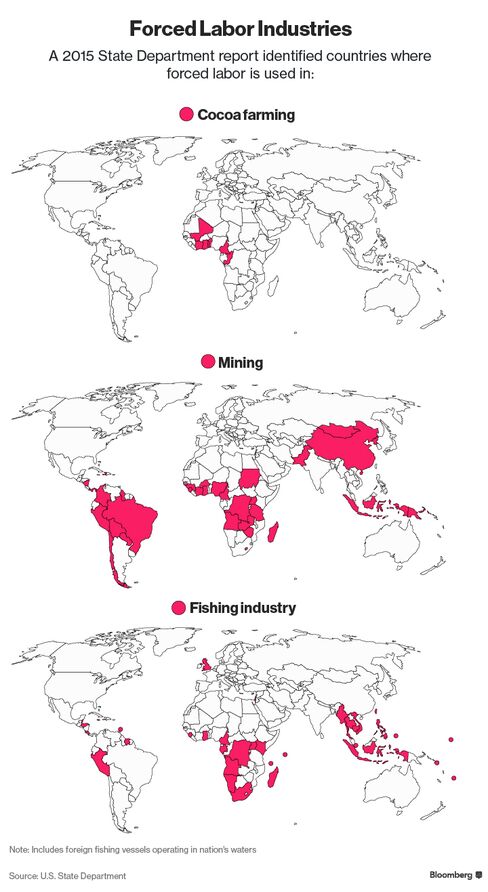 Then, on Nov. 24, Nestle said forced labor taints Thailand's seafood industry, part of the company's supply chain for whole prawns. Consumer lawyers said it's also a source of ingredients for Nestle's cat food brand Fancy Feast. Nestle Executive Vice President Magdi Batato said at the time that the Swiss company is "committed to eliminating forced labor in our seafood supply."
Debate Shifts
The announcement by the world's largest foodmaker, and its pledge to stamp out abuses, shifted the debate. Companies have said it's impossible to prove their products are tainted by forced labor, given how many suppliers and middlemen make up modern supply chains. Now one of the biggest was conceding it was a distinct possibility.
"We need business to own up to the abuses in their supply chains and then work collectively to eradicate them," said Steve Trent, executive director of Environmental Justice Foundation, which tracks slavery in the Thai fishing industry. He hailed Nestle's statement as a huge step forward. Chris Bayer, a researcher at the Germany-based nonprofit Development International, advises companies on compliance issues. He agreed with Trent, and not just for moral reasons.
"Companies that have such policies and systems in place are far less vulnerable to reputational risk," Bayer said. "It would behoove any reputable company that qualifies to make sure it's at least legally compliant."
Transparency Plans
Transparency initiatives don't include giving in to the lawsuits, however. Edie Burge, a spokeswoman for Nestle's U.S. unit, echoed other defendants when she said there's no legal justification for requiring warnings on company products.
Under California's supply chain transparency law, the first of its kind, companies with more than $100 million in revenue must publicly disclose their efforts to fight slave labor. It doesn't require them to have a policy -- but if they do, they have to say what it is.
"This was a very simple approach to an important problem," said Darrell Steinberg, the former state senator who sponsored it. "If large companies trace their supply chains and publish the results on their websites, by definition that will be a major deterrent."
Some of the lawsuits use Steinberg's bill as a starting point: They claim companies like Nestle and Costco violated California law by not also stating publicly that slave labor probably had a part in making their products.
Right to Sue
The proposed class actions envision an individual right to sue, arguing that shoppers are being illegally deceived because some wouldn't buy a product potentially tainted by slave labor. In ruling for Nestle, U.S. District Judge Cormac Carney said state legislators had the chance to require slave labor warnings, and passed.
Steve Berman, whose firm Hagens Berman Sobol Shapiro LLP is behind most of the cases, said suing on behalf of consumers instead of victims of forced labor avoided questions over jurisdiction. He said the judge was wrong and that he'd appeal.
For their part, the companies Berman sued reject that they can be held responsible for the actions of "sub-suppliers." In court filings, they say corporate declarations to fight slave labor aren't guarantees it won't exist somewhere in the supply chain.
They also caution that the litigation could have unintended consequences, driving companies from countries where their presence allows them to push labor reforms.
'Trash Fish'
Seafood export is a multibillion-dollar industry in Thailand, providing not only food for human consumption around the globe but ingredients for a wide spectrum of products. Costco, based in Issaquah, Washington, was sued because it sells Thai farmed shrimp bred on fishmeal -- ground-up pieces of "trash fish." It's that shrimp food which consumer lawyers say is caught by forced labor, on fishing boats operating far offshore.
"Allegations concerning issues in the Thai seafood industry have been well publicized," said Richard Galanti, a spokesman for Costco. The company says it performs surprise third-party audits and requires suppliers agree to a ban on forced labor. But even with those policies, transparency is a daunting, if not impossible task, say two lawyers who advise companies on such issues but aren't involved in the lawsuits.
"Everything you see that's made with mass or substance at some point in its supply chain comes from farming, hunting or a harvesting operation that's family owned," said Sarah Rathke, a lawyer with Squire Patton Boggs LLP. "It's nearly impossible for companies to trace material to that level, because it's usually collected from the farm and combined with the output of others from nearby."
Amy Pierce, of the Pillsbury law firm, said local officials are better positioned to regulate labor practices. A European Parliament report said that reality also provides corporations with a level of plausible deniability.
"Slave-made commodities are knowingly blended with those from legitimate sources," the 2013 report states. "Willful ignorance means that records are kept only in general and innocuous ways in order to conceal the origin of goods."
Chocolate Industry
In lawsuits against chocolate makers, the problem isn't trash fish, but cocoa from Ivory Coast, the industry's biggest supplier. The U.S. has said thousands of children as young as 10 are forced to work there in dangerous conditions.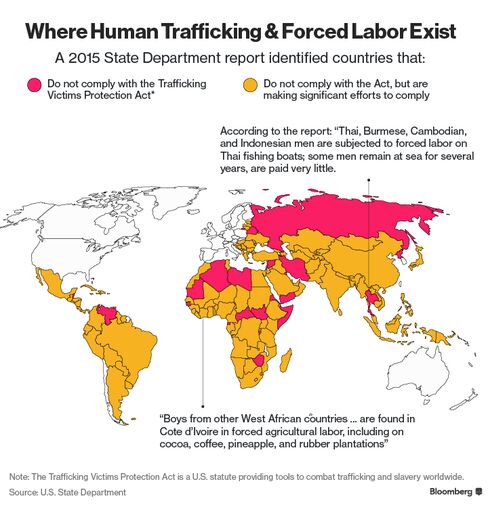 Boys from "Ghana, Mali, Burkina Faso, Benin and Togo, are found in Cote d'Ivoire in forced agricultural labor," according to a government report. A self-imposed deadline by chocolate makers to end child slavery among suppliers has been repeatedly extended, most recently until 2020, according to the lawsuits.
Nestle says it has set up pilot monitoring programs on some Ivory Coast farms, with plans to extend to all suppliers by the end of 2016. Hershey and Mars made similar statements, saying that while the lawsuits are without merit, they're spending hundreds of millions of dollars to eradicate the practice from their supply chains.
"We share the widely held view that child labor and forced labor are abhorrent," Jessica Graves, a spokeswoman for Mars, said in an e-mail.
Poverty is a "fundamental issue" in the cocoa growing region of West Africa, said Jeff Beckman, a spokesman for Hershey. Companies across the cocoa supply chain have been involved in initiatives to improve economic, social and labor conditions, he said.
"The pace of change, however, is slower than we would like to see because the underlying issues are complex and have deep economic, social and political roots," Beckman said.
Second Front
Such reform efforts may have come too late to silence the growing clamor for regulation.
U.S. Representative Carolyn B. Maloney, a New York Democrat who made supply chain slavery one of her key issues, wants to apply the California example nationwide. And she wants to get the Securities and Exchange Commission involved.
"There is no question that many goods being sold to American consumers are produced with slave labor," Maloney said. "We have a moral obligation to do something about it."
Her legislation would require companies to regularly tell the SEC what they're doing to eradicate forced labor, creating a new avenue for investor scrutiny -- and litigation. A similar bill is under consideration in the Senate.
In Europe, efforts to shed light on supply chains have been more robust. Not only is disclosure required in the U.K., but increased due diligence as well. The Modern Slavery Act of 2015, which takes effect next year, applies to companies with global revenue of at least 36 million pounds ($55 million), half of the revenue cutoff under California law. It also requires board members sign off on the statements.
The U.K. law "may be the tipping point" said Kilian Moote, project director for KnowTheChain, a California-based resource center for businesses seeking help with the new transparency laws. "Requiring board members to sign off elevates the issue to the executive level for the first time."
EU rules requiring supply chain transparency in all member states take effect in 2017, while individual nations including France are considering legislation of their own. The EU earlier this year threatened to ban Thai seafood if the country fails to improve regulation.
Thai leader Prayuth Chan-Ocha said last month his government "will continue to prosecute these individuals and sustain progress on this matter."
Old Law
Ironically, importing goods derived from slave labor is already a crime in the U.S., and has been for 85 years. The Tariff Act of 1930 bars goods made by convict, forced or indentured labor, but was written at a time when supply chains were much less complicated.
"The law is very simple, but the proof that's needed is the part that's making it very difficult in today's age," said Kenneth Kennedy, a senior policy adviser for U.S. Immigration and Customs Enforcement.
Chocolate provides the best example of how a loophole allows tainted products to enter the country, he said. The law states that if the U.S. doesn't have enough domestic production of an item to meet demand, all bets are off.
"If we know cocoa is being produced on plantations in West Africa using slave labor, and then being imported into the U.S., we still have to allow it in because the U.S. cannot produce enough cocoa to meet U.S. demand," Kennedy said. "That's the Achilles heel of the law."
The loophole doesn't sit well with U.S. Senator Ron Wyden, an Oregon Democrat who wants it closed as part of a pending trade bill. Tucked away in the legislation is a sentence calling for the "elimination of the consumptive demand exception."
Wyden has said the U.S. should be supporting reform in countries where slavery exists, rather than perpetuating the problem.
"This amendment says one very simple thing: There is never a time when forced labor is OK," Wyden said.
Before it's here, it's on the Bloomberg Terminal.
LEARN MORE