South Africa Leaves Energy Firms in Limbo as New Law Stalls
Lack of legal clarity deterring investment: Kigoda's Davies

Ruling ANC says law is still priority, denies stalling
Oil and gas companies operating in South Africa have been left in limbo as legislators have stalled new laws that propose giving the state a 20 percent free stake in all new energy ventures and enabling it to buy an unspecified additional share.
While Parliament approved the Mineral and Petroleum Resources Development Amendment Bill last year, President Jacob Zuma declined to sign the proposal because he said it may violate the constitution. The bill was referred back to the legislature on Jan. 16, where it has languished ever since.
"Without clarity, investment decisions will be hampered," Mike Davies, the founder of Cape Town-based Kigoda Consulting, which has advised oil companies, said in an e-mailed response to questions Dec. 8. The state's ownership provisions "are not clearly defined. This allows for multiple interpretations of the possible costs, which will make proper appraisal of potential exploration opportunities virtually impossible," he said.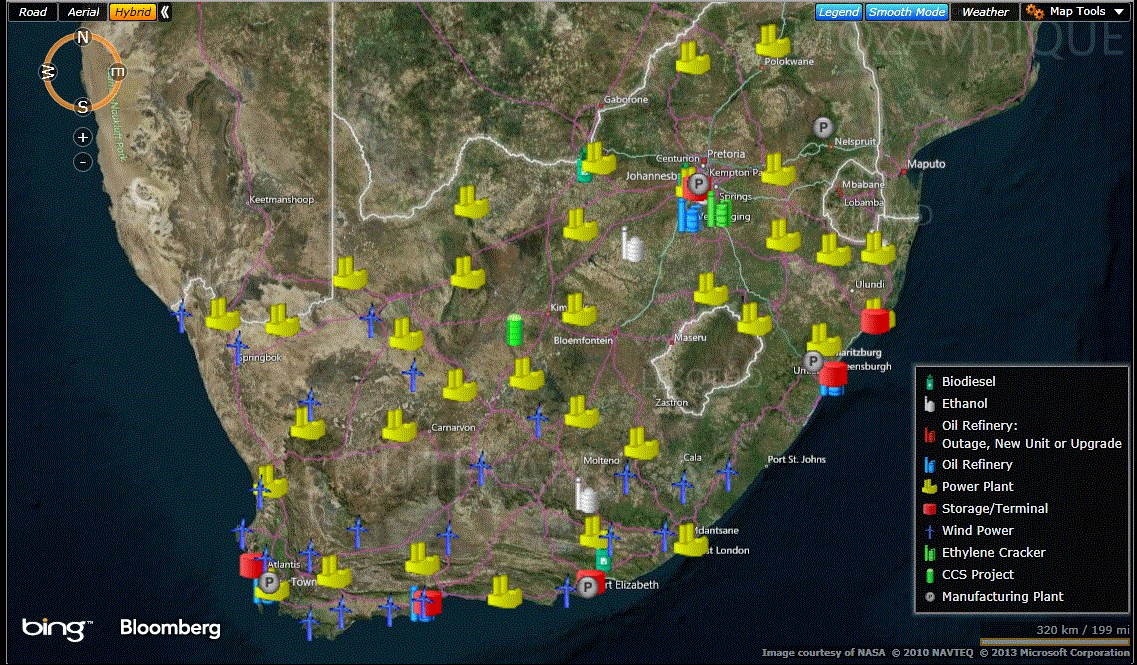 About 70 percent of South Africa's crude-oil needs are met through imports, with the balance processed locally from coal and gas. While the government initiated a project known as Operation Phakisa last year to boost local production by encouraging companies to drill 30 offshore exploration wells within a decade, no deep-water drilling has taken place in South African seas since November 2014. Besides legislative uncertainty, an energy-price slump has also deterred exploration.
Parliamentary Process
"There is a lot at stake for both South Africa and the operators, and finding a solution requires sustained and consistent engagement," Sean Lunn, chairman of the Offshore Petroleum Association of South Africa, whose members include local units of Exxon Mobil Corp., Total, BHP Billiton Ltd. and Royal Dutch Shell Plc, said in an e-mailed response to questions. Opasa is working with the government "to find solutions that best accommodate everyone's requirements," he said.
Sahlulele Luzipho, the chairman of the National Assembly's mineral resources committee and a member of the ruling African National Congress, said Parliament's two chambers and the National House of Traditional Leaders had to consider further changes to the law and that there was no intention to delay its passage.
"The bill has had to go through several internal parliamentary processes," he said by phone. It "remains a priority."
The government and the energy industry estimate South Africa's possible reserves at 9 billion barrels of oil and projects that $3 billion to $5 billion of investment will be needed if the government's drilling targets are to be met. Shale-gas reserves, concentrated in the semi-desert Karoo region, could be the world's eighth-biggest, the U.S. Energy Information Administration said in 2013.
Parliament adjourned for the year last week and is due to reconvene on Jan. 26. On Dec. 4, ratings companies Fitch Ratings Ltd. and Standard & Poor's said the hiatus was negative for growth and investment.
'Delaying Tactics'
"The ANC don't know what they want to do and that is why it is in limbo,'' James Lorimer, a lawmaker and the mineral resources spokesman for the opposition Democratic Alliance, said by phone. "There have been deliberate delaying tactics while they sort out their internal battles. Hopefully they have done that and it will appear before the committee again early in the new year."
In January, then-Mineral Resources Minister Ngoako Ramatlhodi said he would prefer that the oil and gas-exploration laws be separated from mining legislation because the industries are in different stages of development. A month later, he said the bill would be amended to provide greater clarity. While the state intended retaining its right to a 20 percent free stake in all new energy projects and ensure 10 percent was reserved for black investors as the country seeks to eradicate economic disparities created under apartheid rule, it was looking at capping any additional state interest, he said.
In September, President Jacob Zuma replaced Ramatlhodi with Mosebenzi Zwane, who has yet to pronounce on a review.
"Although there are indications of a deal between the oil and gas industry and the department of mineral resources that will apparently address many of the uncertainties over the fiscal terms and level of black empowerment, there are still numerous questions over how and when this will be implemented," Kigoda's Davies said. "Introducing amendments reflecting this deal is difficult in terms of the current parliamentary process and addressing them through regulations will not provide industry with much security."
Martin Madlala, Zwane's spokesman, said it was up to Parliament to effect any changes to the law to address concerns raised by Zuma. These included the National Council of Provinces' failure to convene public hearings on the draft law and that it may violate South Africa's international trade obligations.
Before it's here, it's on the Bloomberg Terminal.
LEARN MORE