It's been 20 years since Jean-Marc Bosman won EU court case

Ex player says he gets unemployment money and help from family
Everyone in European soccer should know his name, yet few of them would know where he lives or recognize him in the street.
Twenty years ago next week, Jean-Marc Bosman, a little-known midfielder from the smaller of two clubs in a small Belgian city, won a landmark legal battle that gave players greater rights to switch teams. It ultimately led to Real Madrid, Barcelona and Manchester United assembling rosters of talent from across the globe with pin-ups like David Beckham, Cristiano Ronaldo and Lionel Messi on contracts worth millions.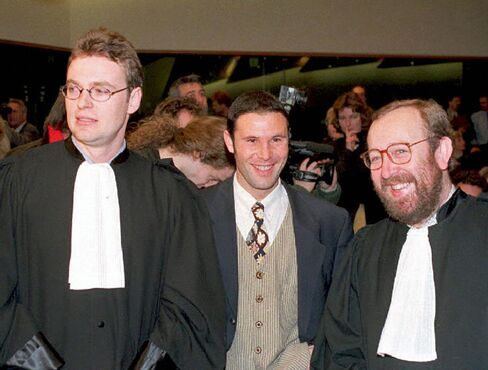 "My name is Bosman, but even if I'm not remembered, the Bosman ruling will be remembered," the former player, now 51, said in a telephone interview to mark the anniversary. "It's the case of the century."
The Belgian and his lawyers are as pivotal to the wealth of European soccer stars as media tycoon Rupert Murdoch and his accountants. Along with the 1990s explosion in television revenue, the Bosman ruling unleashed a boom that transformed the sport into what it is today, a competition between the super-rich on the field as well as off it.
RFC Liege
It all came about after Royal Football Club de Liege, Bosman's club, refused to allow him to join USL Dunkerque in France without a fee once his contract had expired. Bosman embarked on years of court battles that ended with a ruling at the European Court of Justice that not only gave players across the continent free agency, but also tore up domestic restrictions on the number of foreigners in a team.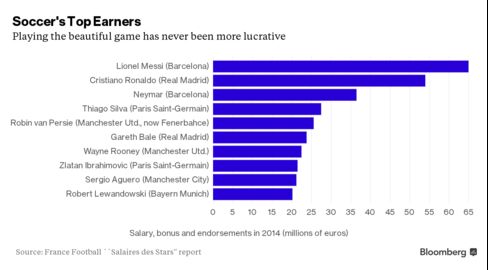 Bosman became to European soccer what Curt Flood is to American baseball after his standoff led to free agency. Soccer professionals changing clubs after their contracts were finished were said to be going "on a Bosman."
There are other similarities: rather than reveling in riches, both also ended up with relative rags.
After burning through the 16 million Belgian francs (about $470,000 at the time) compensation he won from the national soccer association in 1998, Bosman had little to fall back on. There were no fast cars and sponsorship deals that made players household names off the pitch. For the Belgian, it was a legal bill, state handouts and a life that unraveled into a battle with addiction.
"In the world of football, I was no longer welcome," said Bosman. "I won the right for the free circulation of players. I didn't get many thank yous."
Biggest Gamble
The case took more than five years to progress, during which time Bosman was "stymied" from playing during his late 20s, typically the peak of a soccer player's career, according to Daniel Geey, a partner at sports-law firm Sheridans.
"It came as a large shock to national and international governing bodies that EU courts were willing to impose fundamental freedom principles, that a club couldn't stop a player from moving," said Geey. "It seems quite straight-forward now but it wasn't then. He gambled away his career."
The repercussions went beyond Europe, As far away as Brazil, the South American nation that's traded more players around the world than any other, the ruling led to a "revolution," according to Marcos Motta, a sports lawyer.
Fallen Greats
There were other less fortunate consequences of the Bosman ruling. Some great winners from history have been left a shadow of their former selves.
Teams like Ajax, the Amsterdam club that competed for top honors until the European court upended the sport, have fallen a long way behind the game's richest. The last of its four European Cups came in 1995, the same year Bosman won his case. What followed was an exodus of top talent as the richest teams stockpiled the best players.
"In the end, it led to instability in football," said Raffaele Poli, co-founder and head of the Swiss-based CIES Football Observatory.
Exotic Scots
The ruling coincided with a nascent boom in European soccer, with money from broadcasters helping transform the sport from the dark days of 1980s hooliganism and crumbling stadiums.
The continent's most lucrative competition, the English Premier League, will begin a new 5.1 billion-pound ($7.7 billion) three-year domestic TV contract next season and is home to most of the best-paid soccer players on the planet. As well as attracting the best players from across Europe, provincial teams like West Bromwich Albion can call upon Venezuelan strikers, midfielders from Benin and defenders from Costa Rica.
Without Bosman, there would be no $5 billion-a-year transfer market. And it's a far cry from when players from different parts of Britain were considered exotic, according to former England national team coach Graham Taylor.
"I remember we signed a couple of players from Scotland and it was like a big thing," Taylor recalled of his own playing career in the 1960s. "At the end of the day football is a worldwide game."
Before it's here, it's on the Bloomberg Terminal.
LEARN MORE