OPEC's Next Battle Ground Will Be Choosing New Top Official
Four members who favor oil-output cuts push for new Sec-Gen

Venezuela, Algeria, Iran, Ecuador seek to boost oil prices
Deciding how much crude to pump isn't the only dispute splitting the Organization of Petroleum Exporting Countries. The group is also fighting over who will be its next top official.
As it became clear last week in Vienna that a push for oil production cuts was failing, ministers from Venezuela, Algeria, Iran and Ecuador huddled around OPEC's conference table and tried a different tack in their quest to boost crude prices.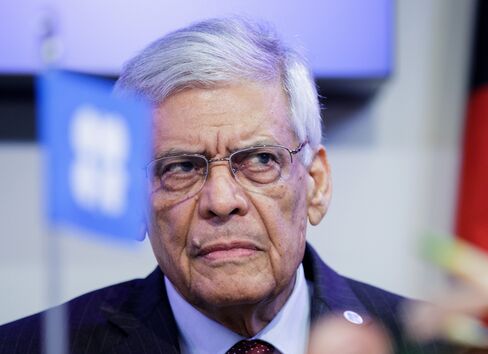 It was time, they argued, to find a new secretary-general to replace Abdalla El-Badri, according to three delegates who asked not to be identified because the discussions were private. The four countries want to pick someone who will press their case that OPEC's biggest members should cut production, the delegates said.
The dispute over the secretary-general position reflects the clash within OPEC over whether to keep pumping to pressure rivals including U.S. shale producers, a strategy that has driven oil prices to six-year lows. Richer members led by Saudi Arabia prevailed again at the Dec. 4 meeting as the group endorsed current production levels. However, the four price hawks succeeded in limiting El-Badri's tenure to an additional seven months, hoping to appoint a replacement at the next meeting in June.
Price Hawks
"El-Badri can take a balanced view" about OPEC's objectives, rather than exclusively favoring higher oil prices, said John Hall, chairman of consultant Alfa Energy, who has worked in the oil industry for more than 40 years. "That can go against him as far as the hawks are concerned."
OPEC surprised markets by effectively abandoning its 30 million-barrel-a-day output target last week and endorsing current production of about 31.5 million, pushing prices to the lowest level since the financial crisis in 2009. Yet the group actually spent just as much time in Vienna discussing the secretary-general, who oversees meetings and serves as the organization's public face, two of the delegates said. El-Badri declined to comment on the matter.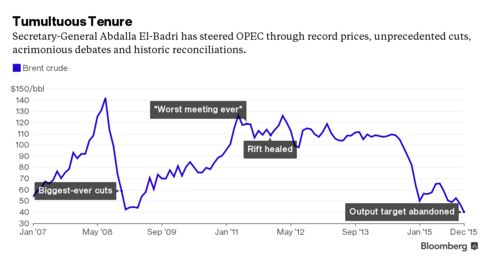 The 75-year-old native of Libya has steered the organization for nine years, making him its longest-serving top official. In addition to serving two terms of three years each -- the maximum allowed in OPEC's statute -- his tenure has been extended by three years to give the group extra time to choose his replacement.
El-Badri oversaw a deal to make record production cuts that helped halt a price slump during the financial crisis of 2008 and 2009. When an OPEC meeting ended in acrimony in June 2011 amid disagreements over whether to increase production quotas, El-Badri helped reconcile differences between members. Six months later the group agreed a new 30 million-barrel target that proved to be its most enduring.
Internal Rivalries
The organization has been extending El-Badri's tenure since 2012 as political rivalries between Saudi Arabia, Iran and Iraq prevented them from settling on candidates each of the nations had proposed. The disagreement over choosing a successor flared again at the Dec. 4 meeting as the slump in oil prices heightened tensions over the direction of OPEC policy.
In his role as OPEC's principal representative to the public, El-Badri has defended the group's current strategy, saying in November that global markets will rebalance next year as supplies outside the group slow in response to lower prices. He has also supported the idea that OPEC could cooperate with nations outside the group on cuts to reduce the oversupply, a position supported by both Saudi Arabia and Venezuela.
Intense Discussions
El-Badri played an important role in the intense discussions inside OPEC's Vienna headquarters on Dec. 4, presenting outlooks for the oil market that represented different output levels favored by the two opposing camps, one of the delegates said. When the issue of his own future came up, he left the small conference room to let ministers discuss the matter in private, according to two delegates.
Among the proposals discussed were changing OPEC's selection process to broaden the pool of candidates. The potential for Indonesia, returning to the group after a seven-year absence, to put forward a neutral candidate acceptable to all members could also be a solution. The Asian country has said it has yet to nominate anyone.
With no new names proposed, ministers compromised by extending El-Badri's tenure once again, but Venezuela, Algeria, Iran and Ecuador insisted he be designated acting secretary-general. Unlike the previous extension to El-Badri's term in November 2014, the statement last week specified that his term will expire in July when a replacement "will be elected."
OPEC's production rose to the highest in more than three years in November, climbing 230,100 barrels a day to 31.695 million a day, according to a monthly report published Thursday by its secretariat.
Even if the price hawks do secure a new secretary-general, it's unlikely to help them reverse the direction of the group's policy, according to Alfa Energy's Hall. The role is more about representing the organization, while strategy will continue to be shaped by OPEC's most powerful member, Saudi Arabia, he said.
Before it's here, it's on the Bloomberg Terminal.
LEARN MORE