DSP BlackRock Sells Long India Bonds as Inflation Steepens Curve
SBI Funds Management says 5- to 10-year notes attractive

November outflows from rupee bonds most in six months
Indian money managers are selling longer-dated sovereign bonds as the prospect of rebounding inflation and higher U.S. interest rates boosts volatility.
DSP BlackRock Investment Managers Pvt. is buying more liquid five- to 10-year debt and selling notes maturing in at least 15 years, after price swings doubled this month. SBI Funds Management Pvt. said it prefers the shorter end of the yield curve, which is the steepest since 2013 after the Reserve Bank of India last week refrained from cutting borrowing costs and said they may be lowered only when there's "space for further accommodation."
A selloff in Indian bonds is spilling into the second month as a proposed pay raise for civil servants and higher food costs risk fanning inflation and derailing fiscal consolidation. Global investors cut their holdings of rupee-denominated debt by the most in six months in November as the prospect of the Federal Reserve raising rates diminished the appeal of emerging-market assets.
"Market participants will likely face a hawkish Fed, continued outflows from emerging markets and strengthening inflationary pressures," said Dhawal Dalal, Mumbai-based head of fixed income at DSP BlackRock, the local unit of the world's largest money manager. "Adverse developments in global financial markets, a sharp increase in outflows from Indian debt and higher-than-expected increase in food inflation may force the RBI's hand."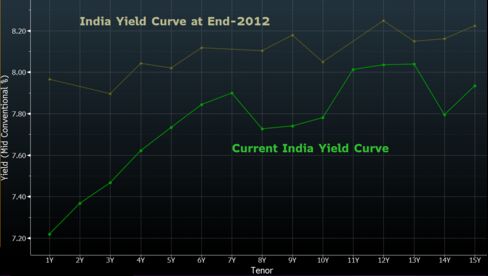 The 10-day historical volatility in Indian sovereign notes maturing in 15 years climbed to 6.4 percent on Dec. 4 from 3.24 percent on Nov. 30, data compiled by Bloomberg show, and was at 6 percent on Friday. The measure of price swings in 10-year bonds has more than tripled since October to 7.1 percent.
Governor Raghuram Rajan, who has reduced the RBI's key repurchase rate by 125 basis points in 2015, will keep it at 6.75 percent until the end of June, according to the median estimate in a Bloomberg survey. Concern the central bank lacks room to ease further has spurred outflows, pushing the 15-year yield up by 26 basis points this quarter, while that on one-year notes has fallen two basis points. The spread was 71 basis points on Dec. 8, the widest since June 2013.
Foreign holdings of sovereign and corporate notes declined by 46.9 billion rupees ($702 million) last month, and dropped a further 15.5 billion rupees in December, according to data from the National Securities Depository Ltd. Emerging-market bond funds saw outflows of $1.6 billion in the week to Dec. 2, up from $913 million of sales in the previous week, according to Standard Chartered Plc, citing EPFR data. Futures contracts show a 76 percent probability that the Fed will raise rates at its Dec. 15-16 meeting.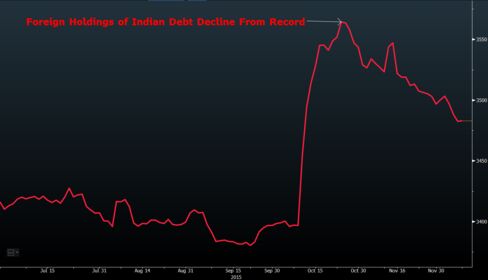 Bond yields will likely retreat once the impact of the Fed's move subsides and as low commodity prices keep inflation and the budget deficit in check, according to FirstRand Ltd., which sees the RBI's plan to increase the ceiling on foreign holdings of Indian debt boosting demand. The 10-year yield will drop to 7.40 percent by the end of June and to 7.25 percent by end-2016, from 7.80 percent on Friday, according to median forecasts of analysts surveyed by Bloomberg.
"Markets will be volatile in the run-up to the Fed decision," said Harish Agarwal, a Mumbai-based fixed-income trader at FirstRand.
Surging costs of lentils are set to further accelerate consumer-price gains from a four-month high of 5 percent in October. Living costs probably increased 5.4 percent in November, according to the median estimate of 19 economists surveyed before data due Monday. DSP BlackRock predicts inflation will average between 5.25 percent and 5.5 percent in 2016. The RBI is targeting a 6 percent rate by January 2015 and 5 percent by March 2017.
Fiscal Consolidation
A government-appointed panel's recommendation last month for a 23.55 percent increase in salaries and allowances for federal employees will also fuel price gains and make it harder for the government to meet fiscal goals, according to Fitch Ratings. The Finance Ministry aims to narrow the budget gap to 3.9 percent of gross domestic product in the year through March 2016 and 3.5 percent the following year.
"It's difficult to see the RBI cutting rates aggressively in the near term, given the challenging medium-term inflation targets and also uncertainties regarding fiscal consolidation," said Rajeev Radhakrishnan, the Mumbai-based head of fixed income at SBI Funds, which manages the equivalent of $12.6 billion in Indian assets. "Given the near-term uncertainties, the shorter end of the curve in the five- to 10- year space remains relatively attractive."
Before it's here, it's on the Bloomberg Terminal.
LEARN MORE